Simulation training is quickly becoming the gold standard for organizations of all sizes and industries that want to increase agent confidence and performance. From the largest banks and insurance providers to leading telecommunications, travel, and technology organizations, companies around the globe are using Zenarate simulation training to develop confident top-performing agents.
This guide shares some of the top considerations for making simulation training a part of your agent training program and the benefits of deploying Zenarate AI Coach.
The Benefits of Simulation Training
Adding simulation training to your agent training curriculum will benefit your organization. Zenarate clients experience clear, tangible benefits that include:
56% Faster Speed to Proficiency
22% Higher Conversion Rates
33% Higher CSAT scores
32% Lower Employee Attrition
Take, for example, Western Union – a Zenarate customer who has deployed Zenarate simulation training worldwide in multiple languages. By leveraging Zenarate AI Coach, Western Union developed confident, prepared new hire agents before engaging with their first live customer. It closed tenured agent call type, soft skills, and best and required practice gaps. Western Union agents were prepared for success after practicing high-impact call scenarios faced in their day-to-day interactions with live customers. Western Union agents who mastered soft skills and best methods with Zenarate achieved faster speed-to-proficiency, received better call quality and compliance scores, and drove higher customer satisfaction scores as soon as 30 days of engaging with live customers.
Jim, a Senior Manager of Training at Western Union, had this to say about the benefits his team has seen from using Zenarate's simulation training platform:
"We saw an immediate increase in our teams' ability to deliver expected communications. And an immediate turn-around in skill proficiencies – delivering improved empathy, customer satisfaction, active listening, and all the other actions we want them to practice for improved customer experiences."
Sallie Mae, another world-class organization, deployed Zenarate's simulation training solution to scale soft skills and best practices across their organization.
Diane Porter, Director of Education and Instructional Design, was clear about why Sallie Mae uses Zenarate simulation training.
"We want our customers to walk away knowing that Sallie Mae did everything in our power to get them the best resolution possible," said Porter. "Zenarate AI Coach simulation training is key to helping us achieve that goal."
After deploying Zenarate the results were significant. Through Zenarate's hands-on experiential simulation training, Sallie Mae accelerated agent speed to proficiency, improved CSAT scores, and reduced their overall training time. And Sallie Mae uses their Zenarate AI Coach simulation training to automate agent certification to take live calls, reducing agent certification from 2.5 days to 2 hours.
"When we noticed too much time and resources were being spent on classroom training, we knew that we needed a solution that would not only decrease classroom time but allow training managers to scale skill development and improve new hire performance, so they are confident and prepared when they take their first call," added Porter.
Whether you are a financial services juggernaut like Western Union, a large consumer bank like Sallie Mae, or a SaaS startup wanting to develop winning customer service and sales teams, the benefits of Zenarate simulation training are numerous and significant.
Putting Simulation Training to Work
How can you add Zenarate simulation training to your agent training curriculum? Connect with Zenarate's Team of Agent Training Experts!
It starts by connecting with Zenarate's awesome simulation training team. Zenarate's training professionals work alongside many of the world's leading brands to develop confident top-performing agents through our proven light-lift and easy-to-deploy Customer Success model. We approach your success by starting with the end in mind – by first identifying your Top 3 KPS and then building simulation training stories with soft skills and your best and required practices to improve your KPIs.
Zenarate Simulation Training Is Light Lift
Zenarate's simulation training platform is a light-lift to set up. You don't need to send us training documents, policies and procedures, or recorded customer calls. Identify the high-impact call types agents will face with live customers and prospects, then populate our role-play template with the best practices your agents need to master. Zenarate will build your simulation stories in just a few days, and in a few weeks, you will have dozens of life-like simulation training scenarios for your agents to practice and master. And your Zenarate Customer Success team will make any story changes by the next day with little work from you.
Zenarate Simulation Training is Easy to Deploy!
Zenarate's simulation training platform is easy-to-deploy with no personal or account information and no IT integration for pilot or enterprise rollout. The only IT requirements for agents to engage with their personal unbiased AI Coach from home or office anywhere in the world are a browser and headset!
What does the Agent Learning Journey Look Like with Zenarate Simulation Training?
An agent's learning journey is automated and just like a human-to-human role play. It allows you to scale top-performing agents while removing the awkwardness and bias inherent in human-to-human role play.
Training leaders and managers can assign a story to a new hire or tenured agents with call type and skill gaps. Agents first listen to what "great" sounds like for each level they will practice – before they engage with Zenarate AI Coach. After hearing what a great call sounds like, agents interact with their Zenarate AI Coach from home or office in a guided simulation, where it simulates a customer while providing tone, soft skills, and required best practice guidance. After building proficiency in the guided simulation, agents graduate to the unguided simulation, where the Zenarate AI coach provides in-the-moment feedback. Agents can practice as often as needed to master the call scenario and required skills. When an agent completes a successful simulation, they have the option to share their favorite simulation with their manager or coach from human feedback and approval. And contact center and training leaders can also certify agent readiness to engage with live customers and prospects through their Simulation Scorecard and Immersion Call Listening.
Agents use their newfound confidence and proficiency to deliver consistently superior customer and prospect experiences while hitting your KPIs.
Simulation Training — Today and Tomorrow
In today's competitive marketplace, staying ahead of the competition means providing superior customer experiences at every step. Our hyper-competitive business landscape and increased customer expectations have fundamentally changed the importance of customer service – and a bad agent experience with even one customer is a missed opportunity to improve your competitive position.
Voice and Text Based Channels Dominate Customer Resolution Rates
In 2022, only 25% of consumers acknowledged using multiple channels to solve a customer care issue, with 75% saying they did not use multiple channels. There has been little change in this trend over the past two years, indicating that consumers are deciding on their preferred channel rather than increasing their multichannel use.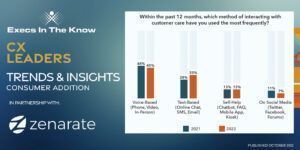 Regardless of consumers embarking on a multichannel journey, the important takeaway is which channel is their first contact and with which channel they find their resolution. CX Leaders Trends and Insights research found that 61% of multichannel engagements begin in the voice or text channel, with 69% of customer resolution occurring in the voice or text channel in the past 12 months. This means that your human agents, not your chatbots or self-help portals, deserve your attention!
Agents need the training to deliver the highest level of customer support in voice and text-based channels because they are still at the front lines of your business. As the report's authors put it, "Consumers are looking for easier access to agents and better skill sets among those agents. Investing in better recruiting, training, and coaching are all areas of opportunity for driving higher satisfaction levels and smoothing out process snags."
Preparing agents to engage with live customers and prospects has never been easier with Zenarate simulation training. Agents in training report positive feedback, citing how they enjoy building their confidence while lowering anxiety. You can check out Zenarate end-user feedback in our G2 reviews here.
Zenarate AI Coach enables your agents to start preparing today to solve your customer's greatest problems tomorrow and in the future.
---

Guest blog post written by Zenarate. To learn more about Simulation Training, and how you can incorporate Zenarate Simulation Training into your agent training curriculum, Visit our website at www.zenarate.com
Zenarate AI Coach is the "flight simulator" for customer and prospect engagement where agents in training are immersed in life-like Voice, Screen, and Chat Simulations to master high-impact topics they will face with live customers and prospects. Zenarate AI Coach is used globally in over a dozen countries in 13 languages. Leading brands use Zenarate AI Coach to develop confident top performing agents in customer service, sales, collections, and fraud.
To learn more about this topic and others, visit the events page to check out all of our upcoming events.