Social media has been around for almost two decades, with 75% of the world's population (ages 13+) now actively engaged in an ever-evolving online community of networks and algorithms. To avoid being left out of the conversation, most brands have already implemented a social customer care strategy, having realized that their followers care as much about the product and service as they do about the experience.
But being present and responsive is no longer enough to meet the demands of the modern social consumer. To win in this channel, marketers and customer care associates need to come together to form an all-star team, moving the service experience from a reactive to a proactive state to champion opportunities for value creation.
Many brands operate under the assumption that this is already being achieved when in reality, very few are doing it well. Yes, social media can be a treasure trove for customer insights and brand advocacy, but if executed poorly without the proper framework and tools in place, it can also be a giant abyss, sucking up your time and resources with little ROI.
To avoid the common pitfalls and achieve legendary customer care, here are three mission-critical objectives to set for your social engagement and servicing teams this year:
Objective 1: Remove operational silos and cancel the "cost center" culture
Social media servicing teams tend to reside in either the marketing or customer care organization. While there may be a monthly meeting to debrief and review KPIs, the two functions typically operate in separate spheres. This is unfortunate because the less internal communication and collaboration between the two often results in more customer friction.
To create legendary experiences, the right supporting organization and governance structure needs to be established, combining the strengths of both departments. Marketing can help customer service teams become more proactive and targeted in their engagement strategies, while maintaining a consistent brand voice. By being more selective and strategic on the types of content that warrant a response and the level of urgency assigned to them, customer care teams can find the time to put down the firehose and focus more on joy share and suggestive selling tactics. This is also known as "conversational commerce", a tactic brands use to respond publicly to a post or a mention with the intent of providing useful information to convert prospects or socialize cross-sell and up-sell opportunities.
In return, service teams can help marketing stay ahead of changing preferences, leveraging their daily interactions as a source of truth into what customers want more or less of – including feedback for the product lifecycle, content strategy, and brand positioning. The key is that both sides become intimately acquainted with the other, working as one unified team to gain a better understanding of their customer.
Example:  Take for example a deregulated utility company. While the marketing team might be more focused on promotional campaigns featuring discounts, average savings, customer accolades, and awards, their service teams are busy responding to outage inquires, service requests, and fostering a sense of community. If the two worked as one, the content strategy would be more cohesive, focusing on personal, localized care that leverages a differentiated service experience as a key selling point compared to the traditional sales pitch. More time could then be spent targeting prospective customers through conversational commerce.
Both departments have historically been viewed as a cost center within their organization, but by working together to turn social media into a full-service channel, the number of actionable insights, conversions, customer saves, and cross-sell opportunities can be quantified to flip that perception on its head. With 71% of consumers more likely to recommend a brand to a family or friend after having a positive interaction on social media, the opportunities for value creation are exponential.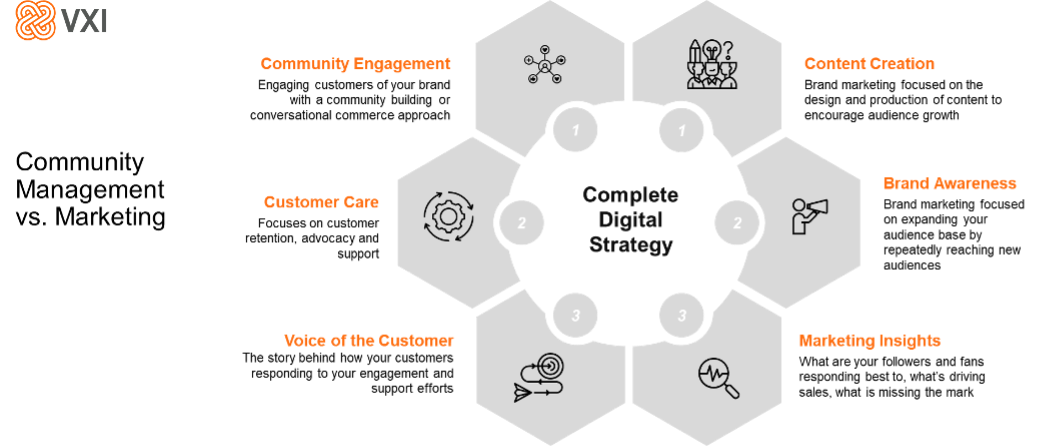 Objective 2: Make sure you are leveraging the right SaaS tool across the enterprise
Another trap that many organizations fall into is purchasing too many point solutions to help solve for individual challenges across functional areas, instead of optimizing a single tool and encouraging cross-functional collaboration.
It's something our advisory team at VXI observes frequently when evaluating a brand's social media technology stack. Often upwards of a million dollars can be cut from the budget by simply consolidating tools and selecting the right SaaS platform to streamline workflows. The ideal social media management platform captures conversations, filters, and sorts through the noise with the help of AI, automates workflows for determining urgency, and leverages intelligent routing to get the most impactful mentions to the right team at the right time. If your social listening and engagement platforms are two separate tools, it's time to downsize.
To make matters worse, having too many tools can lead to disparate measurement and reporting practices across the organization. Social NPS and sentiment scores are two examples of KPIs that need to be reviewed by the collective team – not in functional silos.
Example: If a product has just been launched and sentiment scores are trending down, customer care teams are often the first line of sight into the issues that need to be addressed. While marketing and PR teams are inclined to publish public apologies, too many "I'm sorry" messages on social media will only fuel the flames when it comes to diffusing negative sentiment scores. Instead, customer care teams can assist marketing by responding with positive engagement methods and higher response rates. When operating from the same tool and reporting infrastructure, a more productive conversation can be had around how the proactive content and the reactive servicing strategies are working together to create the best experience for the customer.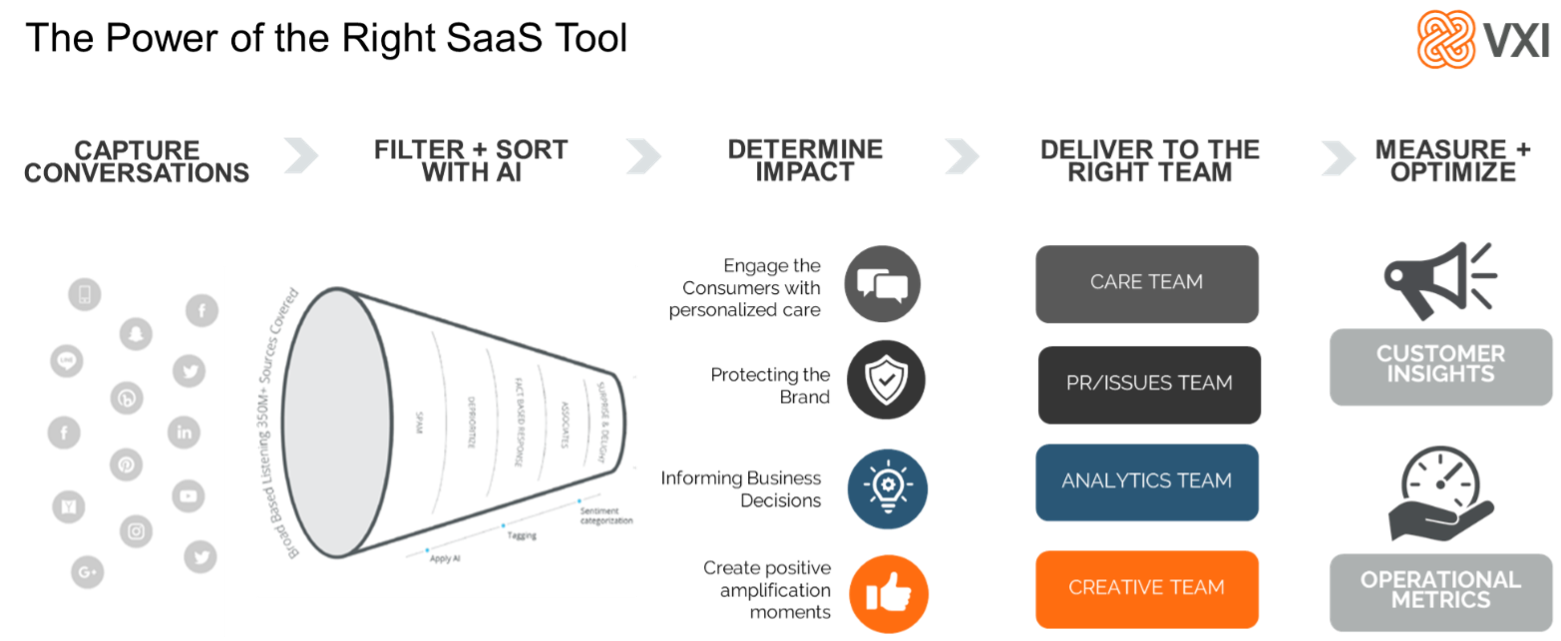 Objective 3: Create a playbook for earned and owned content
Achieving the perfect response rate between owned and earned social content is somewhat of a holy grail. With an endless flow of mentions to sort through it can be one of the more challenging strategies to implement and operationalize. Every time you think you've mastered it; social behaviors change and the balance shifts again. Depending on the size of the servicing team, some organizations may choose only to respond to conversations on "owned" media or the content that a brand creates and shares from their proprietary pages. Others, set a goal of responding to everything.
While there is no one-size fits all approach, every functional area within the organization must answer one question – which conversations are most impactful for your customer and brand? Once that question is answered, content can be categorized, and stakeholders assigned. Luckily with the right SaaS tool, artificial intelligence (AI) can help automate many of the back-end processes to ensure only actionable content is filtered through to your customer care representatives.
Today, leveraging AI to gain efficiencies on social media extends beyond a messaging bot. For programs that engage with "earned" content, or the conversations happening outside of the brand's direct line of sight, AI plays a pivotal role.
Example: One multinational retail brand was able to replace their social media triage team by automating the back-office workflows required to sort through the earned content, tagging and assigning functional owners based on the category and level of urgency. This included marketing insights, crisis management, and opportunities for suggestive selling and conversational commerce. By eliminating the manual triage process, their service team was able to work faster with less effort, freeing up opportunities for value creation.
With 31% of prospective customers turning to social media to make pre-sales inquiries, responding to earned content can be a great way to increase a brand's conversion rate for online sales. For example, if a telecom customer asks about fiber internet options on Twitter, or a retailer is mentioned on a forum about an old product model that needs to be replaced, these are prime opportunities for customer care teams to jump in.
After all, supporting your customers on social media isn't just about responding to a complaint or acknowledging accolades. It's about proactive engagement and two-way conversations that show you care – because you can. The brands who create legendary experiences in 2023 will take their marketing and servicing teams a step further, working cross-functionally and with the help of AI to capture and retain customer attention.
Meet with our social media domain experts at Customer Response Summit (CRS) Austin
If you enjoyed our blog, make sure to attend our pre-conference workshop, "How to Create Legendary Social Media Customer Experiences." VXI and our brand partner LG will be hosting a session to help attendees rethink, reimagine, and revive their social customer engagement strategies. Participants will gain hands-on experience running through the 7 key steps that lead to legendary social care.
---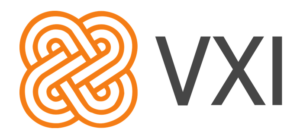 Guest blog post written VXI. VXI Global Solutions is a BPO leader in customer service, customer experience, and digital solutions. Founded in 1998, the company has 40,000+ employees at more than 40 locations in North America, Asia, Europe, and the Caribbean. VXI delivers omnichannel and multilingual support, software development, quality assurance, and CX advisory, automation & process excellence to the world's most respected brands.
VXI is backed by private equity investor Bain Capital and is one of the fastest growing, privately held business services organizations in the United States and the Philippines, and one of the few US-based customer-care organizations in China.
To learn more about this topic and others, visit the events page to check out all of our upcoming events.