Myth: Call coaching software is only helpful for onboarding new agents. Once a new agent gets the hang of things, they don't need it anymore.
Fact: 61% of tenured agents use call coaching software and those who do have higher job satisfaction and other success metrics across the board.
While it's true that tenured agents have certain best practices down pat, they benefit from call coaching software too — just for different reasons than new agents do.
The best call coaching software is flexible in this way and tailored to every stage in the agent lifecycle so it can provide value to all users.
How Does Call Coaching Software Help New Agents?
Starting a new job nearly always means information overload. To get agents on the phones as soon as possible, contact centers can use call coaching software to support this ramp period.
It makes sense: Instead of memorizing tomes of company knowledge, agents can use guidance and coaching software to surface the right information at the right time so they deliver a consistent and valuable experience to their customers right away.
Specifically, call coaching software can benefit new agents by:
Decreasing onboarding time
Decreasing shadowing or "nesting periods" before agents can take calls independently
Decreasing reliance on memorization so agents can be more present during calls
Decreasing average handle time by surfacing the right information to agents, and therefore to customers, instantly
A report from Balto's Conversation Excellence Lab found that 66% of mistakes on calls could be attributed to human error (21% boredom, 24% forgetfulness, and 21% nervousness). The newest agents reported forgetfulness as their most common reason for making mistakes, and call coaching software can address this core need very effectively.
How Does Call Coaching Software Help Tenured Agents?
In that report, tenured agents ranked boredom as their leading cause of mistakes. They know their talk track inside and out — which is when slips up happen. So how can they keep things interesting for themselves on calls?
The Conversation Excellence Lab surveyed over 600 agents to see what they thought of call coaching software today versus what they thought of it when they first started in their roles.
They found that the value of call coaching software changed but didn't diminish over time. Sometimes the opposite was true as well: At key points in an agent's tenure, they found call coaching software more helpful than they did when they were onboarding. How?
Call coaching software can benefit tenured agents by:
Improving their experience by suggesting new and fresh improvements to their talk track to stave away feelings of boredom
Improving their experience through gamification (leaderboards, badges, challenges, and more)
Improving their experience with social reinforcement in the form of micro-coaching moments with their manager or supervisor
Improving their experience by baking flexibility and improvisation into their talk track (read more in our recent report, "The Case for the Anti-Script")
See the Difference: Call Coaching Software Helpfulness Over Time
The Conversation Excellence Lab asked over 600 agents who had been in their role for 2 or more years how helpful they found call coaching software now and how helpful they found it at the beginning of their careers.
The two lines below represent the answers to these questions. While tenured agents reported that call coaching software was slightly more helpful while they were onboarding, the reported helpfulness for both onboarding and the current period tracked closely with one another.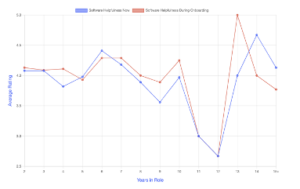 An important note from the Lab: the 12-14 year tenure marks had the lowest sample size and may not be statistically significant enough to analyze, which explains the volatility of the line graph at that point. Without those data points, call coaching software consistently hovered around a 4 out of 5 in helpfulness for new and tenured agents alike.
But check out the areas where tenured agents found call coaching software equally or more helpful now than they did while they were onboarding, like at the 3- and 6-year marks.
There are a variety of reasons why call coaching software might be more helpful once an agent has settled into their role. For example, onboarding can be a high-stress period, and any new tool will come with its own learning curve. Agents who have been in their role for a while have mastered this tool and may find it more useful as a result.
The biggest takeaway from this data is that call coaching software is decidedly not only helpful for agents during onboarding. Its modes of helpfulness may change over time, but its helpfulness doesn't lessen.
How to Choose Your Call Coaching Software
The marketplace for call coaching software is vast with a variety of offerings and specialties. Do your research to understand which option is the best for you.
The good news is that, all in all, The Conversation Excellence Lab found that the usage of any call coaching software at all resulted in higher scores across a variety of metrics, including job satisfaction and promotion-seeking behavior.
Tenured agents who used call coaching software were:
57% more likely to be working towards a promotion
13% more likely to view the contact center as a great place to work
12% more satisfied with their job
10% more satisfied with their pay
4% more likely to feel respected by their manager
3% more likely to feel respected by their peers
Empower Your Agents With Balto's Real-Time Guidance
While there are several call coaching software options, we're partial to our Real-Time Guidance platform.
Balto is an enterprise solution that can help contact centers achieve measurable results by helping your agents satisfy more customers, retain more clients, and close more sales. We have three primary services: Real-Time Guidance for empowering agents, Real-Time QA for automatic call scoring, and Real-Time Coaching for proactive coaching.
---

Guest blog post written by Lior Torernberg at Balto. Balto unites agents with AI to enable better conversations that deliver results. Top-performing contact centers trust Balto's real-time guidance enterprise solution to prevent missed sales opportunities, costly compliance mistakes, and negative customer experiences. Today, Balto has guided over 170 million calls, provided over 200 million real-time recommendations, and driven millions in increased revenue.
To learn more about this topic and others, visit the events page to check out all of our upcoming events.