CXMB Series 2020 Consumer Edition Executive Summary
2020 Consumer Experiences and Opinions: A Year Like No Other
Executive Summary
The 2020 Consumer Edition of the Customer Experience Management Benchmark (CXMB) Series marks the ninth year of publication and the 16th volume in the series. The CXMB Series continues to be a joint research effort between Execs In The Know and COPC Inc. The intent of the series is to investigate consumer and corporate experiences and perspectives related to customer care, providing valuable insights to customer experience (CX) leaders.
2020 has been a year like no other. The COVID-19 pandemic and the associated social and economic restrictions forced organizations to transition contact center staff to home virtually overnight, while also impacting how consumers interact with brands.
The focus of this year's consumer research is to investigate how consumer behaviors and opinions have been shaped or changed by the unusual circumstances organizations have faced globally.
We surveyed more than 4,000 consumers in the United States to ask them about their experiences and perceptions of dealing with brands' customer care departments or self-service options.
As in previous years, we have examined the data to spot any emerging trends and uncovered four key themes:
COVID-19's effect on consumers' interactions with brands
Chat's emergence as a widely used, mainstream channel
Improvements in self-service technology
The service journey's impact on CX metrics
This Executive Summary previews these key findings from our latest research. The full report of the 2020 Consumer Edition will be released in October 2020 in conjunction with the Execs In the Know's Customer Response Summit. We hope the information in the report will once again provide valuable insights for our Execs In The Know community, and for professionals in the wider customer contact industry.
COVID-19'S EFFECT ON CONSUMERS' INTERACTIONS WITH BRANDS
The COVID-19 pandemic and the associated restrictions have clearly had an impact on how we live, work, and interact in our communities.
While just more than half of the respondents reported that they changed how they interact with brands due to COVID-19, only a quarter of them thought the changes were negative, and 16% perceived these changes as positive.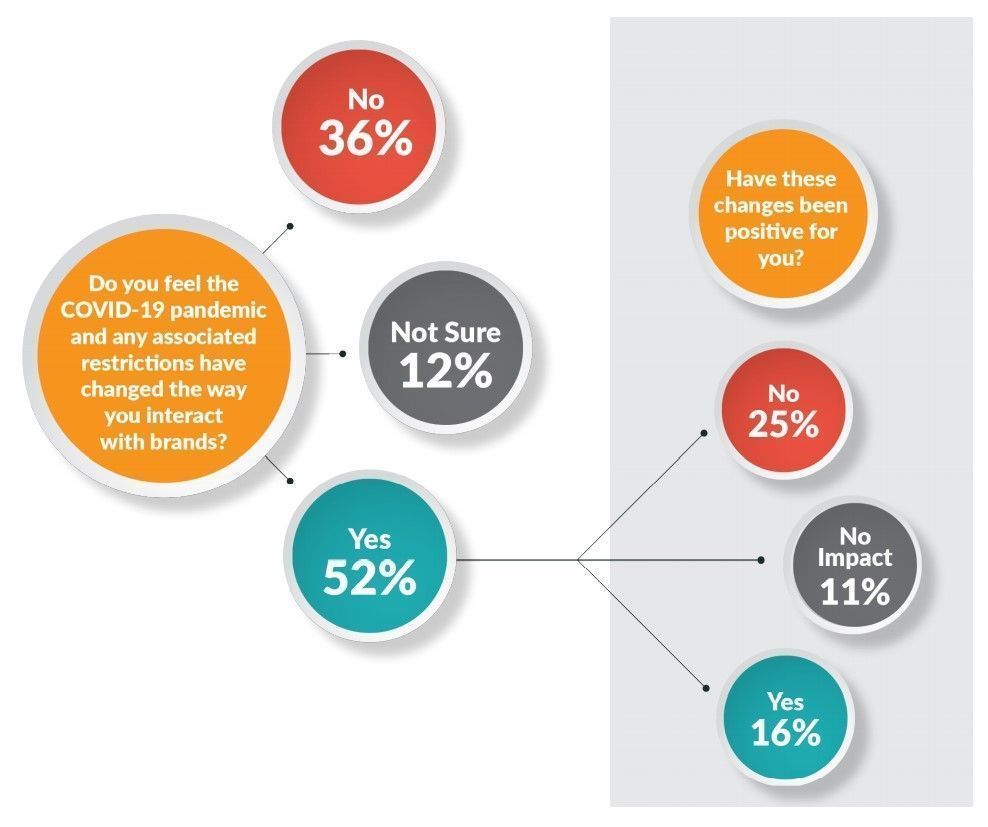 Our broader research findings also indicate that 2020 has not seen a significant drop in consumer satisfaction. Specifically, issue resolution has remained reasonably stable, between 75% and 80% every year for the last five years, and satisfaction with self-service technology has slightly increased.
CHAT'S EMERGENCE AS A WIDELY USED, MAINSTREAM CHANNEL
Phone remains one of the main channels consumers use when contacting brands, but as a relative proportion of all channels being used, phone usage continued its long-term trend downward in 2020.
However, there was a significant increase in the proportion of consumers who stated they had used online chat, video chat, and mobile chat. In fact, the data shows that almost twice as many consumers used chat in 2020 compared to previous years.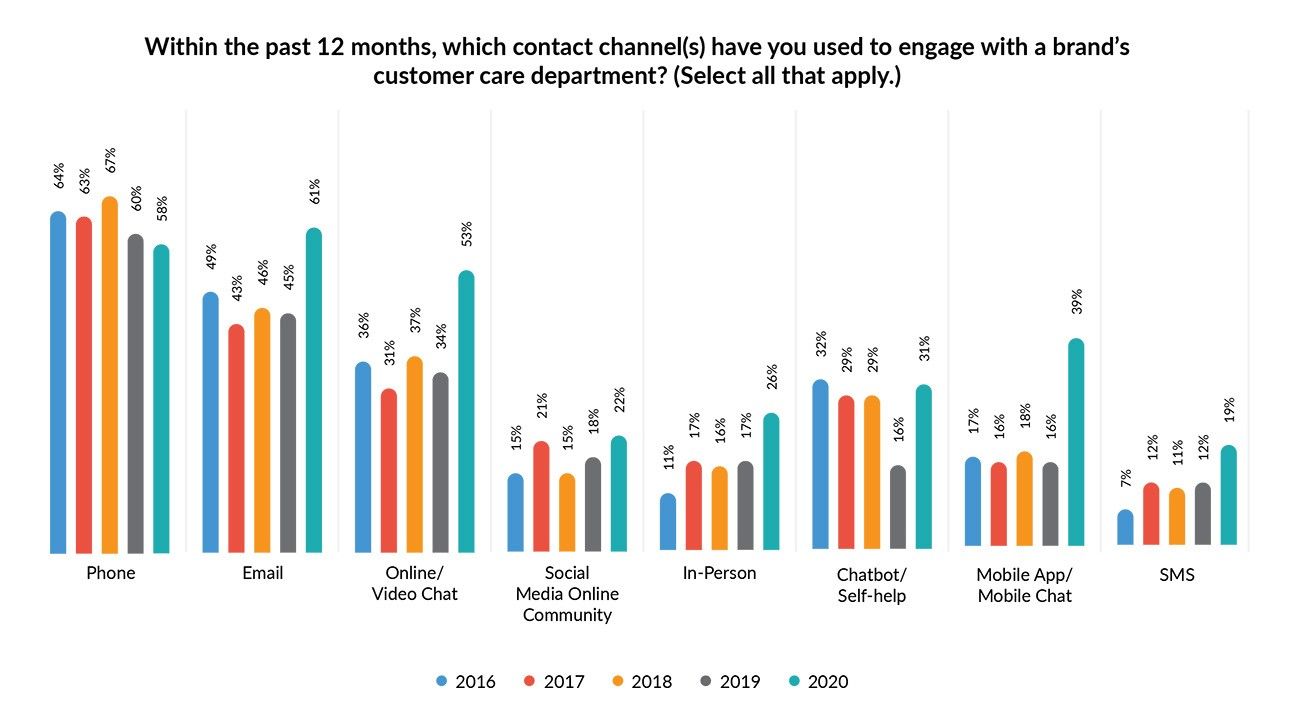 Why is chat usage increasing so much? Below are some of the hypotheses:
Chat became a "go-to" channel for businesses during the initial stages of the COVID-19 pandemic when staff were working from home because the "at-home" work environment was more suited to staff handling chat transactions versus voice.
More organizations have taken a strategic decision to migrate consumer interactions from voice to chat.
Consumers have become more comfortable with chat, and as they find their issues are being resolved more frequently using the channel, they are more willing to use it for all their interactions.
The technology has improved to a point where chat is now easily embedded into more websites and mobile apps, making chat more accessible to more consumers.
IMPROVEMENTS IN SELF-SERVICE TECHNOLOGY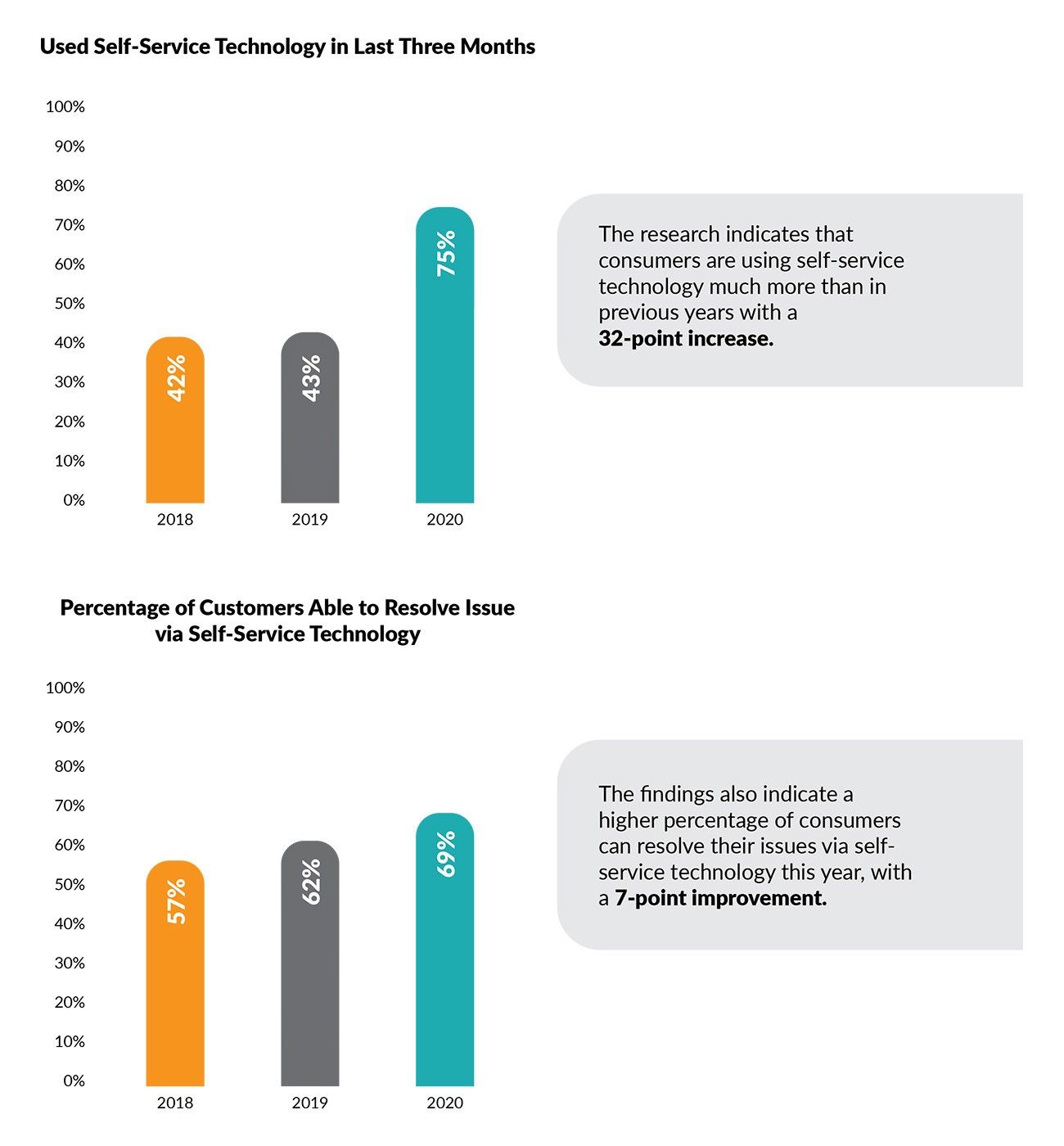 However, issue resolution remains much lower for consumers using self-service technology (69%) than it does for consumers who interact with live agents via phone, webchat, email, etc. (86%). This lower resolution rate has an impact on customer satisfaction and the likelihood of returning to self-service technologies for future issues.
THE SERVICE JOURNEY'S IMPACT ON CX METRICS
This year's research reveals some interesting data related to how the length of the service journey (or the number of contacts involved in a service journey) can impact the consumer's perception of their experience.
More than 50% of interactions take place within the context of a longer, multi-contact journey (also known as the service journey). To succeed in this environment, companies have started to focus their efforts on improving the horizontal service journey, rather than focusing solely on vertical service interactions.
The research indicates that for every contact a customer has to make to resolve their issue, there is an associated reduction in the results of the three most commonly used CX metrics — customer satisfaction, customer effort score, and net promoter score.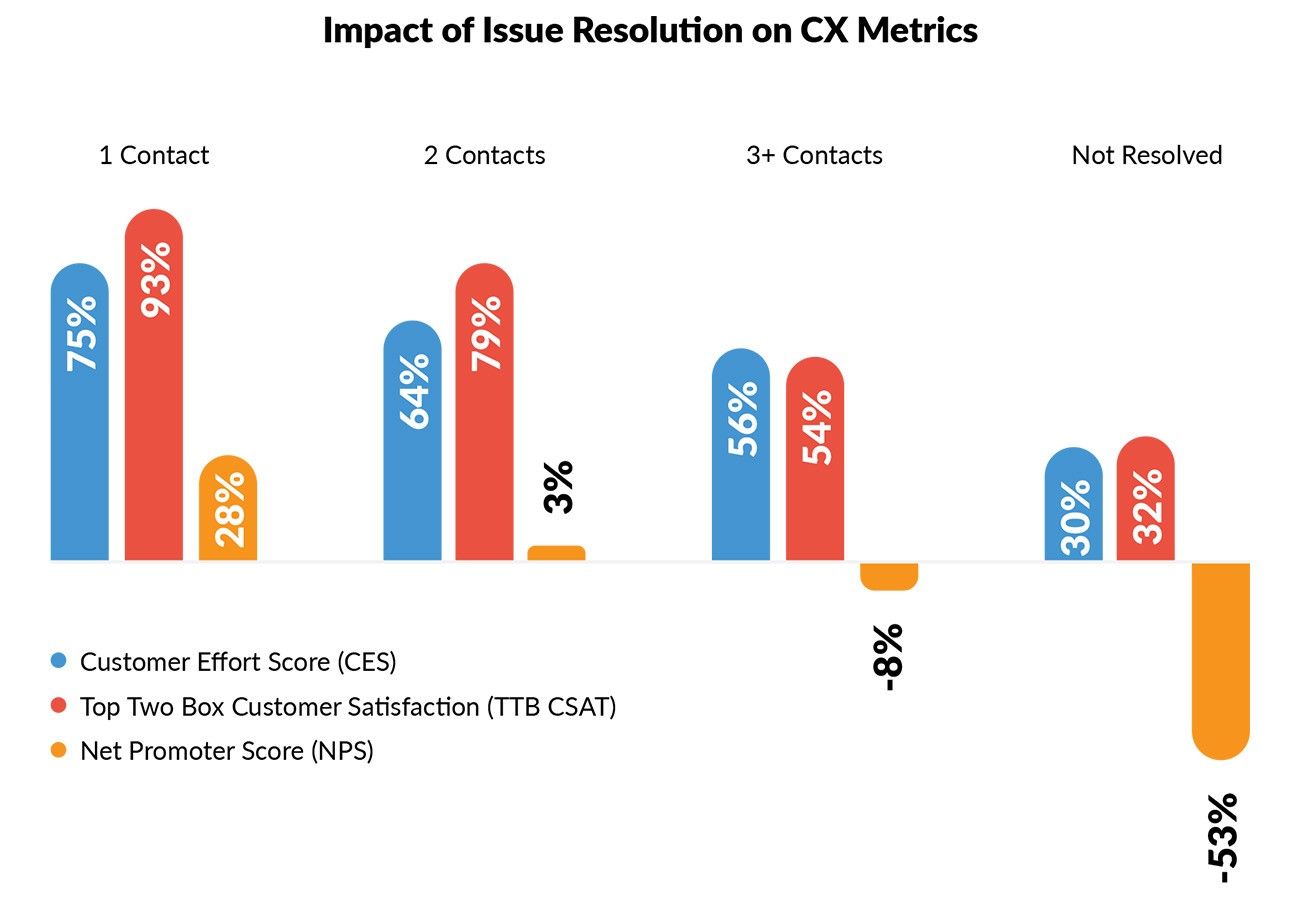 Fundamentally, the data shows that to drive higher levels of satisfaction and to create more "promoters," brands must design their services to make it easier to resolve customers' issues at the first point of contact.