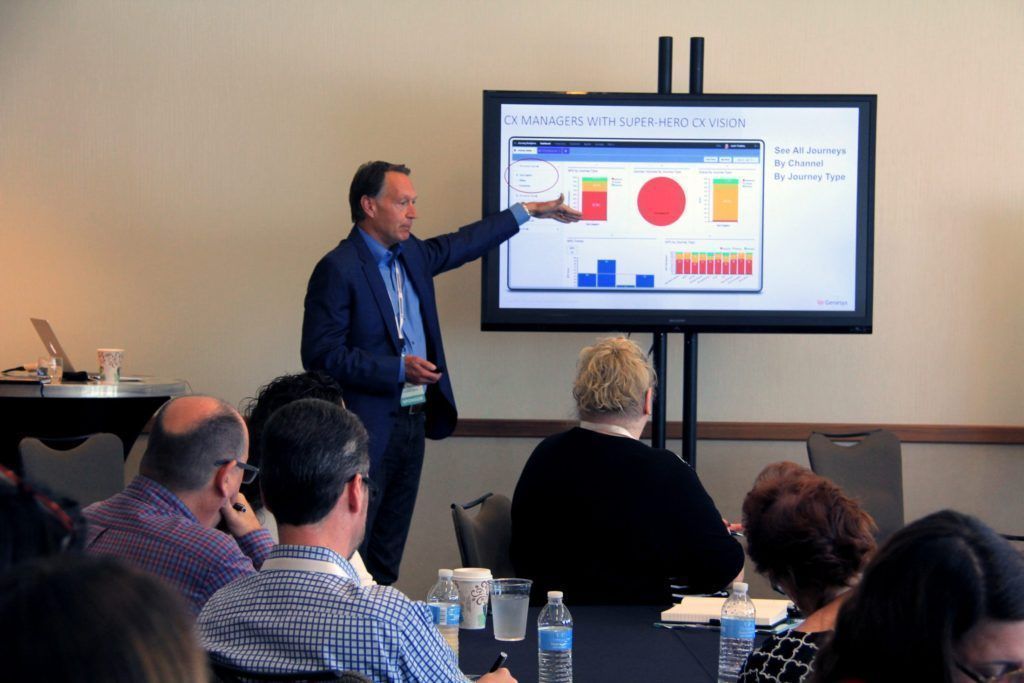 The following is a guest blog from Ted Hunting, Vice President, North America Marketing at Genesys. For more information about Genesys, visit their website. 
During the Customer Response Summit (CRS) last week in Austin, I shared my perspective on customer expectations of seamless, personalized omnichannel journeys with customer service executives from some of the world's greatest brands. It was a rare opportunity to exchange ideas on digital innovation in customer experience (CX) with such a group.
To set the stage for brainstorming sessions on digital innovation, I talked about the prediction that by 2020, more than 90% of customer engagements will begin online, and what that means to CX innovation.
Currently in many customer service environments, organizational silos remain across channels, including web, voice, callback, mobile app, text, email, social, and video. In spite of initial interactions occurring on the web, customers nonetheless expect the effortless, personalized omnichannel journey that results from integrated communication channels. We explored some examples of businesses successfully integrating voice and digital channels to improve CX.
We looked at CX from the business perspective, examining aspects of the Genesys Customer Experience Platform, including:
– An omnichannel desktop that displays every step in the customer journey, across every channel
– Enterprise-wide reporting and analytics dashboard for overall view of CX and NPS
What did this group identify as key future trends? The internet of things (IoT), personalization through big data, and emerging self-service models such as chat and voice bots, led to brainstorming on digital innovation in the CX world.
Here's what this group of CX leaders expects to see emerging in digital innovation:
Personalized customer journeys
Customer journeys will be increasingly personalized, leveraging big data and business rules to predict customer needs and deliver better CX.
– Visibility into the customer journey will continue to evolve so companies can provide proactive recommendations and communications for front- and back-office functions across the company, not just for the contact center.
– We'll improve on how we identify and measure journey success so that we can replicate the successful CX across the business.
– We'll use customer journey analytics for predictive routing of customers.
– We'll personalize routing based on business rules and customer data.
Customer preferences driving experience
Customers prefer to authenticate once, and effortlessly, in a journey. Adoption of verification methods like biometrics (voice biometrics or eye or fingerprint sensors on mobile phones) will grow, with verification becoming increasingly passive from the customer point of view, without reliance on interrogatory techniques.
– Customers will be better informed—proactively—using notifications tied to their channel preferences.
– Customers will choose channel preference based type of interaction. For example, they'll be able to select a text message for doctor appointment reminder, but a personal call from their doctor for test results.
– With increased personalization, customers will need to supply personal information. To address privacy concerns, they'll need to "opt-in" to such personalization efforts. Business will find ways to encourage participation, even if it's only making sure the customer understands through clear communication that they'll benefit from a better CX.
CX enhanced through collaborative business culture
– When CX leaders foster a culture of collaborative discussions across departments and the organization, they can uncover CX issues that persist in a siloed culture
Incorporating social channels into the customer journey
– Expect chat to be transformed with chat bots and other forms of artificial intelligence.
– Integrate social media into journey management to put agents with the right skills in place to respond through social channels.
– Peer networks in some industries can provide service. These can be enhanced by use of social media and "ambassadors" to assist customers.
– Agents can use information from social channels to assist customers. For example, they can use YouTube or other external content on how customers are using a product or solving a problem.
Taking steps to deliver omnichannel CX
– Serve customers better by arming agents with a unified omnichannel desktop.
– Use recording and speech and text analytics to discover gaps in agent knowledge, whether they're participating in voice, chat, email. Use it to better train agents.
– Move to modern self-service options instead of old school, high-effort, impersonal IVR. Instead, offer the option to get wait times for channels from voice, text, email, web chat, to video chat and let customers choose self-service channels based on their preference. For example, give them the choice of chatting now or waiting 20 minutes for a call back.
CR Summit Austin was an opportunity to share information, and gratifying because I heard clearly that so much of what Genesys is working with partners and customers to achieve is of great interest to global leaders in CX.
Interested in where your company stand in CX innovation? Check out The Omnichannel Customer Engagement Playbook.