For those that don't know, CIBC is a leading Canadian-based financial institution that provides a full suite of financial products and services in Canada and around the world. The bank was founded in 1867 and we serve 11 million clients with a team of 40,000+ employees.
I've had the opportunity to work in many areas of CIBC throughout my 30+ year career, but my roots are in Customer Service. I started working part-time as a Customer Service Representative (aka Teller) while going to University. It was an amazing experience, and it taught me the importance of building relationships with clients.
I was fortunate to have a manager who got to know me well, and talked about what I wanted to do after graduation. He suggested that I apply to the Branch Manager Trainee program, and he was quick to provide a wonderful reference. I'll come back to that later.
I've worked in a number of areas including Strategic Network Planning, Wealth Management, Finance, Governance and Controls, and I've had the opportunity to lead a number of client facing channels including Contact Centres, Online and Mobile Banking, along with our ATM network. One thing I did learn throughout my career was to be open to taking on new opportunities. It helped me build breadth, deeper knowledge, and wide networks!
The way clients interact with CIBC has changed dramatically since I started my career. But our Vision at CIBC is to be a leader in client relationships. It's not about the mortgage or the investment product, it's really about helping our clients buy the house they always wanted, or achieve retirement early, or help send their kids to school. Taking a client lens to what we do every day is very gratifying.
Being part of the Execs In The Know Advisory Board has been a rewarding experience. It's a great forum to share and learn from others that all want to improve the client experience. With the pace of change it's important to keep current on changing client behaviors, technologies and people practices. Each of us bring different perspectives, experiences, and approaches to the table and that's the power of diversity!
My family is very important to me and we have a hectic household, with my wife running a successful Home Staging/Design business, one son at University, and a daughter starting college this year!
I'm a believer in giving back to the community and I keep active in fundraising activities for the United Way, CIBC Run for the Cure, and Movember (check out the photo). I'm a big believer in the concept of "go and see", where you spend time at a not-for-profit agency that is supported by our United Way fund raising efforts. It's really about seeing first hand how our donations make a difference in the various communities we operate in.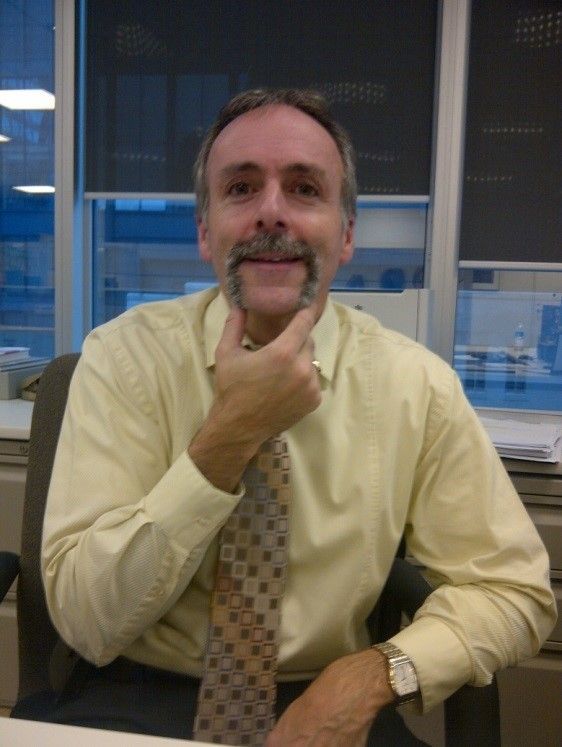 I'll end where I started which is about the importance of having a mentor. I was fortunate to have a mentor early on, and several mentors throughout my career. These mentors didn't tell me what to do but they listened and acted as a sounding board as I contemplated my next career move or was working through a very difficult situation. I don't believe I would be where I am without the support of those individuals which is why I volunteer some of my time as a mentor.