Robotic Process Automation (RPA) has revolutionized the way businesses operate. This progressive technology allows virtual employees, also known as "bots," to automate many of the routine tasks that humans regularly perform.  
In fact, the beauty of RPA is it introduces non-invasive technology that does not disrupt underlying legacy systems. It also gives employees the opportunity to easily customize these bots for recognizing patterns, gathering and extracting knowledge, reasoning, learning, and even adapting to new environments or situations.  
Many businesses bringing in RPA do so to cut costs without sacrificing quality, increase speed and efficiency, and boost productivity. In our CX Leaders Trends & Insights: 2021 Corporate Edition report, 35% of survey respondents mentioned they were currently investing in RPA.
Market Volume Estimated to Grow to $23.9 Billion by 2030
RPA is one of the fastest-growing segments of the global software market. According to Statista, the RPA market is forecast to grow from $2.65 billion in 2021 to $23.9 billion by 2030. 
This growth is contributed to factors such as the need to integrate the latest technologies, optimize operations for improved productivity and maximum ROI, and switching up business processes. 
By interoperating closely with machine learning, intelligent automation, and artificial intelligence of all types, RPA can transact on any of a company's systems in the same way as a human would by performing complex rule-based actions.  
For example, the McKinsey Global Institute estimates that in 60% of occupations, at least one-third of essential activities could be automated. While many businesses are still apprehensive about this technology, the benefits of RPA are numerous and offer a variety of competitive advantages.
Thanks to RPA, Businesses Can Now Do the Following
Improve productivity by 86%
Increase efficiency and c

ut costs by automating mundane day-to-day functions

 

Save 25% to 40% in labor costs
Say goodbye to human error and hello to accuracy
Drastically improve customer experience and much more!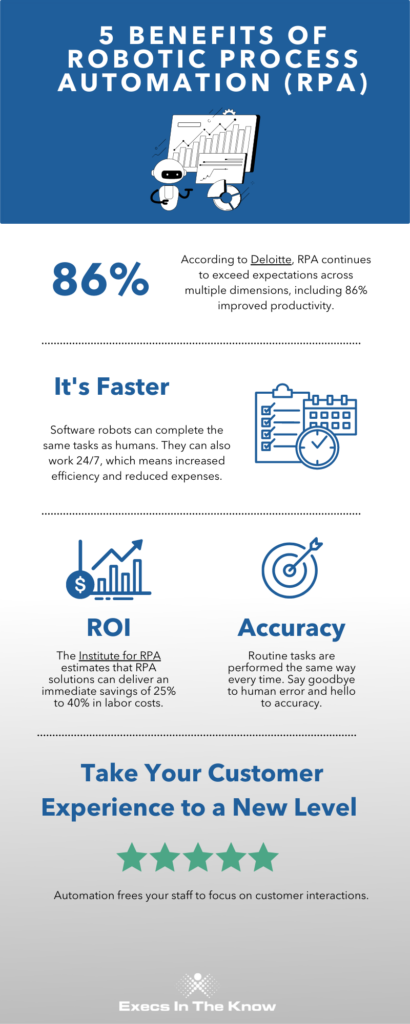 Still on the fence when it comes to automating your processes and tasks? For a deeper look at the benefits of RPA, join Oded Karev, General Manager of Advanced Process Automation at NICE, on September 15, 2022, at 1:00 PM ET for a webinar on Using RPA & Desktop Analytics to Enhance Both the Employee and Customer Experience. Can't join the live webinar? It will be available on-demand following the event so you can enjoy the flexibility and freedom of viewing the recording at a date and time that works best with your busy schedule.
Learn More & Register: https://app.webinar.net/4XOaxe6JA1Y 
You will hear how the largest and most successful enterprises in the world are already benefiting from advanced automation solutions.    
Together, we will dive into the exciting topic of RPA and discuss:    
Empowering agents with real-time guidance to enhance efficiency and reduce effort  

 

Getting invaluable insights from your service agent's desktops, wherever they are, to improve service quality 

 

Creating hyper-personalized for optimized interactions and satisfying engagement experiences for both customers and agents

 
We hope to see you there!