Industries are changing in previously unthinkable ways due to artificial intelligence's (AI) inexorable rise. AI's ability to revolutionize industries is pervasive, from healthcare to banking, manufacturing to entertainment. Efficiency, innovation, and customization are being fueled by its ability to process massive amounts of data, spot trends, and make informed decisions.
As technology capabilities advance, business strategies evolve. This paradigm has never been more evident than right now. Brands are looking to harness AI for many different use cases and applications. AI is rapidly reshaping environments and even industries. The unbridled possibilities that AI brings are very appealing, and the desire to implement AI quickly and reap its benefits sooner rather than later is understandable. However, rushed initiatives to leverage the power of AI do not usually deliver the change businesses are expecting. The reason that this approach falls short is because it tends to focus on solving for technology needs rather than business needs. Consequently, many AI initiatives fail to get completed, or fail to have lasting and holistic impact. Modern technology, including AI, is a business enabler, not a business solution.
Five Reasons AI Projects Often Fail
AI efforts usually fail due to numerous issues collectively working against them.
Unrealistic Expectations
Many AI projects start off overly ambitious, creating a discrepancy between expected and actual performance, resulting in disappointment when outcomes don't live up to expectations. This is often the case when AI initiatives are not aligned to business objectives and designed to generate value. The goal should be to use AI to generate value by enabling your people, processes, or products to deliver value.
Unclean Data
Unstructured and outdated data produces unclean data. The power of AI is harnessed from the data the technology can access. No matter how you plan to use AI, its intelligence is artificial, and it will only ever be as good as the data it pulls from. Producing clean and reliable data can seem like an unbearable task, and many brands try to bypass this step without realizing its significance. This is an essential step and needs to be one of the highest priorities for any organization looking to deploy AI solutions.
Lack of Experience
Limited experience with the different types of AI and their use cases, coupled with unfamiliarity around the complexities of AI, often produce incomplete project plans, unobtainable timelines, and unpredictable costs, undermining its chances of success.
Integration into Legacy Systems
Many legacy systems are not built to work with the latest AI technologies. This causes compatibility issues that often lead to ill-constructed integrations resulting in a faulty or fragmented solution delivering subpar performance. Knowing what is and isn't capable with legacy systems and how to integrate is imperative, otherwise you may limit AI's ability to be revolutionary for your business.
Inadequate Day 2 Support
AI solutions need to be tweaked and monitored continuously. Brands that have continued success with their AI solutions have an entire teams dedicated to maintaining and correcting the various solutions, or they have a strategic partnership with a service provider to manage it collaboratively with them.
The DIY or SI Crossroad
Businesses frequently debate whether to use a Do-It-Yourself (DIY) strategy or to work with an AI solutions integrator (SI) provider. Each option carries a unique set of hurdles that can have an impact on how AI implementations are delivered and continued.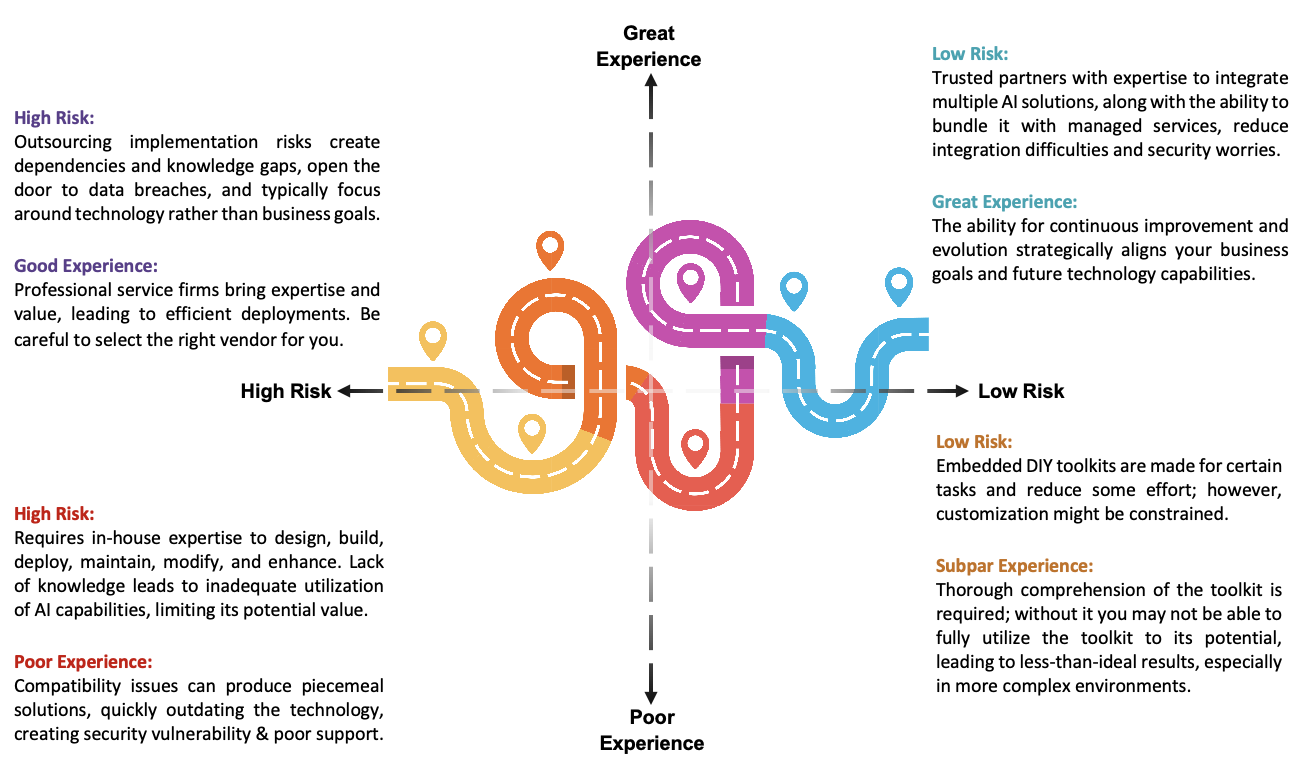 The choice of whether to take a DIY approach or work with an AI solutions integrator is complicated and depends on an organization's willingness to take on risk, level of knowledge, and long-term objectives.
DIY choices provide flexibility, but they also carry a high chance of failure and underperformance. Working with a trustworthy AI solutions integrator (particularly an SI that provides managed services and offers bundled solutions) reduces risk and produces a smoother, more fruitful AI deployment process.
Benefits of the SI Route
Here are some of the top reasons why you should choose to partner with a solution integrator firm rather than going for DIY:
Access to Cutting-Edge Technology and Specialized Knowledge
When you work with a solutions integrator, you have access to a group of skilled AI experts who have a thorough understanding of the technology and its uses.
Industry Knowledge
A partner who is an expert in the technology and knowledgeable about your industry will be aware of specific nuances to consider and is better equipped to deliver AI solutions that are in line with CX requirements unique to your company and industry.
Faster Deployment and Implementation
Solutions integrators can streamline project execution with their existing procedures and methods. Their expertise shortens the time to market and speeds up the realization of AI-driven CX value.
Scalability and Adaptive Flexibility
Scalable solutions are available from SIs and are integrated to meet your company's current demands while enabling you to quickly adapt for future needs and expansion. Good integrators operate under Change Management best practices and governance, so upgrades and tweaks to your solution are as seamless as possible. This is especially important as your business strategies change with technology evolutions.
Collaborative Approach
Select a partner who appreciates candid communication and teamwork to make sure your company's objectives are at the center of the AI strategy.
Anticipated Costs
DIY ventures necessitate hefty upfront recruiting, training, and infrastructure setup costs. AI tools may require continuous costs to operate and maintain that outweigh any immediate benefits.
Customization
DIY methods frequently fall short of being able to deliver the same level of customization that is possible through specialized partners. Customization is often needed to address specific CX needs, enhance agent experiences, and increase customer satisfaction.
Day 2 and Continuous Evolution
After implementation, working together with an AI managed services provider materializes immediate value. Security, billing, customer experience, and marketing issues are quickly and expertly handled by their diverse staff. An AI partner's involvement becomes crucial in the post-implementation and support period as the initial excitement of new AI functionality wanes. They maintain success by keeping an eye on systems, responding quickly to problems, and maximizing algorithms for a higher level of efficiency.
Cornerstones of their services include smooth scalability, strong security measures, and flexibility to react to shifting business needs. A trusted AI partner delivers efficiency and alignment of evolving objectives with dedicated teams for troubleshooting and customized assistance. This stage establishes the partnership's value, allowing continuous AI improvement and a simple path to innovation.
Overall, working with a solution integrator to incorporate AI in your CX practice offers several benefits over a do-it-yourself strategy. The disadvantages of DIY, such as unplanned cost structures, time-to-value, and less customization, highlight the strategic benefits of working with knowledgeable solution integrators.
This kind of trusted partnership removes the need for specialized employees, assists in optimizing business processes, and produces seamless AI integrations with proactive issue resolution and thorough optimization. The result is enhanced productivity and long-term growth.
Choosing the Right AI Services Partner
A thorough assessment is necessary when choosing the right AI services partner for your organization. The following aspects should be considered when choosing the best agency to partner with for your business: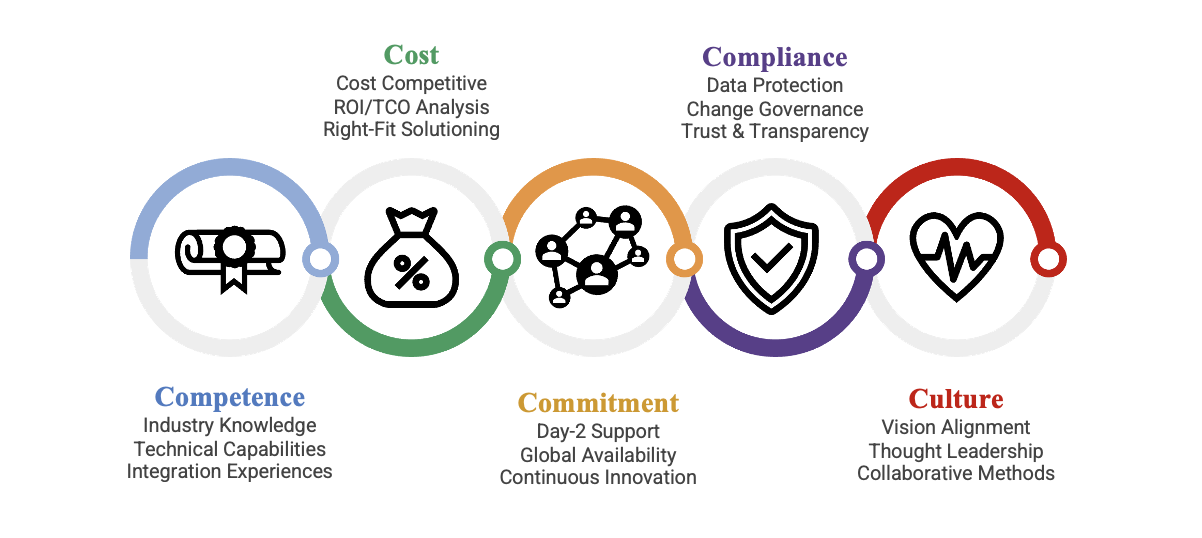 A Direct Path to Value
When it comes to the field of artificial intelligence, the decision between a DIY approach and working with an AI partner is a complex one that greatly impacts an organization's progress. This decision is influenced by several factors, such as risk, current competency levels, and strategic goals.
Collaborating with a reputable AI solution integrator offers numerous benefits that reduce risks and improve outcomes. Solution integration specialists, especially those offering managed services, can streamline implementations, overcome obstacles, and optimize AI solutions for a smoother journey that delivers maximum business value.
---

Guest blog post written by Black Box.