Wrapping up just last week, Customer Response Summit (CRS) Clearwater, Florida (March 28–30, 2022) was a CX leader's paradise — one with lots of incredible views, unique insights, and many learnings — along with more than a few decorative flamingos to remind us to stay flexible, stand by your flock, embrace your passion for customer experience, and always be fabulous! CRS Clearwater provided all with an opportunity to tap into the collective energy and forward-thinking mindset of the Execs In The Know community. Together, the group was able to challenge the "status quo" and inspire innovation through COMMUNITY, CONNECTION, and BALANCE.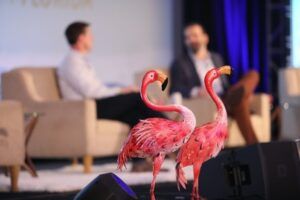 CRS Clearwater was attended by an impassioned and enthusiastic group of some of the customer experience (CX) industry's best and brightest, and the event featured more than a dozen sessions including keynote presentations, discussion panels, and informative breakout sessions and workshops, as well as ample opportunity for professional networking and socializing.
If you were able to join us for this special event, you know exactly how valuable these sessions were. But if you were not able to attend, now's your chance to catch up on the conversation with the following keynote session synopses, along with a dozen or so key takeaways.
…………………..
How Beachbody Became a Digital-First Company
Presented By: Todd Montgomery, Executive Vice President, The Beachbody Company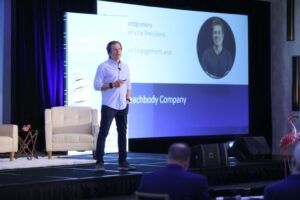 Synopsis:
Beginning in 2014, Todd Montgomery and team began a journey of robust transformation. This change has since yielded a more responsive, more consistent customer care experience, along with improved performance across several key metrics like average speed of answer, customer satisfaction (CSAT), and Net Promoter Score (NPS). All while lowering costs, improving the agent experience, and creating greater internal accountability.  Not to mention this was all accomplished amid a global pandemic.
Todd's keynote kickoff told a compelling story about the value of investing in technologies like self-service solutions and better agent tools, while always maintaining a focus on the customer experience. Through thoughtful scaling, careful and ongoing assessment, and a data-driven, results-minded approach, Todd and team are already checking the box on many objectives, while constantly assessing and looking toward what's next.
Key Takeaways:
Prioritize identifying and tackling pain points, focusing on those things that drive the most volume
Invest in areas that allow you to leverage your program data (including Voice of the Customer) to create more efficient experiences for customers
Implement and experiment with tools and solutions that can simultaneously automate and improve the customer experience
How Fanatics Activated Its CX Data Superpowers
Presented By: Carolyne Truelove, Head of Global Fan Experience, Fanatics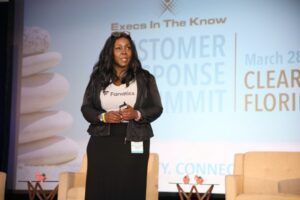 Synopsis:
As the ultimate one-stop sports fan destination with a database of more than 80 million global customers, the Fanatics brand is working with a wealth of data, and actively using it to field a team of data superheroes. Together, this team is united with a shared goal of improving the customer experience right across the enterprise. Faithfully following where the data leads has already unleashed many performance and cost improvement victories, including steadily decreasing Contacts Per Order, fewer escalations, and lower costs.
By focusing on the right metrics, harnessing data to better understand the customer, and tirelessly championing the cause in a way that informs and unites, a data-driven strategy can produce profound results. By approaching CX with a fan's passion, Carolyne and team are turning data insights into heroic moments — all in the spirit of a mission to serve.
Key Takeaways:
Data is a powerful mover of meaningful change when leveraged correctly and consistently, and the data always tells a story when seeking investment and support
Feedback is a gift that should be both treasured and acted upon
Strong internal partnerships and centralized metrics are the keys to unlocking support for not only a single powerful superhero, but a powerful super team
Embracing a Commitment to Employee Success
Presented By: Teresa Ignacio, Vice President, Client Care Managed Services, Visa
Presented By: Mike Jones, Senior Director – Customer Care, The Home Depot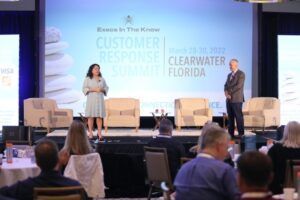 Synopsis:
Teresa Ignacio and Mike Jones lit up the stage, evangelizing the critical importance of creating better employee experiences. Although each told a slightly different story, the themes remained the same. The employee experience was nothing short of a rallying point, one for effective deployment of improvement efforts — the type that can have a multiplicative effect. By supporting a drive for greater employee success, each leader demonstrated how their efforts were empowering an ingredient essential in the recipe for customer success.
The world has undergone significant change, and contact center agents have been asked to handle challenges unimaginable only a couple of years ago. While the foundations of the past may have been a good starting point, they weren't designed to address all the employee needs that have arisen in our new normal. Contact centers have been impacted in ways large and small, and forward-thinking companies have responded with greater flexibility, awareness, and dedication to their most important asset — their people.
Key Takeaways:
The employee experience is multifaceted … many critical areas need to be addressed like career development, engagement, and work environment
Investing in employees (and the tools and technologies that support employees) is one of the single best investments that can be made in the CX space
Leadership approach, processes, and policies must all be flexible enough to change with the times and evolving consumer expectations
CX Transformation Secret Revealed: The Hero Is Your Customer!
Presented By: Jen Johnson, Senior Vice President of Business Transformation, Frontier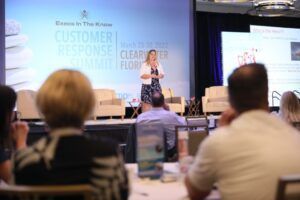 Synopsis:
Transformation isn't easy, but it's almost always essential. And if done correctly, the rewards go far beyond the bottom line. Frontier has undergone many transformations in its nearly 90-year history. But its most recent transformation has led Frontier toward a path of truly putting the customer first, taking center stage in everything the organization does.
Jen shares her thoughts on the compelling narrative of "the customer as the hero," and how such an approach inevitably leads to positive experiences for Frontier customers. Naturally, it's a long-term investment, and not necessarily an easy sell. But with the help of true CX champions, alignment up and down the organization, perseverance, and a common language of "speaking customer," a cultural shift isn't only possible, it's inevitable.
Key Takeaways:
Every customer is a mighty advocate, just needing the right experience to become activated
Organizational alignment is a massive enabler in achieving transformational success
The process is not always easy, and it takes some honest self-reflection to get there
Our Next Event Is Closer Than You Might Think
Catching up on an event by reading these sorts of post-event blog posts might be the next best thing to attending, but it's a far cry from the experience of attending an Execs In the Know CRS event. That's why we invite you to consider joining us during our next CRS event, taking place in Coronado, California, October 24–26, 2022.
To learn more about CRS Coronado, or register for this highly anticipated event, take a moment to visit us at the CRS Coronado web page.