The following is a guest post by Melissa Pollock of AmplifAI. To learn more about AmplifAI, visit the company's website.
Despite all our collective emphasis on customer experience, culturally, and via systems that drive more customer intel to Customer Service Reps (CSRs) so they can deliver improved Customer Experience (CX), I'm still having challenges when I contact my own service providers. For example, I'm either explaining something a third time, being told something by one agent and something different by another, or my all-time least favorite, hearing 'I'm sorry for the inconvenience' with a tone that tells me otherwise!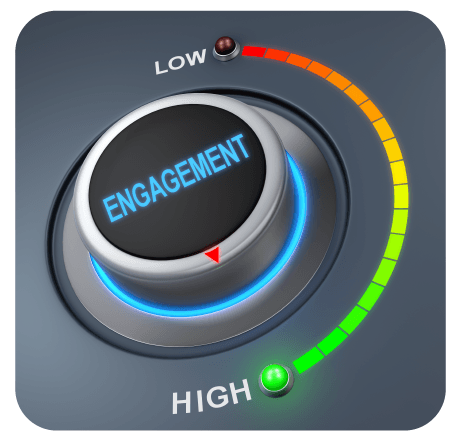 What's missing in our service exchanges?!
Humanity!  Connection!  Warmth!  I remember a CSAT turnaround project that was wildly successful because we taught associates how to better connect with people – how to just be real instead of sounding so 'official,' how to inject their personality into their conversations, how to demonstrate interest and caring, and generally how to have more fun!
It's not technical proficiency, but 'professionalism' burdening our CX!
I've listened to thousands of calls and read hundreds of emails and texts through the course of consulting for contact centers – and in them I rarely heard or saw a CSR that didn't know the technical aspects of handling inquiries regarding their products and services, instead, it was almost always that they sounded impersonal and uninvolved, overly 'professional'.  The major thing those interactions had in common was that representatives went straight to servicing the customer's needs but spent little to no time reacting to the customer's emotion!  In talking with them about it, it was as if they avoided connecting because the people they were interacting with were customers, not someone they knew.
How do we help CSRs better connect? Practice what we teach!
To help CSRs better connect with humans, we need to teach, expect, and measure the use of interpersonal communication and influence behaviors (aka, soft skills!) like warmth, personalization, informality, interest, and caring (aka, empathy!).  The simplest and fastest way to help them understand how to demonstrate those behaviors with customers, and ensure they actually take time to do so, is for our leaders to model these personal connection behaviors with our CSRs!
It's ironic, but so simply true that the behaviors we want and expect CSRs to use to connect with customers, the ones that we know drive high CX, those are the same behaviors we need our frontline leaders to employ to better connect with our CSRs!
Employee Experience (EX) is a huge driver for higher CX, and that means frontline leaders and trainers have to use similar skills with team members that we teach team members to use with customers!   We have to better develop our leaders, so they model right-way connection behaviors with our customer-facing employees, so they, in turn, know in our culture that that relationships matter – internally, and externally.
5 ways leaders can model high-CX behaviors with their team members
Here are five communication behaviors that frontline leaders can easily use to better connect with their team members, which are ironically parallel to what we ask team members to use with our customers:
‍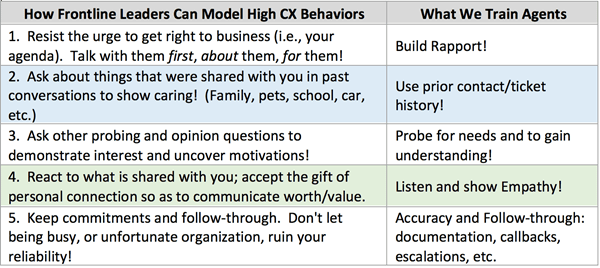 ‍
The Bottom Line
I love this from Shep Hyken; he said, "a brand is defined by the customers' experience… the experience is delivered by the employees."  And who delivers the employees' experience?  We all do.  But, who's got time to always do everything the right or best way?  There are platforms available now that can give us that time – augmenting frontline leaders' performance management workflows and tracking so they can be more consistent, more efficient, more organized, and more effective – as teachers, as coaches, and as motivators and celebrators.
If we intentionally work to ensure our frontline leader behaviors demonstrate value in creating interpersonal relationships with customer-facing employees, then we're not only delivering higher EX and boosting retention. We're also building a culture where those employees are MUCH more likely to place importance on and engage in those connection behaviors with our customers, which in turn means we're delivering a better CX and improved business results!
Do you want to learn more about this topic or AmplifAI? Meet up with Melissa and other experts from AmplifAI to hear their insights and expertise at Customer Response Summit Marina del Rey, September 10-12, 2018. CR Summit Marina del Rey will feature keynotes from Chick-fil-A, Microsoft, LinkedIn, and Upwork, and presentations from Porsche, Southwest Airlines, and many more.
For more information about our leading event for CX professionals, visit our
event website
.