The following post is a guest blog from Daniel Hong, Senior Director of Product Marketing Strategy at [24]7.
There will be 45 billion customer service calls in 2015 . That's over 123 million calls every day! Having agents handling calls is not a scalable and sustainable model for delivering customer service in an increasingly digital world. Customers are expressing a strong preference for self-serve in digital channels, and companies today need to go the "last digital mile" to deliver optimum customer service.
What is the last mile in digital and why is it important? Typically, the "last mile" refers to the final leg of the telecommunications network which delivers connectivity to a retail customer. But, in today's digital world where between 50-60 percent of customers prefer self-service solutions , the last digital mile now represents the coming together of customer-facing touch points with back-end infrastructure to provide a personalized and friction-less self-service experience for customers. Achieving this requires the integration of data, design, and experience to achieve superior business outcomes that enable you to thrive in the digital world.
The last mile in digital means transitioning from analog channels to deliver optimal digital self-service – and augmenting with assisted service – to deliver rich media interactions across devices and utilizing predictive analytics to anticipate the customer's needs.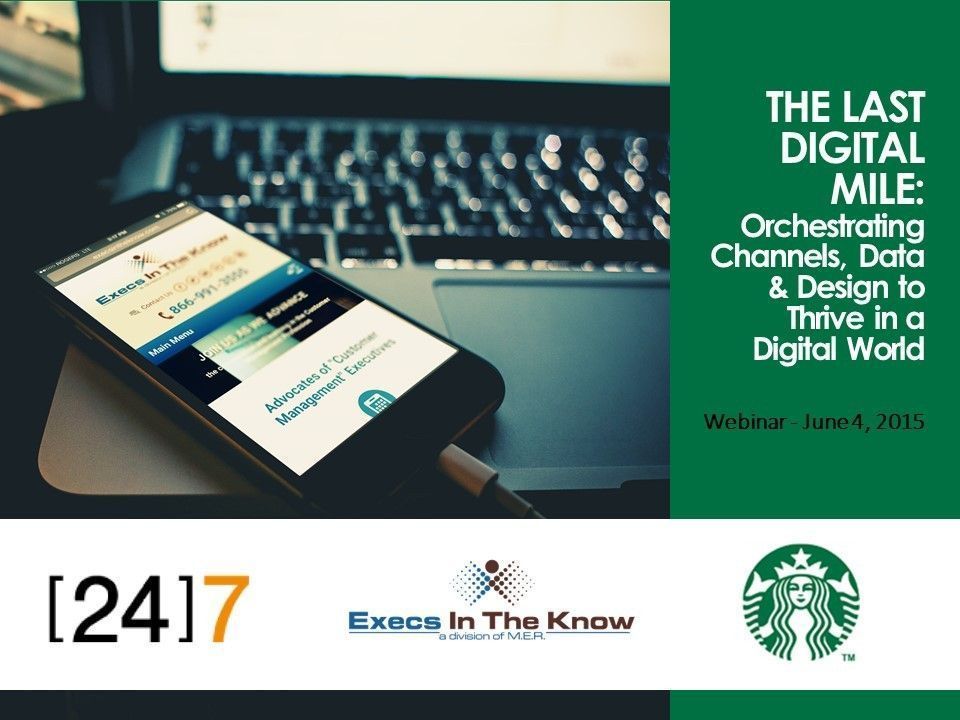 Another thing you can expect is that "incrementality" will become the new reality where end-to-end journeys drive incremental revenues and lifts in NPS. Companies won't simply engage customers by offering random chats but rather we'll engage intelligently, based on big data analysis, when the customer needs help to get the job done, and by managing and understanding their digital journey, we will focus on the engagements where value is added. You need to know who to target, when to intervene, how to engage, and what to recommend. Big data, combined with prediction and real-time decision making, make this possible.
In the digital world, designing the customers experience plays a key role. Not all chat offers, for example, are the same. Design elements, such as widget placement, colors, and fonts have a significant impact on acceptance rates. Using a design of experiments approach can help quickly identify the design that generates the best results and improve the customer's experience.
The upside of delivering a solution that elegantly integrates data, design, and experience to achieve superior business outcomes is significant. Clients using this approach are seeing:
60% automation rates
90+% completion rates
$2.5 billion in savings
200% increase in conversion rates
30 point increase in NPS
If you'd like to learn more about the last mile in digital and how it is benefiting leading finance, retail, telecom and travel companies, please join the webinar The Last Digital Mile: Orchestrating Channels, Data, & Design to Thrive in a Digital World on June 4, 2015 from 1-2 ET. You can register for the webinar here.