In the Spotlight: Chatbots
Self-service expansion and digital transformation are top of mind for many customer experience leaders. You are tasked with aggressive goals of minimizing costs, improving resolution rates, and reducing customer effort. Organizations are at various stages of their self-service journeys, but 2020 has accelerated this need for many.
This article is focused on chatbots, which is just one of many solutions utilized by organizations to automate portions of the sales and service journey at various touchpoints. We will review what chatbots are, current statistics and trends, examples of standout chatbots and what makes them successful, the future of chatbots, and how to ensure your own strategies are set up for success.
We are focusing on chatbots in this article because of their growth in use and sophistication, which we will address in a later section. But our own research, which you can find in the 2019 Corporate Edition of the Customer Experience Benchmark Series (CXMB), illustrates the continued focus and use of chatbots in many organizations' self-help strategies. In fact, 84% of respondents said that of the types of Artificial Intelligence (AI) applications their company was specifically interested in pursuing in the future, chatbots was of interest.
Further, as reported in this article, chatbots can reduce customer support costs by 30% and increase income by 40% while improving lead generation and customer retention.
WHAT ARE CHATBOTS?
The answer to this may be obvious, but we want to ensure we are all on the same page with how chatbots are defined for purposes of this article. Simply put, a chatbot is a software application using natural language processing and AI, designed to simulate human behavior and conversation, primarily through messaging applications or short message service (SMS). They can be programmed to answer questions in specific ways, but can also go beyond this by leveraging company resources and systems simultaneously to find the right answers quickly for customers. They are often referred to as "virtual assistants", helping customers (or agents) solve issues consistently and quickly without human intervention.
CHATBOT STATISTICS AND TRENDS:
Chatbots are growing in use and sophistication to improve the customer experience and increase efficiencies. According to https://www.chatbotguide.org/chatbots-101, the reasons for this growth can be attributed to three main reasons:
Rise of messaging services – Customers have become heavy users of messaging applications such as SMS, Facebook Messenger, WhatsApp, WeChat, and Kik. Many brands have launched or expanded messaging channels to serve customers and chatbots provide efficient ways to engage effectively with customers without proportionately adding agents.
Rise of voice interfaces – Smartphones and home speakers enable customers to use their voice to access information and perform tasks. In fact, Alexa, Siri, and Google Assistant are practically members of families these days!
Advances in machine learning and artificial intelligence (AI) – As stated in the chatbot.org article, "Speech recognition technology has now reached human parity." All major technology companies (Google, Apple, Amazon, Microsoft, Facebook, IBM) have launched bots and/or new frameworks and platforms for building bots.
So, it is fair to say that chatbots are here to stay, and are growing in sophistication and use. Below are some key statistics and trends reported and published by Revechat:
Further, as we think about it from the customer's perspective and how chatbots can improve their experience, chatbots are ideally suited for customers who expect an immediate response and around-the-clock availability for certain types of inquiries and issues. Additionally, they add flexibility and scalability for organizations needing to provide faster and better service, while minimizing costs.
CHATBOT STANDOUT EXAMPLES:
You do not have to look far to find examples of brands utilizing chatbot technology to service customers. Examples span industries and levels of sophistication. Below are just a few examples:
1) Company: Madison-Reed

Category: Beauty
Bot: Madi (SMS/Facebook Messenger)
Why they stand out: On the surface, it would seem challenging to determine the right hair color from a website. Not only does Madison-Reed provide a self-guided capability on their website to find the right color (utilizing an augmented reality feature), their chatbot, affectionately named Madi, allows customers to do this in an even more engaging way. A customer simply uploads a selfie and answers a few questions. Madi then presents the customer with a personalized color match along with additional recommendations. Once a color is selected, the customer has ability to order directly from their phone.
Stated results: +400% engagement, 21% clickthrough rate to website
Click here for a quick video to see how Madi works.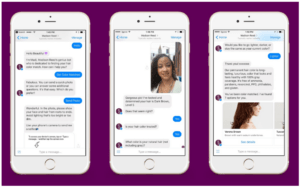 2) Company: Bank of America

Category: Financial Services
Bot: Erica
Why they stand out: Erica has received quite a few public accolades because she goes beyond basic responses and information. In addition to providing basic information like bank balance and the ability to pay bills, she also makes budgeting suggestions and ways to pay down debt. Customers can track spending trends and request payment deferrals, among other options. She also provides external resources and information based on questions asked – for example, if you ask a question about credit scores, she provides you with content and video links about budgeting.
Stated results: According to Business Insider, Erica hit six million users in its first six months, had reached 10 million just nine months later, and during COVID-19 they have added an additional four million users.
Click here to see Erica in action.

3) Company: Hello Fresh

Category: Food and Beverage (home delivery)
Bot: Freddy Freshbot (Facebook Messenger)
Why they stand out: Users can type in a dish or ingredient and Freddy searches for recipes on its blog. Freddy can also send reminders when it is time to pick new meals for delivery service.
Stated results: 47% increase in incoming messages and 76% reduction in response time
Click here to see Freddy Freshbot.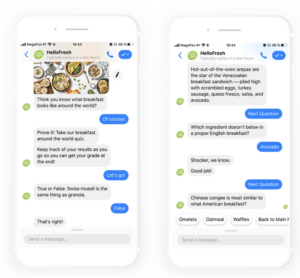 STANDOUT CRITERIA:
These examples cross industries and illustrate different use cases. Whether you are beginning your journey with chatbots or you are taking the next step in your journey, ensure your strategy accomplishes the following:
Solves a problem – Your chatbot should be designed to solve an actual problem faced by both customers and the business. As with most things, just because you can, does not always mean you should. Chatbots can add tremendous benefit, but first define the problem that a chatbot can solve for you and ensure it does just that.
Is conversational – The leading chatbots are becoming more and more conversational, and less robotic in nature. Many are still button and keyword-based, but conversational bots that sound more human, have a sense of humor, and can understand typos/jargon are leading the pack.
Easy to use – Chatbots need to be easy to find, easy to use, and easy to download/install. Remember, one of the objectives of leveraging chatbots is to improve the customer experience and reduce overall effort.
Builds upon your brand – Your chatbot is an extension of your brand and your people. Giving your bots a personality that reflects your brand can go a long way. Those featured in this article are examples of that, as are widely known bots such as Siri (Apple) and Alexa (Amazon).
Offers a path to a human – With any self-help technology, users need to have a clear path to a human for resolution should they not find the answer they need.
THE FUTURE OF CHATBOTS:
As with any emerging technology, chatbot capabilities are rapidly evolving. As brands re-imagine their workforce and customer experience (CX) strategies to meet current and future challenges, chatbots are certain to be a key component of those strategies. Instead of looking at it as a 'nice to have' or a 'cost reduction' strategy, it can become a differentiator if executed well. On an ongoing basis, brands should consistently be investigating which functions/processes/interactions can be served by a chatbot and how to make that come to life. As you continue down this path, the following is where you can expect the future to go:
More human and conversational – Chatbots will continue to be more human and more conversational in nature, becoming more and more difficult to distinguish between a bot and a human.
Sentiment analysis – Sentiment analysis will be integral, enabling bots to understand customer experience and respond or route accordingly.
Growth of messaging platforms – Messaging platforms continue to be a growth driver and chatbots are often integral to this channel strategy.
Voice recognition chatbot technology – According to this article, 110 million Americans use voice assistants at least once a month, driving adoption of voice-powered platforms versus text.
Smarter bots – Scripted and rules-based bots are still prevalent, but by using AI-powered bots, customers can receive more personalized service and recommendations, in addition to less-scripted interactions.
Data analysis – In addition to providing service and support, the data that can be gathered and analyzed from chatbot interaction with customers provides valuable insights not available via other channels.
Chatbot use in contact centers – Contact centers can use chatbot technology and the data received to route customers to the most qualified agents, reducing wait times and customer effort, while increasing issue resolution.
Brand-building – As stated earlier, a chatbot has the capability of giving your brand an even stronger personality, thus improving engagement with your customers. Bots that have a human element, a personality (perhaps with a sense of humor), and are in tune with your customers will drive loyalty and revenue.
CHATBOTS ARE HERE TO STAY:
All of us have likely interacted with a chatbot, whether we realize it or not, and customer expectations for faster and easier service continues to grow. As leaders, we are tasked to meet this challenge, especially as we move into the rest of 2020 and beyond. As with any self-help technology, we must continuously evaluate our customers' journeys and identify opportunities to simplify resolution, while leveraging our most precious asset, our people, where customers need them most.