In December 2014, Execs In The Know hosted a Customer Experience Management Benchmarking (CXMB) Workshop in New York. The one day session featured top industry experts, in a small intimate setting, examining the findings of the most recent CXMB Report, as well as the strategic and tactical implications. The unique workshop provided key insights into what today's consumers want, need, and expect from their brand interactions.
The following interview features Richard Shapiro, President & Founder of The Center For Client Retention.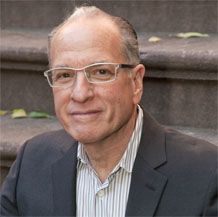 Chad:
Richard, why did you decide to attend the New York Road Show?
Richard:
I had participated in two Customer Response Summits; one in Bonita Springs in 2013 and another, in Memphis this past September. While I go to many conferences that focus on customer experience, the symposiums hosted by Execs In The Know are different. It's not just the topics; it's the speakers and the conversation. The forum brings together senior executives from Fortune 500 companies, who are willing to share their experiences and learn from each other.
I live in Manhattan, so the decision to attend the New York Road Show was easy! I knew the audience would be an intimate group of Customer Experience professionals, and they were. Many of the attendees were VP's from some of the most prestigious retailers in the industry. I was surprised they were able to sneak out of their offices during the Christmas holiday shopping season, but that just reinforced the value of the educational content and networking opportunities, among peers at this meeting.
Chad:
After hearing the speakers and conversation around the topics, what do you think were the most important items that were discussed that would be of interest to others who were not able to attend?
Richard:
There were many great ideas that were both highlighted and reinforced, but there were eight concepts that I felt were particularly relevant and noteworthy.
Keep it Simple: I really enjoyed and appreciated the presentation from Sally McMahon, Vice President, Channel Management at SiriusXM. As a veteran, Sally knows that keeping it simple still works, even in this environment of multi-channel communication. Her staff actually named her passion as "Keep it Sally". If a customer has a problem that is not resolved, Sirius has a screen button that says, "Unresolved." It's not frequently used, but it makes it easy for the customer to get immediate attention and allows Sirius to assign a higher priority, to their resolution team. Having an upset customer go through multiple screens to reach the "contact us page" doesn't make sense. Making it easy and effortless should be important foundations of any service delivery.
Customers are Fickle: Consumers seem to be less and less loyal and are quick to change brands if not satisfied. A video showing consumers being interviewed about their loyalty preferences was shown and most said they consider pricing or the latest promotion, in their decision of where to buy. In my opinion, loyalty is strongest when it's created and built between two people. If brands can figure out a way to generate loyalty person-to-person, by phone, text, or a face-to-face encounter, the chances of consumers remaining with the brand will increase. I personally switched retailers when my favorite salesperson moved away, so I know it's a valid concept.
Communicate Within the Channel: When consumers post a question or a complaint on a brand's social media site, the days of asking them to call you are coming to an end. Consumers expect a response in the same channel of communication. If your brand has a Facebook, Twitter, Pinterest, etc. page and you invite consumers to interact, than companies truly need to respond; that's the definition of interaction.
Personalize the Encounter: Consumers want to feel that their business is appreciated, valued, and they desire a customized experience. One of the more interesting findings in the Customer Experience Management Benchmarking Series was the demographic group that had the highest percentage of "willing to pay more for better customer service," came from Millennials. That information should be both an opportunity and a wake-up call for those who think the wish for personalized service has disappeared in our technological age.
Set Expectations: Setting and providing service expectations makes consumers feel the brand recognizes their importance. Automated response systems that don't have estimated wait times and an option for a call back at a more convenient time, take the control away from the customer, and the customer will eventually take their business away from the company.
Know the Customer's Loyalty History: Attendees agreed with all the massive technology abound, not knowing whether the customer is new to your brand, or a consumer with a long loyalty history, doesn't make sense. Coupling automation with the human connection provides your frontline associates with the tools to target their loyalty messaging. First time purchasers should be made to feel especially welcomed and loyal consumers appreciated. No one likes to have his/her business taken for granted. Multi-channel communication makes this task more challenging, but even more important to figure out how to do it right.
Compute the ROI: While there are non-technical oriented recommendations, such as having staff who innately understand the importance of smiling, actively listening and having a dialog with a customer to create relationships, there are many customer experience enhancements that require large funding. If you believe that service is a differentiator and a competitive advantage, the ROI must be proven. Start with a small group of consumers who represent your brand. Try something new and see if it works by measuring their sales over time. C-Suite executives want verification to move ahead with large expenditures. Numbers can do the selling for you.
Silver Bullets Don't Exist: Overall, the group concurred that there are no easy buttons to push to deliver exceptional customer experiences. Multi-channel communications make for multi-challenges. Contrary to futurists, traditional communication such as telephone and email are not going away. Products and services are becoming more complex. When you Google the question, it doesn't always provide an answer. Consumers still want to be able to reach a person to resolve their issue.
Chad:
Richard, thanks for sharing your experience. Do you have any final comments or thoughts?
Richard:
Chad, thanks for asking me to highlight the valuable discussions from the New York Road Show. You have a unique ability to gather such wonderful Customer Experience Executives who are so willing to share and learn from others. I appreciate being a part of the Execs In The Know family.