Digital transformation has been an ongoing subject for over 30 years. But in the last few years, this transformation has become much more focused on specific aspects of the business. These main areas include technology integrations, operational efficiencies, workforce optimizations and customer experience. Assessing your strengths and weaknesses in each of these pillars can help you understand what aspects of your business could be better optimized and modernized to align with customer expectations in 2022 and beyond.
Let's talk more about the front-and-center transformation that the majority of people are exposed to, the customer experience side. The customer experience is usually the lowest hanging fruit that can provide the most substantial return on your investment.
Why is customer experience (CX) a critical piece of digital transformation?
All businesses have some sort of customer that they need to please and delight to ensure revenue is generated and the business is staying healthy. When speaking to consumers, 95% indicated that customer service is important when choosing which brand to purchase from. Everyone wants to be able to trust whomever they are giving money to. And, if someone has a bad experience, you better believe they are taking their dollars elsewhere. In fact, a Dimensional Research study stated that 59% of consumers will actually stop buying from the business after a negative impression.
Where should you start when it comes to digital CX transformation?
Figuring out where to start is really up to your organization to analyze and prioritize based on where your customer metrics are lacking. More than likely, you already have data to uncover some of this "low-hanging fruit" to get these optimizations started so it's best to have that as the primary step when going through this transformation.
Another key component to this process is focus. If your analysis uncovers multiple areas that are underperforming, it's best to tackle the biggest issue and then move onto the next one to ensure you're fixing a real problem in the process and not pushing out a half-baked experience that seems disconnected (which could end up being worse than it was before!). An analogy that comes to mind in relation to focusing is "a 100-watt light bulb can light up an entire room, but a 100-watt laser can cut through metal". Focusing can help you cut through your issues.
Even though where to start your digital CX transformation depends on your organization's specific requirements, there are some key areas our customers have seen success with. Here are just a few of those solutions:
Automated enrollment and paper form digitization – Believe it or not, some companies are still using paper forms for sign ups and approvals. Digitizing these forms and utilizing mobile collection of documents is fast and transparent which also helps businesses lower costs. Handling things electronically has become the new norm and opens up the path to digital self-service for your customers. Currently, 81% of consumers across industries use self-service before even trying to talk to a live agent.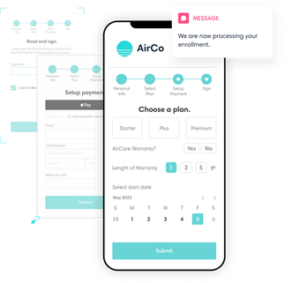 Digital deflection to voice and chat bots – Sometimes you have to show your customers where to go so they can help themselves with common recurring issues that other customers have had. For example, calling into your contact center to hear the status of an order that can easily be handled by "Where is my order?" (WISMO) tracking. Or a patient calling their insurance provider to check on a claims status. These are the opportune moments to deflect to self-service and free up your live agents to take care of larger, more important problems that have arisen. Digital deflection can span across a lot of different use cases and can push customers to automated voice responses or even chat bots, whichever your business prefers.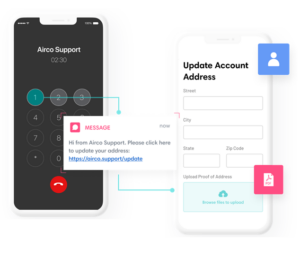 Digital appointment scheduling – Your contact center can be overloaded at certain times, so what happens if someone is trying to schedule an appointment but can't reach anyone? Enter digital scheduling. Just like the previous self-service options, digital scheduling frees up your agents' workload by letting the customer schedule a time to speak with a representative that's convenient for everyone. Allowing scheduling to be self-service can boost connect rates and improve sales/service efficiency. This keeps the customer happy, doesn't overload your agents, and doesn't waste anyone's time.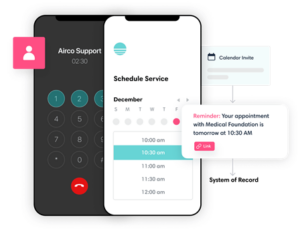 How can these pieces of digital CX transformation be accomplished?
That is the burning question! Most companies will try to build these capabilities themselves, leveraging internal resources and pieced-together point solutions. One brand we spoke to had been trying to build digital deflection and automated onboarding for over 20 years! The project had failed 3 times with internal builds and they just couldn't get the experiences working properly. The solution was to outsource the build of the capabilities and they finally achieved what they were looking for in under a year. Cue the job promotion music, because that leader looks like a genius now.
That is just one story on how buying rather than building helped a large company with their digital transformation efforts. There are plenty of stellar companies out there that can make sure this buy versus build works for you.
In order to build true omnichannel experiences for your customers, you must be able to connect that precious customer data that may sit in your CRM, ERP, or another home-grown system to the connection point where your customer is attempting to take action. This allows companies to more easily create experiences their customers will love. Just having contact center technology isn't enough anymore, you need to personalize your digital experiences across every channel to make interactions as frictionless as possible.
The beauty of improving your digital customer experience is that this will inevitably improve your other digital transformation projects. Improving the digital experience for your customers can make your operational efficiencies better, make your workforce more productive, and also help integrate much of your customer-facing technologies. All of this is why the time for digital CX transformation is now.
It's better to start somewhere than to not start at all.
---
Daniel Henderson, Digital Marketing @ Airkit
To learn more about Digital CX Transformation go to: www.airkit.com
"Airkit simplifies how real-time customer experiences are made, with a CX Automation Platform that integrates with existing systems. This turns any team into builders of digital journeys that truly engage customers."
---
Guest post written by: Airkit. To learn more about this and other critical CX topics, register for Execs In The Know's Customer Response Summit Clearwater .