The onset of COVID-19 and the subsequent stay-at-home orders have left call centers and businesses in all industries in the same boat – working from home with no clear end in sight. As call centers, brands, and entire states have begun to gradually start reopening, it brings about questions surrounding proper protocol for both agents and customers.
Just as call centers acquired new technologies and prioritized shifting to a work-at-home environment without compromising customer experience, the same must now be done in reverse if returning to a traditional office location. But, how?

The old ways of operating are long gone. Call centers will be forced to deal with more unforeseen challenges as we collectively navigate through the new normal by drumming up creative solutions to new problems – just like Ford is doing with wearable technology that buzzes employees if they get too close to their coworkers.
Since we are all in this together, it is helpful to get in the know by leaning on public resources, collaborating with peers, and exploring what others are doing in your industry before designing your reopening strategy. Maybe wristbands that enforce 6-foot social distancing are not exactly an immediate solution for the masses just yet, but there are plenty of other components to make the process of reopening call centers a seamless and stress-free experience for agents and customers.
A Safer Office Work Environment for Healthy Agents
Reintroducing agents back into call centers begins with creating a cleaner, safer work environment. The CDC points to the long-standing "Hierarchy of Controls" for protecting workers as shown below from the National Institute for Occupational Safety and Health (NIOSH).

While it will be imperative to have a larger inventory of hand sanitizer, masks, gloves, and other quarantine staples we have become all too familiar with, creating a healthy post-COVID call center entails much more than stocking up on Purell. Instead, it will take thoughtful consideration on all fronts from the basics, including following the CDC's guidelines for office cleanliness and other protective measures to more advanced considerations in the elimination phase that entail how we respond once wide-spread testing and vaccinations are available.
Accommodating Your Agents Every Way Possible
With close working conditions and shared spaces, call centers proved early on to be among the most vulnerable work environments in regards to the spread of COVID-19, and in lieu of a vaccine, it will be an important factor to consider as you phase workers back into their in-office environments. A South Korean call center saw 44 percent of its agents on one-floor contract COVID-19 despite the country's swift reaction to addressing the virus early with mass testing and digital surveillance. In the image below, you can see just how easily a virus can spread so quickly in a condensed office space.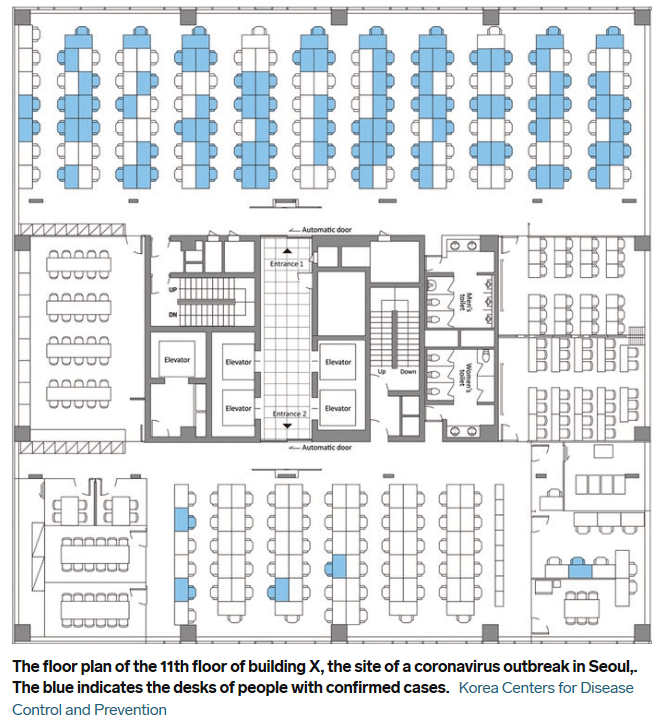 This piece from National Geographic dove further into what could be the end of the traditional office floor plan that has been the standard in offices around the world for decades. In-office accommodations are much more than just spacing desks apart and raising cubical walls – businesses might have to reconsider the handling of elevators, corridors, hallways, and any other area that sees high foot traffic.
We are learning that employers will be adopting staggered arrival times for agents and employees, as well as staging areas for elevators, and routine temperature checks to nip any potential wave of illness in the bud. A redesigned office layout combined with proactive testing and fever monitoring makes for a much healthier, more sustainable post-COVID call center.
Preparing For The Return
Before you have staff return to work, there are several considerations one must address. The CDC offers a Workplace Decision Tool to evaluate the many facets involved including safeguards, policies, procedures, workspace environment consideration, protocols, expectations, and initial and ongoing communication. While each country, state, industry, and business type vary in recommendations, it is important that you read-up and prepare. Here are a few things to consider.
Educate Yourself
Read through all federal, state, and local government requirements and familiarize yourself with CDC and OSHA standards. On May 27, 2020, the CDC released a Resuming Business Toolkit that includes checklists to help guide you through your restart readiness and worker protection consideration. Additionally, it offers an infographic poster to share in your place of business and links to all the important resources you should have at your fingertips.
Focus on an Employee First Model
Consider conducting an anonymous survey with your staff to gain a better understanding of the fears, uncertainty, and doubts of your employees so you can uncover and proactively address any noted concerns. Surveys are great for an initial gauge to help you prepare but on-going input should be part of your return to work plan for early identification of additional concerns and to let your workers know you're listening and care for their safe return and ongoing welfare.
Work with your Human Resource teams to understand resources available for mental health concerns and make sure there are measures in place to communicate the availability of these resources and how to access them in case they are needed.
Consider maintaining work-at-home options and policies that address productivity for employees who enjoy working from home, who care for elderly or young children, or are at-risk individuals who are productive and are equipped to work from home.
Remodel your transaction volumes and adjust work schedules accordingly to support service levels. Consider the scheduling implications of commute schedules, public transportation concerns, office traffic patterns, and scheduled breaks.
Innovate and Communicate
Prepare and communicate new protocols, policies, and expectations. In particular, revise your sick policy to offer additional flexibility, communicate cleaning policies, spell out expectations on the use of masks, set standards for temperature testing prior to arriving to work and or onsite testing, and set a hardline for not coming to work if they have been possibly exposed.
Re-engineer the Workspace and Workflow
Prepare immediate workspaces. Hang signs that clearly display social distancing requirements and reminders about cleaning protocols for employees. Consider the risk of shared workspaces and equipment like headsets, phones, computers, and other staples and supplies. Consider how you will address this hotbed of germs through cleaning protocols and or by ordering additional inventory to offer dedicated equipment and supplies.
Attend to your physical worksite. Consider needs for ample 6-foot social distancing, the need for physical barriers, and additional wall or floor signage throughout the physical location for employee and customer consumption. Make sure there is a general plan for regular cleaning of shared spaces like bathrooms, door handles, conference room facilities, light switches, breakrooms, and the like.
Update protocols for dealing with inbound and outbound materials (i.e. mail and packages), as well as connect with your facility manager to further examine the facility's air filtration systems as a preventative measure.
After The Doors Open
Monitor and Educate
Continue to monitor the federal, state, and local government requirements and familiarize yourself with CDC, The WHO, and OSHA standards.
Keep an eye on cases in your area, be aware of your workers' physical and mental health, including your own.
Continuous Feedback
Have regular conversations with your team members and connect with them on a consistent basis to collect on-going input, monitor employee sentiment on the lines, and keep those lines of communication open.
Ongoing Monitoring and Evaluation
Be consistent with monitoring new protocols, policies, and cleaning standards.
Reevaluate KPI's and adjust accordingly to the current state-of-business to ensure unrealistic expectations are not another source of stress on your team. Performance reviews and metrics will need to be expanded to include safety measures, making sure to keep everyone on the team is following protocol and consistent with the new policies.
No stone can be left unturned when it comes to the health and safety aspect of reopening your business, and the onus falls on leaders to prioritize new behaviors to ensure agents return to a safe work environment for years to come.
How Will You Respond?
One silver lining of this pandemic for businesses is that it is forcing everyone to fortify their contingency plans so that if there were ever a situation that required call centers to be shut down again, closing and reopening them would be easier.
For now, companies must simply follow proper CDC protocols, listen to employees, and do everything possible to ensure they have the environment and the resources to continue providing customers with the best possible experience. With many of the largest brands in the world acting quickly to adopt new service models, acquire new technologies, redesign office layouts, and keep call centers germ-free, it reinforces the idea that every call center needs to look at every possible solution before and after reopening – because as evidenced by the aforementioned National Geographic piece, a poorly-designed call center could be devastating.
The best course of action is to be proactive, continue to seek information on what others are doing, and identify the strategies you see working for your company. With so much at stake, it is important to explore all opportunities, to review OSHA's Guidance on Preparing Workplaces for COVID-19, and as we've learned through this pandemic, to remain flexible.
To get involved in the conversation, Corporate Brands can Join Know It All (KIA), and we invite everyone to check out our April Issue to the CX insight Magazine featuring a number of articles on COVID-19. Additionally, visit our COVID-19 Readiness resource page for links to articles and other pertinent resources, or register for the May 28th webinar, Business Continuity in the Midst of a Crisis & Preparing for the New Normal.
­­­­­­­­­­­­­­­­­­­­­­­­Blog post, written by: Execs In The Know