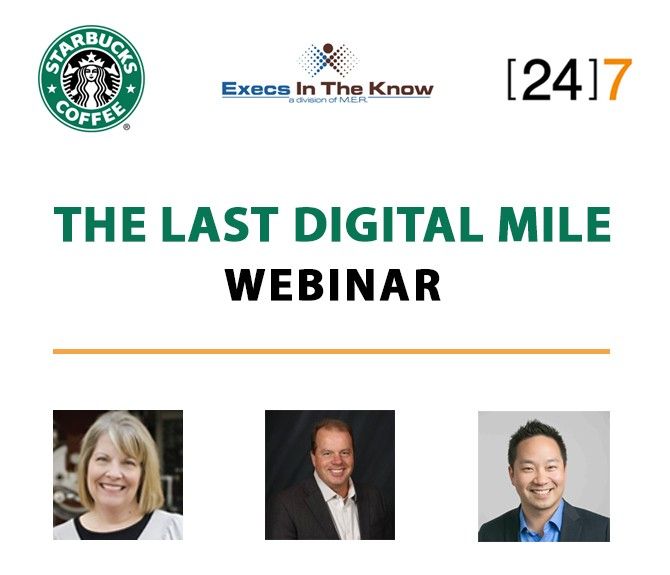 PHOENIX, AZ. April 15, 2016 – Chad McDaniel, President of Execs In The Know, and Leslie Joseph, Senior Director, Product Marketing at [24]7, will be hosting the webinar The Future of Enterprise Chat Wednesday, April 20th, 2016 from 1:00-2:00 P.M. ET. The speakers will explain the importance of having an established chat channel for customer service, as well as potential future improvements, due in large part to consumer demand for intelligent, high quality experiences, regardless of channel.
The webinar will explore how big data, omnichannel technologies, and rich media are delivering improvements in chat experiences, for both customers and agents. Key takeaways include: the key elements of chat success in an omnichannel world; specific use cases to extend and enrich the chat channel; and the business case to transform your chat customer experience, improve sales conversions, save costs, and lift NPS.
"Customers want to be able to contact you when and where they want, in their preferred channel, and know that they'll still have that same consistent experience with your brand," said Chad McDaniel. "[24]7 has great insights to share on best practices and improvements for the future for this interactive channel, which is a top priority for many of our community members."
To register for the webinar visit https://attendee.gotowebinar.com/register/7449194949962566660.
About Execs In The Know
For over 15 years, Execs In The Know has built a reputation of excellence in the Customer Management Industry and a worldwide community of over 50,000 Customer Experience Professionals. Execs In The Know connects people to engaging industry content, thought leadership, current trends, peer-to-peer collaboration, networking, and industry employment opportunities. Examples of this can be seen at their Customer Response Summit events, roadshows, webinars, workshops, Blog Talk Radio segments, Industry Benchmarking Series, blogs, thought papers, and social communities.
To learn more about Execs In The Know, visit www.execsintheknow.com. For more information on their Customer Management Recruitment Solutions, visit www.justcareers.com.
About [24]7
[24]7 makes customer service and sales simple. We use big data and predictive analytics to understand customers and drive better service and sales results for the world's leading companies. [24]7's platform enables an omnichannel experience that connects customer interactions across web, mobile, chat, social, and phone channels in real-time and in the cloud to drive immediate business results by increasing revenues, reducing service and sales costs, and creating more satisfied customers. [24]7 serves the Global 1000 market leaders in Finance, Retail, Telecommunications, Technology, Travel and other industries.
For more information, visit: www.247-inc.com.
Media Contact
Alyssa Pitura
Director of Marketing and Brand Experience
info@execsintheknow.com
www.execsintheknow.com
@ExecsInTheKnow