On August 8th, 2019, Helpshift partnered with Execs In The Know to deliver a wonderful, interactive webinar titled Connected Customer Conversations in a Mobile-First World.
The captivated audience of CX professionals was able to learn from a company leading the charge when it comes to leveraging new age technology to provide a stellar customer experience.
Helpshift is an innovative, connected customer experience platform that is revolutionizing the way big brands and companies communicate with their customers. Many traditional forms of technology and communication have been created to focus on one aspect of the AI spectrum, but Helpshift does it all.
A major component of a successful modern CX strategy is reaching customers on their terms and via their preferred forms of communication. Helpshift leads the charge in creating a cross-channel experience by implementing chatbots, live chat, email, self-service, and traditional human customer service agents to cover all the bases and connect with its audience across all platforms in an efficient manner.
Erik Ashby (Director of Product) and Lori Marion (Director of Product Marketing) led a spirited walkthrough of Helpshift's platform, the company's big picture goals, and what sort of vital takeaways viewers can apply to their own CX strategies to elevate their own companies.
Message
These two CX leaders get a lot of their innovation and passion around a quote from Kate Leggett, Principal Analyst at Forrester.
"In a mobile-first world, the expectation is that any desired information or service is available on any device at a person's moment of need."
Throughout the webinar, the last four words of that quote – "person's moment of need" – proved to be the heart of Helpshift's message. The company has blossomed to new heights by focusing all its efforts around what the customer needs and having empathy for their journey to satisfaction.
Rethinking Customer Experience
Erik walked us through a conversation he had with a group of CX execs at a recent dinner. The question at the table was, "how do we reinvent CX?"
He stressed how new technology forces companies to adapt and draw up new ways to reach customers effectively. There are so many competitive pressures in the market due to technological advances and new experiences being created from tech giants such as Uber, Amazon, and Apple that oftentimes, other companies might struggle to keep up without the same value proposition.
The first thing to look at is the connected customer conversation. Helpshift has been able to scale its business model around this notion by building an all-encompassing platform to give a customer what they need. Sometimes a customer wants a quick answer that a bot can easily handle, whereas other customers might have more pressing needs that require an agent.
Whatever they need, it's important that they can jump from one touch point to another seamlessly and efficiently.
Lori cited this study from Harvard Business Review in 2016 that showed how forming an emotional connection actually matters more than customer satisfaction. In the graphic below, you'll see some of the high-impact motivators that help drive consumer behavior and nurture deeper, long-term relationships with the audience.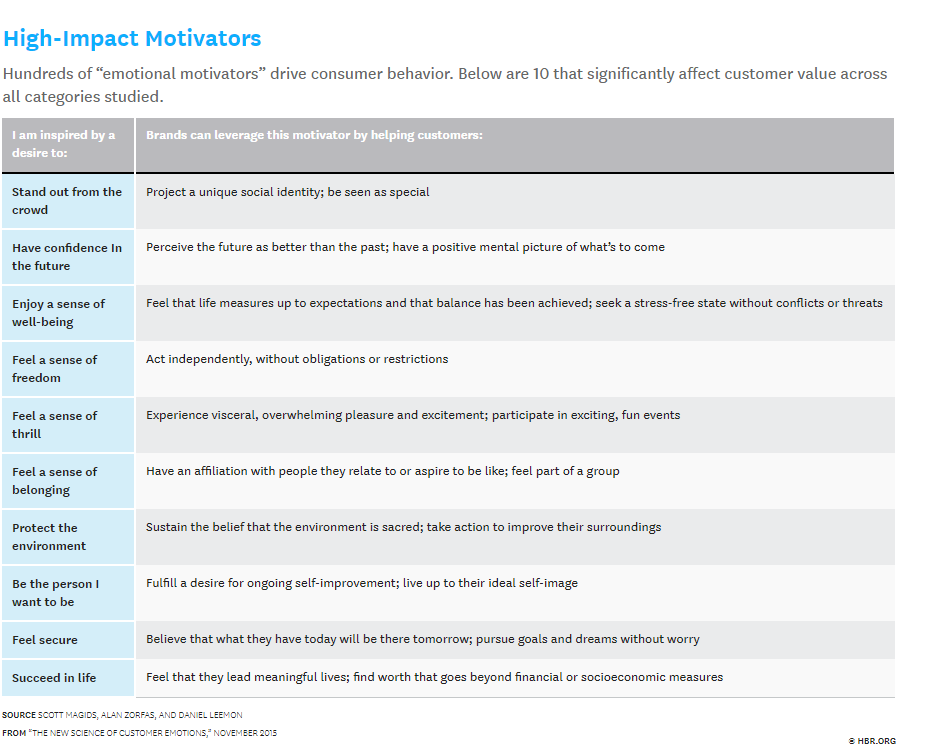 Without an obvious, measurable goal it is easy for a company to waste large amounts of resources without delivering a financial return. Mapping a sound experience across web, bots, and call centers helps avoid a lot of these hiccups.
An emotionally connected customer has shown to engage with the brand in multiple ways, from customers who buy more products and services, to customers who visit the website or store more often, they pay more attention to the info you provide them through email or text. They are invested in you and are much more likely to be advocates for your brand, which are all things you want in a good customer.
Using AI to Address a Moment of Need
As a consumer, there might be brands you have supported for years where you haven't needed customer service at all. When the day comes that you do need them for possible suspicious account activity, the need to file an insurance claim, or something else – this is where the moment of need becomes the only thing that businesses and consumers can think of.
In a way, AI can serve as CS insurance. You don't need it…until you do!
Helpshift provided some noteworthy stats on this topic, namely:
69% of consumers say they want quick answers to simple questions
62% of consumers want convenience and 24/7 accessibility
72% of consumers say that when contacting customer service, they want the agent to know who they are, what they've purchased, and have insights on previous interactions
The power is in the messaging. Self-service, phone, email, bots – you name it. If you can have one conversation through multiple modes in an asynchronous way at any time, you've got yourself a strong CX infrastructure.
Bots, Automation, & Human Intelligence
During Helpshift's webinar, they conducted polls of the audience that showed people are somewhat trusting of bots, but not completely trusting. The audience also opined that CSAT scores would improve with the use of chatbots.
Erik provided insights into just how effective a tag team of humans and bots can be when working together, while human-only interaction compared to bot-only have similar results, while both are lower than when they are used together.
Typically, automation can handle easy issues, while humans still take care of the tough ones.
The biggest goal of this asynchronous approach? Time-to-ROI.
Takeaways
Helpshift's live demonstration of its seamless transition from chatbot, to website, to other mediums was an eye-opening experience. It simplified the experience and gave the audience a good look behind the curtain into the backend point of view from an agent's perspective.
The walkthrough showed what a flexible CX platform looks like up close and served as an example that creating a sound, all-encompassing CX strategy doesn't need to be as difficult or intimidating as it might seem.
We learned first-hand what the journey to digital-first looks like and how it can be applied to any industry, as evidenced by the examples of Helpshift's work as it applied to the gaming, travel, and other industries. Shifting to digital-first is much more digestible using Helpshift's model below.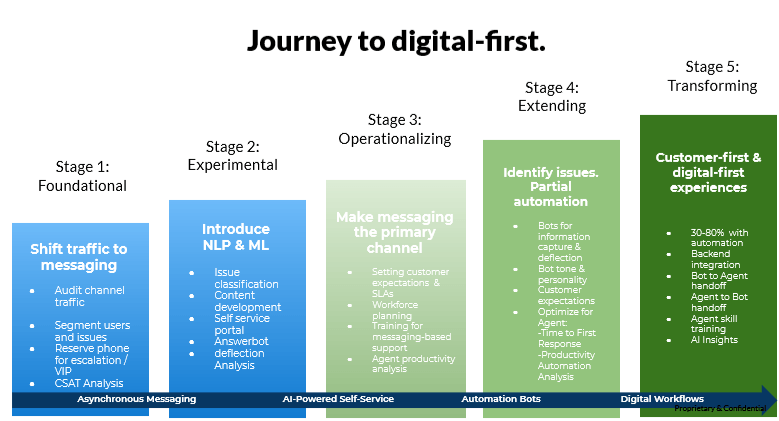 We cannot thank Helpshift enough for putting together such an engaging demonstration full of valuable information and applicable insights, and strongly encourage you to watch the full webinar if you'd like to see even more about Helpshift's incredible platform.