The Top Five Customer Service Trends for 2022
Discover What's Coming Next from Research-Derived Insights.
By Sarika Khanna, EVP & Chief Product Officer, Medallia
The future of customer service is here, and brands that prioritize collecting customer feedback to improve customer satisfaction and put winning strategies in place to deliver an excellent customer experience stand to strengthen existing customer loyalty, attract new customers through positive word of mouth, and gain an advantage over the competition.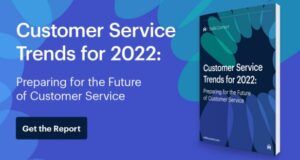 But, what are the best practices that set customer-first companies apart from the rest? For answers, our team at Stella Connect by Medallia commissioned a research study of more than 2,100 consumers in the U.S. and U.K. to uncover key drivers of customer sentiment, behavior, preferences, and loyalty. We published these insights on the future of customer service in our free report, Customer Service Trends for 2022: Preparing for the Future of Customer Service, which is now available to download.
To help your team prepare for the new year, make the most out of your CX investment and keep your organization ahead of the curve, here are five critical ways to meet today's customer service expectations.
Five Research-Backed Insights on the Future of Customer Service
#1: Why It Pays to Invest in Efficiency
Accustomed to offerings like next-day delivery, one-click ordering, and 24/7 customer help lines, speed and convenience have quickly become key factors for success for brands today. And while this need for speed has evolved dramatically since the advent of social media and real-time conversations, the evolution of the omnichannel customer experience has not only led to today's buyers wanting fast responses on more platforms, but a desire — and expectation — for the entire process to be easy, too.
Gone are the days where consumers tolerated lengthy hold times, inefficient messaging tools, and drawn-out resolutions for their issues. In fact, despite there being so much focus on personalization and the criticality of building deep customer relationships with customers, it turns out that these aren't the most important facets of great service for consumers.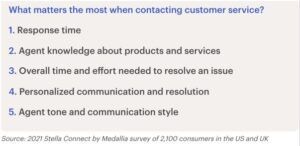 According to our research, both U.S. and U.K. consumers ranked response time as what matters most to them when contacting customer service. This was ahead of agent knowledge about products and services, overall time and effort needed to resolve an issue, personalized communication and resolution and, finally, agent tone and communication style.
What the above speaks to is the value of good training for customer service teams as they aim to keep their customer effort score (CES) low and get to the root of their customers' issues quickly. This is, after all, what today's consumers demand as they increasingly place higher value on quick resolutions than the opportunity to build better relationships with the brands they do business with.

#2: The Importance of Balancing Speed with Quality
When you work in customer service, it can feel like you have to sacrifice quality for quantity, especially when your team is managing a high volume of interactions. True leaders, however, recognize the value in balancing empowering agents with the tools and training needed to handle customer inquiries not only with speed and efficiency, but in ways that ensure quality brand experiences for the customer.
After all, as shown above, customers rank agent knowledge as the #2 most important factor when interacting with customer services.
In this environment, where many CS teams are having to do more with less, customers' plummeting patience is an even greater cause for concern — especially as consumer preferences, expectations and, now, tolerances fluctuate.
What we've seen over the last couple of years is that customer service plays a major role in modern customers' buying decisions and, in 2022, the role of the customer service agent is only going to grow in importance.
With less room for error and patience waning, it's clear that organizations are operating under challenging circumstances to ensure that they're delivering a customer service experience that makes their brand, rather than breaks it. With so much on the line, their use of real-time data and analytics will be pivotal as they seek to stay in touch with the fluctuating needs of their customers, optimize service for the metrics that matter most and, ultimately, improve overall satisfaction.
By supporting your individual agents and creating a more engaged frontline team, you can improve your customer experience and, as a result, increase your customer satisfaction and keep customers coming back for more. Get started by:
Setting up the technology your team needs
Providing coaching for your frontline agents
Holding ongoing 1:1 meetings to keep reps on track with their goals and in line with brand values

#3: Don't Overlook the Value of Personalization
Personalized experiences have the power to influence customer engagement and satisfaction, and they're increasingly becoming the standard customer expectation.
About half of the customers we surveyed in the U.S. and U.K. wanted some level of personalization from the customer service teams they interact with, with 47% of respondents from the U.S. and 57% of respondents from the U.K. saying they want brands to, at the very least, know their name and know about their previous purchases.
While an ultra-high level of personalization may not be required for every single customer, the data shows that customers do still want personalized experiences. When they reach out to your team, it shouldn't come as a surprise.
In addition, the value of personalization in fostering connections between your customers and your brand cannot be understated. Research shows that 84% of U.S. and U.K. consumers say that when customer service solves a problem for them, they feel more emotionally connected to the brand. And, at the end of the day, customers will be stickier and more loyal if they have an emotional connection with your brand.
By offering personalized customer service, you give your business a competitive advantage over your competitors, create more positive customer relationships, and foster relationships that lead to repeat business and growth.

#4: Developing Your Service Recovery Strategy
Poor service experiences are damaging, but they can also present powerful opportunities.
For example, the Service Recovery Paradox tells us that if a brand's ability to execute service recovery — the resolution of a problem from a dissatisfied customer — surpasses the customer's original expectations, a paradox emerges, and the customer becomes more loyal than if the brand had never made the initial mistake.
The reality is, no matter how much you work to improve your agent training and your company's products and services based on the voice of the customer, some amount of negative customer feedback is inevitable.
While it may not be possible to deliver winning customer experiences 100% of the time, it is possible to turn things around for the customer and your organization.
Our research supports this, with an incredible 97% of consumers across the U.S. and U.K. saying that if a brand turned a poor experience into a positive one by solving their problems immediately, they would do business with that brand again. Further, more than a quarter of consumers
(26%) across both nations agree that they're more likely to leave an online review about a poor experience turned into a positive one than an excellent experience or a poor experience.
Service recovery offers organizations the ability to pinpoint negative interactions and reach out to affected customers to make things right. By giving your agents the tools they need to follow up on these interactions and put a proactive service recovery plan in place, you give yourself a leg up on other businesses that may let these negative interactions slip through the cracks.
Empowering your frontline agents to turn negative experiences into positive ones is one of your brand's biggest opportunities for customer retention.

#5: Ensure Your Customers Feel Heard
Sharing feedback with a brand is one of the top actions customers want to take after a poor customer experience, with about half of U.S. consumers (48%) and more than one-third of U.K. consumers (37%) saying this is what they're most likely to do after a negative interaction.
Indeed, the customer service mindset is often one of prevention, with teams allocating the majority of their energy and resources toward ensuring that problems don't arise. But, in a highly complex and competitive landscape where customers are increasingly expecting brands to be "on," this mindset isn't always unreasonable.
As such, it's crucial for organizations to embrace issues as opportunities to form deeper, more personal relationships with customers.
It's also an incredibly effective way for them to drive future engagement, with our research finding that 88% of consumers are more likely to leave feedback (positive or negative) regarding a customer service interaction if they knew it would help the agent improve their ability to service the needs of customers.
As such, it's crucial for organizations to embrace issues as opportunities to form deeper, more personal relationships with customers. Collecting real-time customer feedback gives organizations an undeniable opportunity to humanize interactions, allow their customers to feel like their voices are being heard and valued, and provide learning moments for team members.

Discover More Key Insights on the Future of Customer Service in Our Free Report
The perseverance of customer service teams has been a shining light throughout the ups and downs of the last 18 months. And while consumers' rising expectations are a sign of the indelible impact that the events of the last couple of years have had on the customer service industry, it's also a sign of brands' consistent ability to rise to the occasion in any environment.
And as these needs, wants, and expectations continue to shift, one thing remains clear: customer service teams have a critical role to play in their organization's success going forward. While this places significant responsibility on CS teams, when armed with an in-depth understanding of their customers' new standards, the tools to consistently resolve their issues in real-time, a commitment to sourcing feedback, and a mindset to turn mistakes into powerful opportunities, customer service teams can continue to help their organizations thrive.
Stella Connect by Medallia is the customer feedback and quality management platform built specifically for customer experience teams. Our intuitive platform makes it easy to harness agent-level customer feedback and deliver high-impact coaching and QA programs, driving agent engagement and customer satisfaction.
For even more insights on the future of customer service, get your copy of our free report: Customer Service Trends for 2022: Preparing for the Future of Customer Service.
Sarika Khanna
EVP & Chief Product Officer

Medallia

About the Author:

Sarika leads Medallia's product and design organizations and is obsessed with ease of use and driving value for clients. Prior to Medallia, she was SVP and GM of a high-growth cloud business, Litmos.com, at SAP. Before Litmos, Sarika led the CallidusCloud product team and was instrumental in taking the core product offering from a single-product offering to a market-leading product suite. Previously, Sarika worked in various engineering and product positions at Oracle.