The Rise of Work-at-Home
Quickly and Effectively Shifting to a Work-at-Home Model
to Weather the Impacts of COVID-19
By: Execs In The Know
The sudden onset of COVID-19 has left businesses in all industries scrambling for solutions to a global issue that currently has no end date. Call centers are far from immune to the effects of the pandemic and it has put customer service (CX) leaders in a position to reexamine their organizations' preparedness to deal with uncertainty. 
During times like these, it is imperative to lean on our most valuable resource – the community. Execs In The Know is currently hosting a weekly Virtual Briefing Series with various corporate brands and select business partners in a panel format to collectively discuss and strategize the best ways of dealing with some of the most impactful aspects of the COVID-19 pandemic from a customer experience perspective. 
The second installment of the Virtual Briefing Series focused on something that most industries have been forced to adopt during the pandemic: creating a work-at-home model. While it may have been a seamless transition for companies that have already been employing work-at-home agents, call centers operating predominantly on-site are just beginning to navigate through this pandemic by tackling one new issue at a time. The discussion highlighted certain timelines necessary to put together an effective work-at-home strategy without sacrificing quality, technology considerations, and general best practices that are expanded on below. 
The First 30-45 Days
Before thinking about big picture strategic items, call centers can't neglect the logistics. This means making sure every brick and mortar location is clean and safe by being disinfected with the proper protective chemicals. From there, companies move on to bigger questions, like whether cubicle walls are high enough to meet necessary precautionary measures and gradually reducing the number of people in the call centers until all agents are at home. 
The COVID-19 outbreak was a major test for companies' operational preparedness. While many were understandably underprepared due to the severity of the situation, it forced us all to learn a few things to make sure next time everyone has a better idea of how to weather the storm and get workers to their homes. One of the main considerations during these times is technology, namely making sure agents have access to the resources they need to do their jobs effectively. From a logistical perspective, COVID-19 has shown how ill-equipped many call centers are in this aspect. 
One of our experts who participated in the Virtual Briefing Series viewed the situation from a 30-day window early on, attempting to project what was most likely to happen based on the rest of the world. When it was apparent that agents would need to be moved off site, the focus turned to evaluating what sort of technology resources were available in-house and figuring out how to move at least 30% of agents to a work-at-home model. Another expert had to get creative and scrambled to find laptops and PCs across different departments within the organization to hand off to agents. 
The early portion of this pandemic was all about remaining flexible by working on today while also working on tomorrow. 
Agent/Business Considerations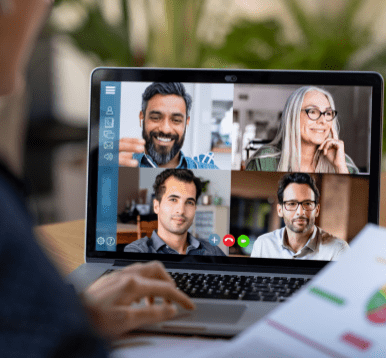 Agents must be taken care of before the customers to ensure they have the proper security control, cloud environment, internet connections, and any other tools to adequately do their jobs from home without compromising anything in terms of quality. 
One measure some companies are taking is holding off on evaluating certain metrics in order to give agents a week or so to adjust to working in a new environment. This doesn't mean that companies change what agents are expected to achieve, but take it as a chance to evaluate if you are measuring the right things given the change in interactions. In some cases, companies are already seeing upticks in customer satisfaction (CSAT) and net promoter scores (NPS), as well as faster response times, but it's still worth giving agents time to adjust. Anxious customers are demanding a lot of help during this time. 
In addition to having adjustment time, any help to ensure agents have the right home environment goes a long way. Each agent could have different needs in terms of communication preferences or home office arrangements. Some agents handle noise better than others, others might function better with standup or treadmill desks, and some can even deliver their best customer care from a recliner. According to our panelists, it's as much of an adjustment for the company as it is for the agent, but having reliable end-of-day metrics as well as the expected adjustment period will make the transition easier. 
Once internal agents are in a good space, the focus shifts elsewhere, specifically towards what partners you are working with. Partners and corporate brands have to be clear and agree on all the requirements of a new work-at-home strategy. This includes paperwork that dictates a contractual professional relationship that shows the care for all parties with a key focus on the employee base. 
One of our partners noted they have seen a lot of movement in the modification of security protocols between a number of organizations with multi-vendor solutions. This has created a concern that some organizations may be softening requirements in significant ways. Companies need to be mindful of not overreacting during a time of heightened sensitivity by swinging the pendulum too far in the other direction and creating added risk for the brand. 
From a business perspective, more of an onus falls on leadership's shoulders. Agents can be provided with the tools to succeed, but higher-ups are tasked with keeping them engaged by making sure everyone knows how to interact on video, while also implementing necessary checks and balances to keep quality scores high. The COVID-19 pandemic has thrown the world for a loop, but it should not permit companies to enter a downtrend simply because they aren't accustomed to working from home. Supporting the workforce from the top down is critical. 
What About Gig or AI as Added Solutions?
If needed, the gig economy is chomping at the bit to get involved in your work-at-home strategy. Gig can step in quickly as a solution if call volume has increased dramatically due to the pandemic. 
If a call center has to shut down due to the circumstances, in certain cases they can recruit consumer brand advocates already on a gig platform who are known by the company through email. Attendees of the Virtual Briefing Series learned about this as a specific example, and when the call center went down, new gig workers were answering questions within 12 hours. Brand advocates who may be hurt by this economic downturn could be looking for work as well, so by using the end customers as a resource, people who are affiliated with your brand could quickly and seamlessly become the next gig workers boosting CSAT scores for your organization. These brand advocates also don't need as much training, can certify quickly, and are well-equipped to step up, should call volumes increase to the point that their hours need to be doubled, or even tripled. 
Another area an organization could rely on more is artificial intelligence (AI). For some organizations, utilizing AI and automation for customer service is a standard service channel in 2020, but in certain industries where COVID-19 has caused unprecedented spikes in call volume – especially the airline and hotel industries – AI and automation can be further leveraged to absorb workload. A Vonage.com study dictated that 25% of people prefer to have their questions handled by bots or other self-service options, indicating how important it is to have the proper automation services in place early during the work-at-home process. 
Wrapping Up
Shifting hundreds of call center agents to a work-at-home environment on such short notice isn't easy. As agents adjust and settle into their new work environment and companies continue to follow the changing government issued mandates, CX leaders are adjusting as well. As a leader, you should look for the best practices to motivate your new virtual team. These should include proactively addressing the wellbeing of your employees, keeping the lines of communication open, considering different approaches to all sides of the business, including measuring productivity, continue reinforcing a customer-centric culture, and keeping a watchful eye on the customer key performance indicators.  
This may be the new normal for the unforeseeable future, however, it is critical to look to the time when mandates are slowly lifted and we can start thoughtfully transitioning workers back into the brick and mortar environment. And once we all start to return to life before the crisis, you may want to ask yourself a few questions: Will there be new social distancing mandates for office space? How will you choose to transition the team and how will it unfold? What transitional solutions will you maintain? How will you strengthen those over time? How will you be better prepared if something like this were to happen again?  
While CX leaders have been working tirelessly over the last several weeks to ensure business continuity, we cannot slow down. Now is the time to establish what your post–COVID-19 "new normal" looks like and how you will get there.  
To learn more about how to strengthen your work-at-home strategy and improve operational preparedness during the COVID-19 pandemic, check out our Virtual Briefing Series. 

Go Back to All Articles
. Have a story idea? Submit to
info@execsintheknow.com
.
Want to get this publication in your inbox?
Subscribe here
!