Driving CX Efficiency in the Wake of Business Disruption
By: Mike Myer of Quiq
Business not as usual.
With well over two-thirds of the United States (US) population under stay-at-home orders and millions of children out of school, our daily routine is anything but normal.

Organizations have been hit with service disruptions and unimaginable scenarios in the past month. While in the past we have seen reinvention, industry shifts, and changes in consumer behavior, what we are experiencing now with the COVID-19 disruption is unprecedented. For example, 40.9% of retail square feet is currently closed, customer service wait times can exceed 10 hours, and online grocery purchases rose 210% from March 12 – 15 compared to last year. 
COVID-19 has forced customer experience (CX) leaders to reassess their ability to adapt quickly to major business disruption. Focusing on digital strategies is the key to driving CX efficiency during times of major business disruption. Leaders will need to focus their time and resources on how they communicate with customers, how they equip their staff, and the role technology plays today and in the future of this new environment.  
1. Communicate with Customers During Disruption 
The COVID-19 pandemic casts a bright light on companies' ability to react to fast moving, unpredictable events. Many organizations have been inundated with phone calls from customers, citizens, and students needing information. Few organizations were prepared or staffed for the influx. In an attempt to get information to consumers faster, companies turned to digital channels, like their websites, web chat, and text messaging to address the influx of demand. 
The shift continues to teach leaders important lessons about communications. Here are some recommendations for communicating with customers today and in the future: 
Diversify channels for greater accessibility
Digital communications were pushed to center stage as organizations closed their doors and employees, including contact center agents, were sent home to work. Prior to COVID-19, digital devices were a means to engage intermittently as consumers went about their day. During a crisis, customers use all means available to reach out and get information. Companies must prepare to present information across all channels and devices to allow customers to get what they need without having to call and wait on hold. 
Provide real-time updates 24×7

 
Organizations all over the country were overwhelmed by the influx of phone calls from consumers, creating excessive hold times and frustrated callers. Forcing people to get up-to-date information over the phone puts undue and unnecessary pressure on employees and agents considering they can only help one caller at a time. Since the information and answers to 80-90% of the questions asked are the same, there's a great opportunity to allow for self-serve via chat, messaging, and bots. Bots can be a great self-service tool, yet still allow the option to get to a human if needed. Bots assist in frequently asked questions, freeing up agents to handle more complex issues.   
Scale quickly and effectively

 
During a crisis, time is of the essence. Some companies rely on their phone system or interactive voice response (IVR) to provide updates to callers. However, they quickly learned that the IVR menus and messages couldn't be updated fast enough because it required specialized IT resources. Business leaders could not make the updates themselves in real-time, resulting in outdated or inaccurate information being shared. An alternative approach to help scale and better assist customers would be to use digital engagement technologies. For example, providing a chat and/or text messaging channel allows customers to engage with an organization without being on hold. 
Send proactive communications 

 
During a crisis, consumers want proactive, real-time updates. Outbound text messages, which are typically used to communicate order status, marketing promotions, or appointment confirmations, allow companies to broadly share information. These types of messages also allow consumers to reply to that message to start a conversation with your team directly. 
Deliver consistent and accurate information

 
The COVID-19 situation has changed rapidly. When information and updates are released on a frequent basis, the ability to maintain standard messaging on frequently discussed topics is of utmost importance. Many organizations use pre-built responses that could be updated in one central system and shared across the organization. Store closure, updates on available services, or shipping delays, for example, can be saved at an organization level and made available for the entire team to use.               
2. Equip Employees with The Right Digital Tools 
Large swings in call volumes aren't anything new for contact centers, but they are typically predicted due to seasonality. Managing a major influx of calls in the midst of a major workforce transition, however, is new and very disruptive. The experience has led many organizations to the realization that low-tech solutions, like emails and phone systems, were not sufficient to quell the barrage of customer inquiries.  
Limited human resources, in addition to unprecedented customer inquiries, spiked hold times. Responsive companies equipped employees with technology that increased their team's efficiency. Emails and phone calls are synchronous or 1-to-1, where they require a dedicated resource for each interaction. Because of the asynchronous nature of messaging and web chat, agents can handle multiple, simultaneous conversations, making them five to seven times more efficient.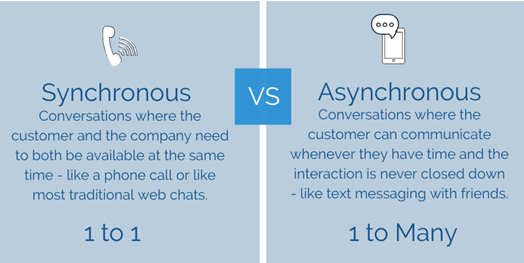 Messaging and chat also make it possible for customer service agents who are working from home to conduct conversations without the fear of interruptions from pets, kids, or other distractions. 
Bots are newer technology that also helps customers self-serve. For one small retailer with fewer than 10 agents, implementing bots saved them one full-time equivalent (FTE) in just the first two weeks, allowing them to take on special projects. Chatbots can fully eliminate calls by providing consumers answers to frequently asked questions that don't require a human to answer. For example, in February the City of Knoxville was looking for a bot to help them handle 2020 Census questions by April 1. They were expecting a significant number of common questions that could be handled by a bot. When March hit, COVID-19 updates were added to their bot in order to help citizens find timely and critical updates on their own.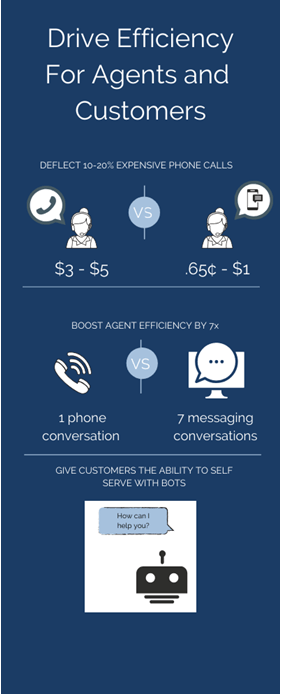 3. Integrate Technology Into Current & Future Plans 
COVID-19 forced a number of companies to disintegrate their traditional contact center by having their employees work from home. Many others totally lost their contact center as some countries, like India and the Philippines, enforced strict lockdowns on their citizens, sending them home. 
Cloud-based technology makes the transition to a remote contact center simple and more practical. For companies that had already implemented messaging and chatbots, the transition simply meant turning off the phones and encouraging more engagement on digital channels.   
 As leaders adapt to a new and demanding reality, plans will have to have a stronger focus on the technology that allows their workforce to scale quickly, allowing the flexibility to work from anywhere. 
Crisis Recovery
As we recover from this crisis, businesses will face a backlog of demand as consumers spill out of their homes and back into the market. Conversations will shift from location closures and shipping delays to orders and new bookings. Companies should prepare themselves for the pent-up demand by investing in digital technologies that will help them manage a new influx of demand. And during that hopeful end, once again digital transformation can help drive CX efficiency.  
Mike Myer
CEO, Quiq

Quiq helps brands present their customers with consistently jaw-dropping customer experiences across SMS/text messaging, rich messaging, web chat, and social channels. Learn More at www.quiq.com.
Go Back to All Articles
. Have a story idea? Submit to
info@execsintheknow.com
.
Want to get this publication in your inbox?
Subscribe here
!