Top 5 Customer Experience Trends of 2021
By: Lauren Kindzierski of HGS

The COVID-19 pandemic has changed the customer experience (CX) industry forever. With rising contact volumes and employee safety of the highest priority, the industry was forced to become a work-at-home (WAH) industry overnight by mobilizing thousands of customer care agents to deliver service from the comfort of their homes in a matter of weeks. Now the real question is: What happens next? The answer… no one really knows for sure. However, one thing we do know is that CX professionals are re-prioritizing what is important in 2021. Business continuity, data security, automation, flexible technology, and new business models are at the forefront of everyone's minds.
Here is a breakdown of the top five CX trends you should be thinking about as we move through 2021.
Flexible Working & Hybrid Customer Care Delivery Models
CX professionals and contact center outsourcers around the globe are being forced to rethink their business models. How do we deliver service going forward? Thinking about options such as brick-and-mortar contact centers, WAH, gig economy, or even more attractive, a hybrid model of all three. An example of a hybrid model being tested is built out of smaller Engagement Hubs that look more like collaborative, co-working spaces with a café feel, and less like traditional 500-seat contact centers. The strategy for the Engagement Hub is simple: take advantage
of both the benefits of WAH as well as on-site collaboration. Agents can work remotely and then come into the Engagement Hub for collaboration sessions, training, or even when they just need to get out of the house. It's a win-win for businesses and employees. Businesses can take advantage of lower rent payments for smaller spaces, and employees reap the benefits of greater flexibility and, most importantly, less isolation.
The Cognitive Contact Center Movement
As with everything else, COVID-19 has definitely jump-started a movement toward the Cognitive Contact Center. The movement, which is happening in both captive and outsourced centers, is focused on building out a network of bots and brains to quickly deliver the right answer. The movement toward the Cognitive Contact Center starts with designing effortless agent and customer experiences by moving contact center telephony to the cloud, integrating systems, leading with self-service and automation, enabling universal agents, delivering insights, and continuously optimizing to get smarter with every engagement.
The Cognitive Contact Center movement is forcing the CX industry to re-imagine customer experiences and end-to-end customer journeys. The result is a better agent experience that translates into a better and more personalized customer experience. Here's a breakdown on how the Cognitive Contact Center differs from a traditional contact center: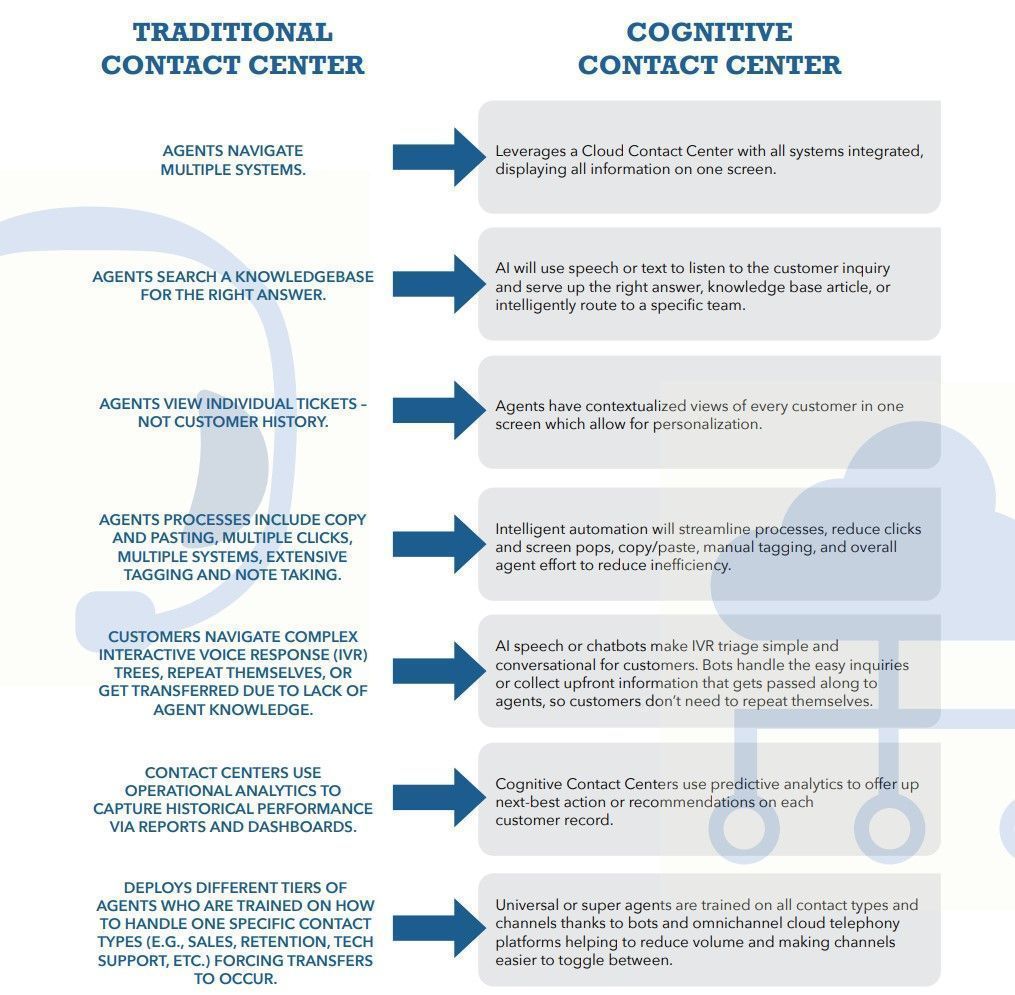 Cloud Contact Centers & Omnichannel
Contact centers have evolved over the past 30 years. The era of on-premises telephony systems is coming to an end because of the high upfront cost (capital expenses), and the complexity involved in managing, operating, supporting, and keeping these systems up-to-date. It is also difficult to quickly evolve these systems with the customers changing needs, and when it is possible to change, it ends up being too expensive. These pain points have triggered a massive growth in the movement to cloud contact centers. Everest's Customer Experience Management State of the Market Report 2021 stated, "Cloud infrastructure deployments grew by another 12% in the past year, following a 36.1% uplift between 2018 and 2019. As the momentum continues, cloud-based solutions are forecasted to double from 36.3% to 71.9% in the coming year." Cloud contact center vendors reduce the upfront cost by moving to a monthly cost-per-seat (operating expenses), while eliminating the need for managing onsite servers. In addition, thanks to Application Program Interfaces (APIs), achieving an omnichannel state that also has the benefits of AI chatbots has never been easier.
Work at Home Innovation + Data Security
Unfortunately, there is a greater risk of compromised customer data and security breaches with thousands of agents working remotely from home. However, companies are doubling down on innovation to drive the next evolution of work-at-home data security to mitigate this risk while driving the flexibility and efficiency that remote work offers. Here are a couple of innovations focused on security that exist in the marketplace today:
Face detection and recognition
Object detection
Mobile phone detection
Unauthorized person detection
In addition, another huge problem that exists is the noise distractions that can happen in the background of an employee working from home, which can include a dog barking, a child crying, street or traffic noise, or even family chatter. To solve this problem, there is an AI-enabled solution from a noise cancelling app called Krisp that is able to block out background noise — not only in the agent environment, but in the customer's environment as well.
Lastly, there is the issue of ensuring employee productivity. While working from home has many benefits, contact center leadership does not have the benefit of constant supervision to ensure productivity. To address this issue, innovations include:
Sleep detection
Mood and gesture detection
"Not at desk" detection
Whether or not an organization deploys these innovations depends on what country they are operating in, and the laws and regulations of employee privacy. These tools and innovations, while helpful, could also be deemed as intrusive if not properly deployed. Partnering with your IT and security team to focus on compliance, productivity, and customer data security are going to be critical in 2021 and beyond.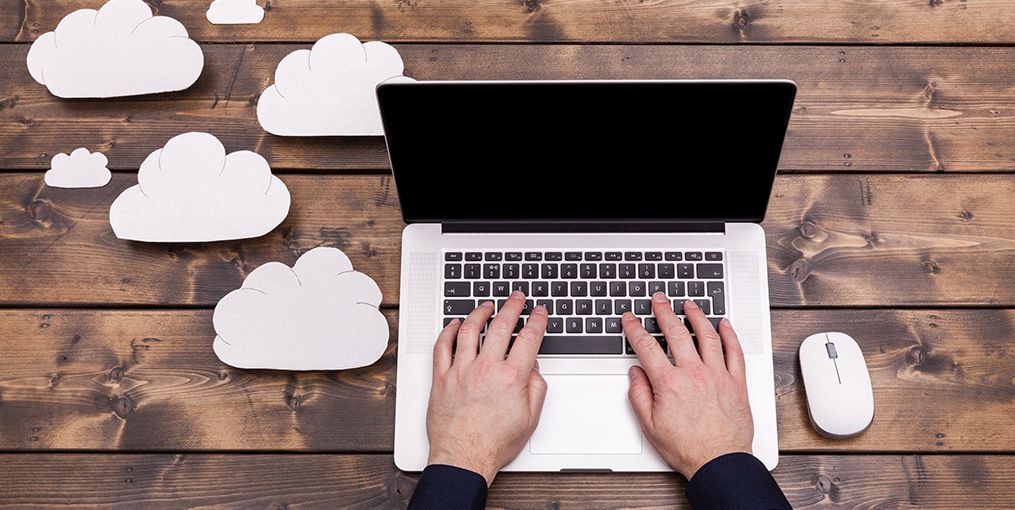 Self-Service & Channel Guidance Approach
Creating an effective customer self-service portal has long been a priority for many companies, but recent events have made it infinitely more imperative. The pandemic and the resulting economic fallout have affected every consumer in some way, creating a host of reasons why customers might be driven to contact a brand. Perhaps they need to suspend automatic payments, pause a service, or cancel a reservation. These and other urgent customer needs have translated into a staggering spike in volume. According to Nelson Hall, there have been an estimated 30% to 40% more requests (or higher in some cases) for brands in every industry. Most companies are not equipped to deal with such an increase, and especially one that has remained steadily high for a long period of time. The solution many organizations focused on was driving volume to self-service, which has caused an immense focus on the current experience being delivered.
There are many forms of self-service including website FAQs, how-to videos, peer-to-peer communities, virtual assistants, and more. However, it's not enough to just have these self-service channels available to customers. In order to drive a higher issue resolution rate, CX professionals will need to take a smarter, more strategic self-service approach because 90% of the time, consumers will check a website before calling. A brand's website becomes the starting point for the customer journey. According to Matt Dixon, author of The Effortless Customer Experience, "Channel choice was an idea companies invented. Customers don't want choice; they want channel guidance." To Dixon's point, today's customers want customer service to help them get the right answer, fast. It may seem obvious, but it can be challenging to do well.
Designing the web self-service experience around the reasons why customers contact the brand in the first place and driving them to the best channel to resolve their issue is absolutely critical. In some cases, the best channel for resolution may be a virtual assistant or a knowledge base article. And in other really complex cases, it might be a phone number. When guiding customers towards channels, the key focus point for companies will be to reduce customer effort. With wanting the right answers fast, customers also want to expend the least amount of effort. Knowing their channel guidance paths, brands can ensure absolute capability of that channel in being able to solve the particular customer query.
With so much unpredictability happening in the economy, organizations must remain flexible and agile. Today, business success hinges on fast response to global catastrophes, changing market forces, and shifting consumer preferences. Every business decision, technology investment, and strategy you execute in 2021 must be both adaptable and yet innovative. As you re-imagine the agent and customer experiences, think about your approach very carefully and consider ways to reduce risk and cost, but not at the expense of your effortless customer experience.
About HGS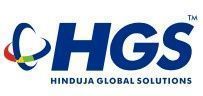 HGS is a global leader in BPO and optimizing the customer experience lifecycle by leveraging AI, automation, analytics, and digital to deliver transformational impact to clients Learn more at www.teamhgs.com.
Meet Lauren Kindzierski VP of Customer Experience Marketing, HGS
Lauren has over 13 years of experience in the customer service industry. Her passion for CX has driven her to develop innovative engagement solutions – including the award-winning HGS EPIC™ social customer care and HGS Text for clients. In 2020, Lauren was recognized by Gulfshore Business as a member of the Top 40 under 40, a special list that highlights a select group of young professionals based in Southwest Florida. In 2016, Lauren received a Silver Stevie Award
for Women in Business – Executive of the Year. Lauren holds a Masters degree in Business Administration from Walsh College. To learn more or ask a question, please connect with her on LinkedIn.