Charleston was our most successful Customer Response Summit yet, and we'll be pondering the ideas it sparked and reliving the memories we created for a long time to come. Narrowing it down to just 10 was tough, but here's our take on the top highlights of the event.
10. The 5 Minutes of Brilliance Presentations
These bite-sized presentations were so beloved, many attendees asked for more at future events (we're working on it!).
Andy Yasutake of LinkedIn and Mark Killick of Grubhub did an excellent job of breaking down their respective topics—Andy spoke about how LinkedIn worked on customer service request surges, and Mark spoke about using business intelligence to improve operations. We're still thinking about their talks.
9. The Case Studies
One thing we've heard again and again is that our community craves presentations on what real companies do to move the customer service needle. At CRS Charleston, there were many breakout sessions to choose from. The topics represented leaned to digital and AI concerns, but they were varied enough to make the sessions useful to everyone:
-BOTs, Speech, and Humans – Seamlessly Balanced
-CX Measurement for the Ever-Connected Customer
-Are You Ready? This is the Year of Consumer Messaging & Bots
-Scaling True to Yourself
-The Future of Customer Service is Here. Are you Ready?
-Expanding Customer Conversations Over Digital Channels
-University of Pittsburgh Medical Center Health Plan Delivers A High Touch, High Tech Customer Experience
8. The "Networking" Event
There's no better way to make new connections than at our social events. The evening at Prohibition combined a 1920s-themed party with networking. Friendships and business relationships were formed—or cemented—by the night's end.
7. The CXMB 2017 Corporate Edition Results
Every CRS Charleston attendee received a copy of the full report in their welcome packet, and COPC Inc.'s Judi Brenstein, Balsam Brands' Caroline Tuan, Sweetwater Sound's Salena Scardina, and Grubhub's Mark Killick explored the real-world implications of the CXMB 2017 Corporate Edition.
Here are some highlights:
-82% of corporate leaders feel their organization meets the customer service needs of its customers, while only 40% of consumers do
-Just 61% of executives believe their company offers support in all the channels their customers want to use
-Metrics CX senior leaders are using to measure success include CSAT (77%). NPS (67%), Customer Effort (28%), and Other (10%)
These kinds of benchmarking results let our community know where they're ahead, on pace, or falling behind as compared to their peers. Hearing from other executives is one of the hallmarks of EITK events, and this report is one of the most valuable pieces of content we (in partnership with COPC) create and distribute.
6. The Keynotes
The list of keynotes was an all-star roster of corporate America's best:
-Scott Emmons, Head of the Innovation Lab – Neiman Marcus
-Doug Woodard, SVP of Customer Channels for US Card Customer Experience – Capital One
-Michele Watson, Senior Vice President of Client Success – Indeed
-Wanny Manasse, VP of Customer Care – T-Mobile
Every one was packed full of imaginative strategies and tactics from companies that have customer experience at their core. The speakers brought us back to what we're all passionate about: serving our customers better.
5. The Tour
Not everyone was able to make the tour of T-Mobile's Charleston facility, but those who did will likely never forget it. The operation itself was impressive—1,300 seats—and the welcome was incredible. The employees we met serenaded us with songs they wrote just for us! The T-Mobile center was built with employee engagement in mind. The culture and heart of the center was undeniable. There were many areas where employees could relax and enjoy their workplace and build community. Hats off to T-Mobile for a tour that will be hard to top.
4. The Focus on Employees
It's one of the bedrock principles of CX that employee engagement drives customer satisfaction. It's also one of the hardest areas to get right. Airbnb's presentation (not pictured) and the panel with (from left) Beth Linthicum of Aetna, Christopher Swisher of Bayer, and Jackie Craver of Nintendo gave new life to this topic, covering the challenges and presenting clever solutions.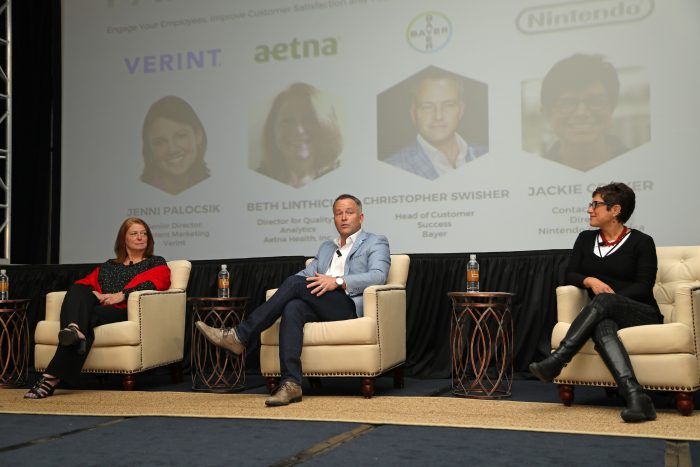 3. The Food
The South has a reputation for providing good food, and CRS Charleston delivered on that promise. Savory options like the oyster shucking embraced local cuisine, but it was the dessert options that really shone. From the Italy-inspired lunch, to the ice cream sundae buffet, to the special cookies in a breakout session, there were enough options to satisfy every sweet tooth.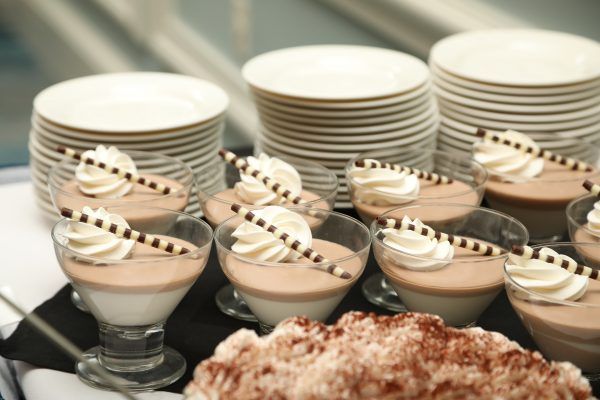 2. The Innovations Lab
Some of the most enlightening conversations at CRS Charleston took place in the Innovations Lab, where service partners and corporate brands mingled. Having knowledgeable providers available to demonstrate their products and talk about use cases was a big win for corporate leaders in search of solutions.
1. The Real-World Examples
Our pick for the most enlightening, inspiring, and thought-provoking aspect of CRS Charleston? The many real-world illustrations of customer service concepts. These examples in the presentations and breakouts spoke to how the most innovative companies demonstrate their passion for CX, every single day. We were particularly energized by:
-Neiman Marcus' memory mirror
-T-Mobile's smart approach to customers switching channels
-Airbnb's customer care centers tailored to their locations
-Indeed's orange chair to represent the customer at meetings
-Capital One's empathetic response to missed payments
More Highlights to Come in Fall 2018
CRS Charleston had too many highlights to name them all, but CRS Marina del Rey (Sept. 10-12, 2018) will up the stakes even more. We hope you'll join us!