Employee engagement is always critical, but perhaps now more than ever. In these unprecedented times, it is essential to stay connected with employees and remain tuned in to their mental and emotional needs.
With most organizations finding themselves with a remote workforce almost overnight, the need for connection is amplified and more challenging. Ensuring lines of communication are open and effective should be a top priority for CX organizations, especially with the uncertainty of returning to physical sites and with peak season rapidly approaching for many.
McKinsey & Company recently surveyed more than 800 US-based employees on a wide variety of topics related to employee experience and engagement. We will draw from that research in this article. According to McKinsey:
"Most companies did a solid job of addressing their employees' basic needs of safety, stability, and security during the first phase of the COVID-19 crisis. However, those needs are evolving, calling for a more sophisticated approach as organizations enter the next phase."
The good news is that many organizations have an opportunity to build upon the trust they gained in the early stages of the COVID-19 crisis. The challenge is figuring out how to expand beyond basic needs and safety.
We have all probably heard the phrase "happy employees = happy customers". We know it is not possible to make all employees happy 100% of the time, but the underlying concept is true. The more engaged and connected employees are the better they feel about their work and how they contribute to the overall mission. Ensuring your employees are well cared for and engaged is not only the right thing to do, but it also translates into a better customer experience downstream.
Six Best Practices to Elevate Employee Engagement
1. Give your employees a seat at the table with Voice of the Employee (VoE) programs.
Engaging with your employees starts with proactively measuring their experience with the company and genuinely asking for their insights and feedback. Many organizations have VoE programs, but a common mistake is not effectively closing the feedback loop, thus causing it to fall flat or worse, damage leadership credibility. To create a closed-loop process, do the following:
Collect Feedback – Employee surveys are only one way to collect feedback and measure the employee experience. Virtual focus groups, roundtables, and anonymous forums for employees to submit questions or feedback can also provide a wealth of information.
Act on Employee Feedback – It is, of course, not enough to just ask for feedback. You need a structured approach for tracking the feedback and a process for prioritizing and acting on it.
Communicate Plans and Results – This is perhaps the most important component of a VoE program fueled by best practices, but it is often overlooked. The last thing you want to do is implement a great program, act on the results, and then miss this critical step. Your employees are giving you incredible information and you are acting on it. Shout it from the rooftops and tell them what you are doing. Most importantly, show them the results.
If you are genuine in these efforts your employees will notice, remain engaged, and become proud ambassadors for your brand.
McKinsey & Company included this useful graphic to break down how organizations can maximize their VoE programs and continue to build upon the trust first established during the early stages of COVID-19.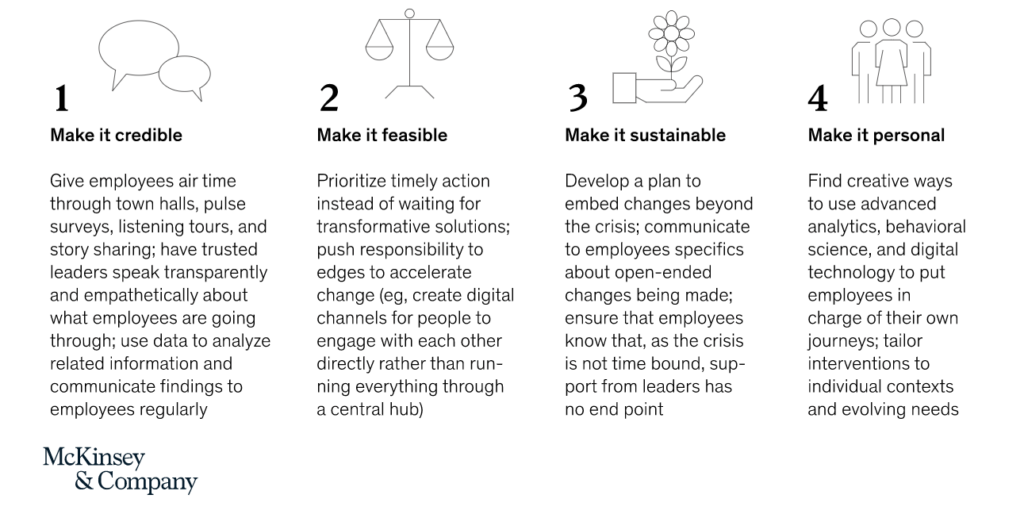 2. Be timely, truthful, and authentic with transparent communication.
During a crisis, many organizations stepped up their communication game out of necessity, focusing on the most immediate needs. Those that really shine have realized that being transparent, even in normal times, builds trust, keeps employees engaged with the mission, and makes them feel part of the solution. This requires a coordinated effort and a structured approach, one that includes:
Centralized communications team
Consistent cadence of scheduled communications
Internal "boards" that are updated daily with important information
Regularly scheduled "town halls" with senior leadership
Talking points for managers to address frequently asked questions, ensuring consistency of information
HOW you communicate is just as important as WHAT you communicate. Choose your vocabulary carefully and be aware of how your words are interpreted. One of the senior leaders in the Execs In The Know (EITK) community recently explained how their organization has been consciously changing the language used when discussing COVID-19 related issues. For example, instead of saying "social distancing", they now say "physical distancing". And instead of "return to work," they are sure to say "return to site." They may be subtle differences, but they can have significant impact.
3. Create connection opportunities between employees and management to promote wellness.
When employees work in a physical location, maintaining consistent interaction with teammates and managers is much easier versus working remotely. Whether all or some of the workforce is remote, leaders need to take creative measures to ensure employees continue to feel a sense of belonging and connection to their team, managers, and leadership. This must be done with the goal of driving overall health and wellness. A few ways this can be achieved include:
Consistent coaching and mentoring, whether remote or in-person, should continue.
One-on-one meetings that are not performance-related allow employees an opportunity to share their thoughts and feelings with their managers — setting aside time for "check-ins" with employees is more personal and less threatening than a formal performance-related meeting.
Find time for fun activities; as McKinsey demonstrates in their research, activities can come from the bottom up and include things like virtual talent shows, peer recognition programs, song/playlist sharing, remote fitness classes (yoga, for instance), virtual games, recipe sharing, podcasts, etc. Another example of a fun activity is establishing a private Facebook group thus creating a space to share stories, celebrate life events, offer ideas on how to decompress with kids, etc. While ideas can come from anywhere, managers should take the lead on ensuring there are weekly opportunities for team and employee interactions beyond work.
4. Reward performance and celebrate wins.
Many organizations have formal reward, incentive, and recognition programs. These do not always have to be monetary. So, consider:
Highlighting and rewarding exceptional moments with customers and invite senior leadership to join in.
Offering incentives to employees for making improvement suggestions that are ultimately implemented.
Providing opportunities for a wellness day based on select criteria or as a benefit. Employees are juggling home and work life simultaneously more than ever and having an opportunity for a well-deserved break can be a welcome incentive.
Rewarding acts of kindness. You can do this in many ways, but for example: If you have a company store with swag, provide gifts or points from the store. You can also put this in the hands of employees and give them the opportunity to recognize peers for acts of kindness.
These are just a few examples. Performance-related reward programs are common but focusing on intangibles that make a difference and shine a light on exceptional performance and behaviors can have a significant impact on engagement and retention.
5. Promote a culture that celebrates and encourages inclusivity and individuality.
Creating a diverse and inclusive culture is critically important for all organizations. Looking from the lens of employee engagement, and as McKinsey & Company's article stated, "As ways of working shifted dramatically with the COVID-19 pandemic, many workers had to transition to new work duties, processes, and modes of communication and collaboration. Our research shows that having a foundation of involvement, fairness, respect, and equality can help employees adopt to new ways of working and interacting. As we face a future of vastly different working models and team structures, building such an integrated culture now will only benefit organizations in the future."
Employer Brand and Employee Advocacy expert, Kaishon Holloway, who previously led these efforts at a multinational technology company stated, "You can't buy a company culture – employees ARE your culture and all employees need to feel heard, a sense of belonging, and inclusion in all opportunities."
According to Holloway, the first step to an inclusion strategy is to understand the employee populations within your business and determine if all groups have appropriate representation. You must be clear on this before you design your strategy – you do not know where you need to go if you do not know who your audience is. The most vulnerable and unrepresented groups need to have platforms to have their voices heard with safe forums for them to advocate on behalf of themselves without fear of judgement.
Most importantly, this must be a corporate-wide focus, driven and supported from senior leadership. It requires genuine commitment woven into the very fabric of everything the company does from recruiting, hiring, training, accommodations, marketing, communications, and leadership.
6. Ensure employees feel their work has meaning and provide opportunities for contributing to the greater good.
Creating opportunities for purpose driven work contributions can greatly contribute to a sense of value and wellbeing. McKinsey & Company's research showed that "respondents who indicate they are living their purpose at work" are much more likely to sustain or improve their levels of work effectiveness than those who indicated otherwise. These same respondents also had four times higher engagement levels and reported a sense of well-being at five times the rate of those who did not feel they were making purpose-driven work contributions. Moreover, the research showed that this experience element had the greatest potential for driving improvement and only one-third of respondents believe their organizations strongly connect actions to purpose. Embedding purpose in work can be as simple as how managers talk to employees or bringing purpose to life by sharing examples of employees who are "living their purpose." This is key to starting a long-term conversation about the organization's purpose and how employees play a critical role.
Purpose driven work contributions are only one side of the coin. Purpose driven societal contributions can also play a role in employee wellbeing. There is no question that volunteering one's time and efforts in worthy causes is good for the soul. Connecting employees to opportunities for contributing to the greater good (either as individuals, teams, or as a part of the broader organization) drives long-term engagement and gives employees a sense of well-being and a shared purpose that is bigger than themselves or the company.
Holloway also explains how his previous company took some of these concepts to the next level by empowering employees to share about their experiences working for the company. For example, the company's internal Employer Brand Team created a company hashtag for employees to use on social media to highlight positive and healthy aspects of the company culture, putting the storytelling power into the hands of employees.
Additionally, Holloway built up the company's Employee Brand Ambassador program to include more than 400 influencers across the globe who volunteered to advocate for the company. Since moving on from the organization and ensuring that the employee-centric core values remained in place, the program has now ballooned to about 1,000 employee advocates worldwide. They have the power, education, training, and tools to promote the company culture. Holloway further emphasizes that: "Obviously, as an employer you need to make sure you're walking the walk before you initiate programs like this. The messaging has to be authentic."
These Boosts to Employee Engagement Really Matter
Employee engagement has never been more critical. Organizations have a unique opportunity to build upon the trust they may have gained in response to COVID-19. Increasing engagement and employee well-being will also have a downstream effect, dramatically improving the customer experience. In taking action, it is also important for organizations to recognize that all employees have different needs, and each is experiencing this unique time very differently. As an EITK community member so eloquently stated, "The emotional IQ of leaders will have to adapt and be more flexible." The fact is one size will not fit all, but organizations who take the steps to focus on individual needs and embed a culture that prioritizes employee well-being will reap substantial long-term benefits, including improved employee retention, greater employee satisfaction, and delivery of a better customer experience.
To Learn More About The Voice of the Customer:  Register to watch CustomerCONNECT sessions on-demand
Blog post, written by: Execs In The Know