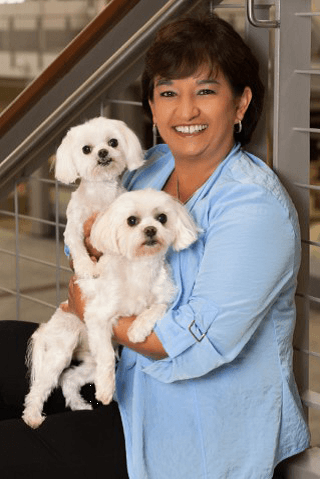 "Listening is one of our greatest gifts"
Get to know: Razia Richter, Senior Vice President and Chief Customer Officer at Petco
We've all heard this at some point in our lives, right? "Listen more, listen actively or be in the moment." I am grateful to my parents, teachers and mentors who have reminded me of this along my life journey.
In my role as a customer service leader, I find this skill to be so critical, one that must always be a priority in everything we do. I believe the best customer service starts with listening to what our customers are saying. Whether it's from their feedback, behaviors, observations or a simple chat. Actively listening will generally lead to the best outcomes and relationships.
For the past 25 years, I have had the amazing opportunity to work for Petco, a leading national pet specialty retailer with more than 1,470 locations across the U.S., Puerto Rico and Mexico. Today, I am the Senior Vice President and Chief Customer Officer for the company. In this role, I lead companywide efforts to build customer loyalty and continually improve Petco's customer experience.  I oversee the company's ongoing work to routinely embed customer and market intelligence and practices into Petco's strategic planning and daily work.
I was thrilled to take on this role several years ago. It began with the implementation of the Net Promoter Customer feedback process, which has now been expanded to all lines of business. It then expanded to being the central point of contact as it relates to customer insights, and then finally owning the front-line closed loop aspect of our contact centers.
When I first joined Petco in the accounting department my favorite project was to work in our stores to learn firsthand about the customer and store partners. I spent days listening and observing, with the goal of bringing what I learned back to the corporate office to make a difference for our store teams.  
After my first in-store experience, I helped create a system to automate the daily register opening/closing process so our partners could spend more time with customers. This inspired me to take on numerous roles in the company to lead changes in the areas of inventory management, store operations and supply chain, all with a focus on how to make the customer experience better.
When I am not working I enjoy spending time with family.  In fact, my best ideas come from listening to stories from my family as "shoppers." I am always asking them about the latest things they've bought or places they've shopped. I listen for things like how and why they decided to go to a particular location or researched something online. Paying attention to this helps me to learn more about a customers' path to purchase and, of course, more about my family (helps to make the gift list easier).
I love being part of the Execs In The Know Advisory Board. It's a great group of leaders across different brands. We learn so much from each other through research and best practice sharing. With the rapidly increasing demands of customers and the speed in which digital has changed the ways people shop, being a part of this group helps us to keep focused on what's most important.
I believe every customer interaction begins and ends with active listening. This is how we demonstrate we are engaged and learn about what's important to them. Often times its simple things that you hear about and if you pay attention to them early on you can delight your customer and even exceed their expectations in the end.