The following post is a guest blog written by Errol Greene, Solutions Development Manager for Clear Harbor, LLC. 
It's a given that customer service is currently experiencing a renaissance in many regards—ground-breaking companies are starting to realize that the CSR's role has become far more than simple issue resolution. They are now recognized as a direct face of the company—critical brand ambassadors, vital to customer experience.
Innovative companies are realizing the benefits of having an existing customer reach back to them, and the resulting opportunity it provides to present an outstanding customer experience, as well as a chance to entrench the customer more deeply to the company.
As an upshot, service-based suggestive up-selling and cross-selling have become integral to many companies revenue plans, increasing them by as much as 10% annually. Some companies have become so effective at this that their customer support departments are no longer cost centers, but profit centers instead. So how do they do it—without angering the customer or being pushy, and causing customer satisfaction to suffer?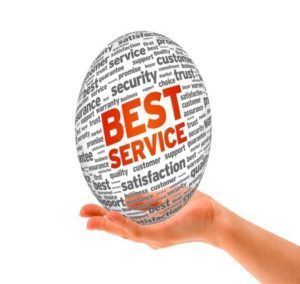 Done correctly, a powerful new revenue stream can be created. However, done wrong, companies risk turning formerly satisfied customers into newly disgruntled ones. So what are the steps needed to walk the fine line of upselling and cross-selling… without losing customers in the process? What are the secrets to being able to effectively sell on a support call while actually increasing customer satisfaction at the same time?
At the end of each call, offer a customer review:
I recently had a real pro demonstrate this with me at my bank. I called in to close an account, and wound up having the best support call of my life.
First, my banker made sure and completed what I asked her to do; close an account that I no longer needed.
However, while she was doing this, she happened to mention that my home equity line of credit seemed to be at a high interest rate. "You should consider re-financing that—it would likely save you a lot of money in interest every month." I was listening. In essence, she was telling me I could now keep two-thousand four-hundred dollars a year that I was currently spending needlessly.
That's an extra vacation every year, or $2,400 more annually towards retirement.
Naturally, I jumped at the opportunity—any intelligent person would. She made the value proposition of doing business so strong that to say 'no' would have been counter-productive and frankly, absurd.
It was clear to me that all of her suggestions were sincerely helping me. And while she may have also been trying to upsell, she was at the same time, presenting only options that would genuinely be of benefit. I wound up going to the bank, meeting with her and another banker and saving even more than $200 a month— and by the time we were done, it turned out to be closer to $500. I was ecstatic.
I was then asked to rate her performance following the call. I not only gave her the highest scores I could, I also added a comment; "She's a credit to the bank, and I just wish you had more people there like her" in my review. She kept her word and saved me over $500 a month. I'm now no longer a customer– I'm an advocate of this bank… and my new favorite banker. I've since spoken with other people about this particular branch and all are absolute advocates as well. They wouldn't even consider defecting from this bank.
It all started with a sincere customer service review, looking for ways to authentically improve my life and make it better. It came across with all of her recommendations and her tone of voice—she wasn't reading from a script, she was engaging in a dialogue with me.
By solving my initial issue successfully and showing she first cared about me, she had earned the right to ask more questions. The stage was perfectly set to move forward, make a sale, and create a customer advocate.
To read the full report, and learn the other five strategies, visit https://clearharbor.leadpages.net/sixinnovativestrategies/.