If the last few years have taught us anything, it's to appreciate human interactions, empathy, and care. While digital technologies continue to take center stage, achieving successful transformation is as much about people and relationships as it is about automation and AI. An organization's ability to adapt to change, build the business case for investments, and leverage partnerships to get ahead will continue to separate the market winners from losers in the years to come.
It's a subject Roku's Director of Customer Care, Commerce, Mark McKercher, and VXI's VP of CX Advisory Services, Cheryll Aganda, recently touched on during their speaking engagement at the 2023 Customer Response Summit in Austin, Texas. Their session, "How to Minimize Friction and Maximize Efficiency Through Knowledge Management," was a case study on how to build a service improvement plan, identify experience gaps, and map both the agent and customer journeys to drive improved outcomes. Their session demonstrated how a partnership approach can augment lean customer care teams to design, build, and scale transformation initiatives within the contact center.
As part of the company that pioneered TV streaming, Mark's customer care organization understands innovation and the importance of "outside-in" thinking to simplify the experience and deliver value to its viewers. In fact, Roku was recently recognized as one of Fast Company's top 10 most innovative companies in North America.
Following the summit and Roku's recent recognition, VXI had the opportunity to interview Mark on his key takeaways coming out of the event, and get his thoughts on how technology vendors, outsourced partners, and CX executives can work together to design and deploy moments that matter in 2023 and beyond.
Was this your first Customer Response Summit?
Mark: Yes, this was my first in-person Execs In The Know event. I enjoyed the size and the smaller workshops. Most conferences have become too large to facilitate meaningful conversations and best practice sharing, but I thought they did a great job of bringing together CX leaders from top brands and showcasing some of the leading technology solutions in our space.
What were your biggest takeaways coming out of the event?
Mark: I think my biggest takeaway is that AI is here. I've noticed some organizations have been slower to embrace it, while others are ahead of the game, deploying it at a much larger scale throughout the contact center. The challenge for everyone however is keeping pace with these advancements. There's a new capability or technology vendor at every event. CX leaders have to stay focused on the true experience drivers and pinpoint intelligent ways of leveraging these technologies to improve key performance metrics and gain efficiencies. While customers don't care about your technology stack, they do expect you to anticipate their needs and provide swift resolutions.
I think some of these emerging capabilities can distract from the overall strategy and vision if you aren't careful. It's all about measured investments.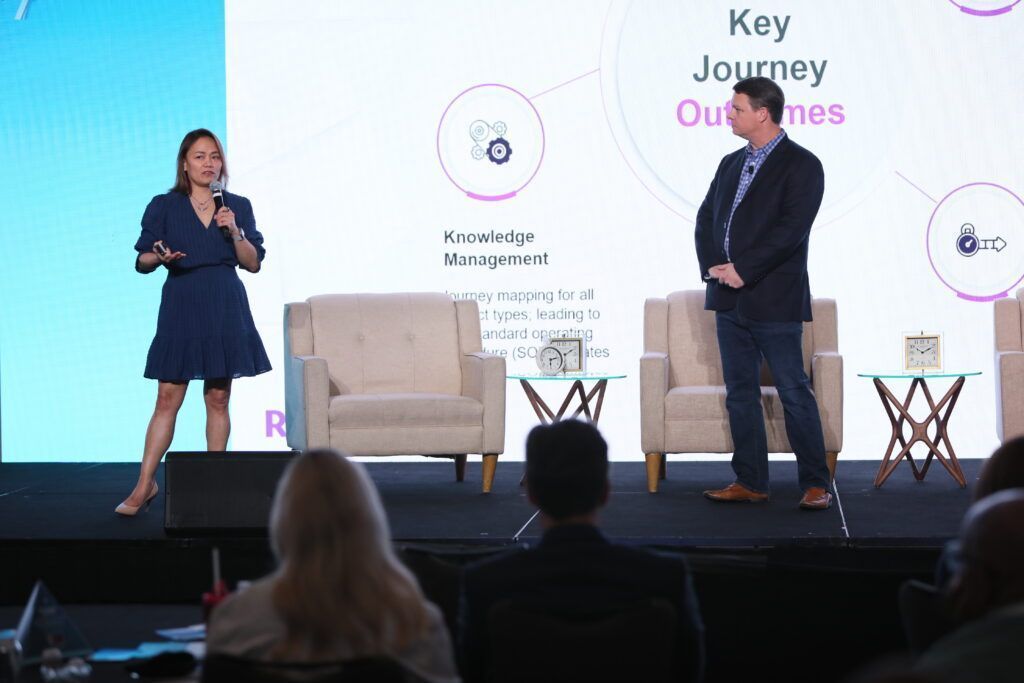 Why do you think your session on knowledge management and experience design resonated with so many CX leaders?
Mark: Organizations talk a lot about innovation but struggle to get stakeholder buy-in. We tried to keep our session honest and grounded. Our initial problem statement was something that many customer care teams continue to struggle with today despite technological advancements. Knowledge management remains one of the largest sources of frustration within the contact center. How do you continue to improve and evolve it with limited resources? I think most people were interested in how we leveraged our partnership approach with VXI's advisory team to overcome some of these roadblocks while realizing cost savings via handling time reductions.
Most importantly, we didn't just talk about our successes. When you are disrupting the current state, you learn as much, if not more, from your missteps. Cheryll and I didn't shy away from sharing our lessons learned, and how we had to clearly articulate our gaps to build the business case before layering in the technology. I know as an attendee, I'm always disappointed when the sessions and takeaways are too generic. We tried to do the opposite.
In your experience, is successful transformation achieved by people or technology? Is the future bot, brain, or both?
Mark: I think a common misconception across industries is that digital transformation is achieved by upgrading your tools and technologies. While that's part of the equation, our journey with VXI has shown you have to do much more than that. As our case study detailed, we spent a significant amount of time building out our governance model, aligning our teams, re-engineering our processes, and creating robust standard operating procedures (SOPs) before selecting a knowledge management and automation platform.
To answer the second question, I think there will always be a need for human-assisted support. It might look different, but while technology is making our lives easier, it's also creating more complexity behind the scenes when things go wrong. There will always be fallout, and when it comes to resolving a confusing billing or technical issue, customers gravitate to human-assisted channels. Investing in people, training, and performance management technologies to empower and upskill advisors is still a critical part of maintaining service excellence.
As the pace of innovation accelerates, what role do your outsourced partnerships need to assume to add value and stay relevant?
Mark: That's a great question. I've worked with several partners over the years, and the ones that stand out in this space can build relationships and deliver exceptional experiences. For example, VXI established itself as an employer of choice in our current service location, resulting in lower-than-average attrition for our program. Through VXI's CX advisory team, we've also been able to tap into unique skill sets to map out the best customer and agent journeys. When I have a problem to solve, I want to hear solutions, not sales pitches. Partners that keep you agile and focused on value creation will always be relevant. Unfortunately, not all business process outsourcers (BPOs) are set up to achieve this level of collaboration.
Which technology do you think will have the biggest impact on the contact center over the next 2-3 years?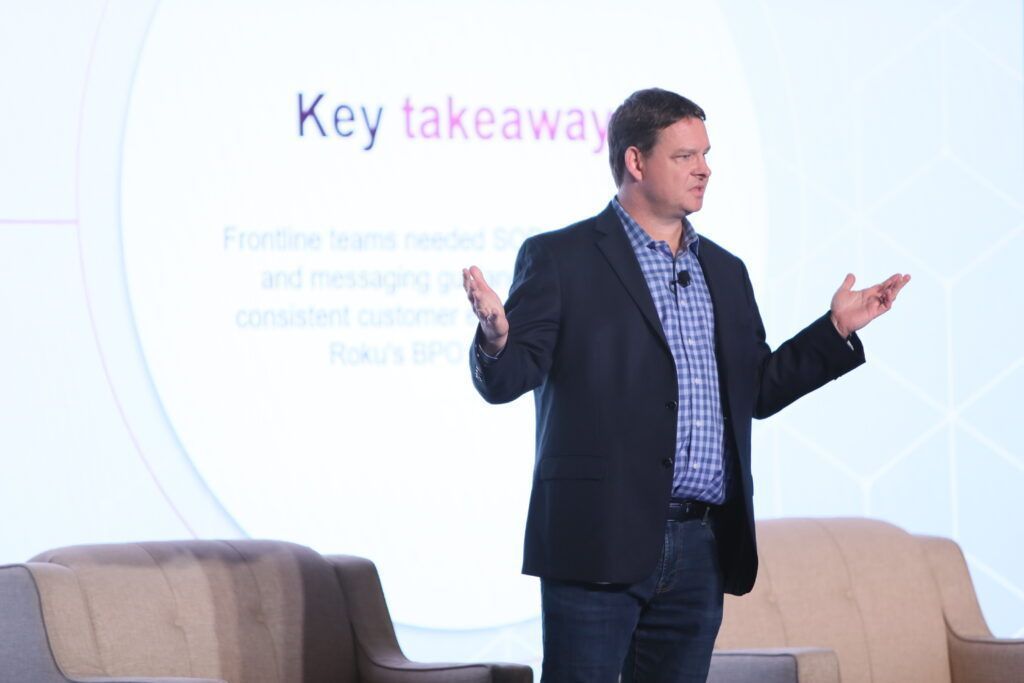 Mark: As I mentioned, people want authentic, humanized experiences that are enabled by AI. I think ChatGPT and generative AI will have an enormous impact on our industry in the next few years. There are a few use cases already, but the one that is most intuitive for me is how this technology can help agents craft the right response the first time. I've seen solutions recently that can automate contextual conversations by processing data from your knowledge base, content management systems, and SOPs to best answer customer inquiries. Having partners who can bring these capabilities to our attention, build the business case, quantify ROI, and design the agent and customer experience is key. Those are the moments in a partnership that matters as the pace of change continues to accelerate.
What moments matter the most to your customers today?
Mark: When our customers need help making a purchase, getting a refund, or making subscription changes, we try to make the experience as simple as possible. It's all about reducing opportunities for customer friction – that's our end goal. With so many subscription options, the billing and refund process has become increasingly complex. Helping our streamers self-serve and providing fast resolutions when fallout does occur are the key moments of truth in our customers' service journey today.
---
Guest post written by VXI, featuring an interview with Roku's Director of Customer Care, Commerce, Mark McKercher.
To learn more about this topic and others, visit the events page to check out all of our upcoming events.