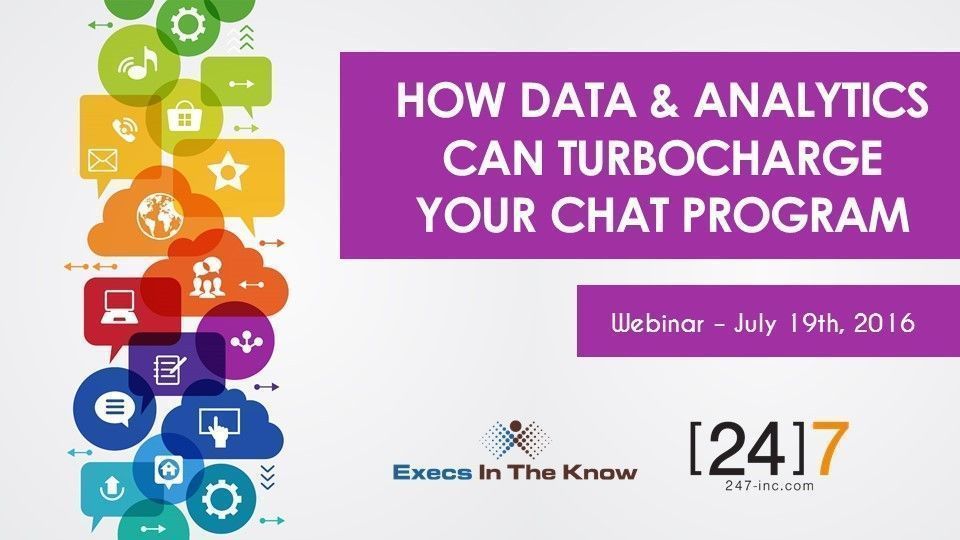 The following is a guest blog from Leslie Joseph, Senior Director, Product Marketing at [24]7. For more information about [24]7, visit http://www.247-inc.com/.
When was the last time you asked yourself "How can I improve the performance of my chat program?" No matter how optimized your chat program is, there is always room for improvement. As with any fitness program, simply following generic rules will only get you half way there. A customized workout for your chat is necessary to get the highest gains in performance. So how does one find the right routines, tools, and methods for getting chat-fit? The answer to all of these questions is in your data. It's not just about what data you use, but how you use the data to make the biggest improvements.
Data is key. You don't need to be a 1000-agent chat program before you start thinking about data. In fact, chances are, if you start thinking about data only after hitting a 1000, or even just 100, you probably have some catching-up to do. Smart execs can optimize even a fledgling chat program based on insights that can be gleaned from mashing up chat logs and reports with web data. But that's just scratching the surface. Once you're ready, chat transcript mining is the next frontier. Chat transcripts are a goldmine, rich with nuggets of insight that the performance-focused exec can arm to implement actions on the floor that enhance not just the efficiency, but also the effectiveness of agents. Chat mining is also a way to unlock other insights into customer sentiment and issue drivers that can lead to lower out-of-scopes, better customer engagement, smarter targeting, reduced costs and improved customer satisfaction. These insights, either on their own or paired with predictive models, can trim and tone your chat program to top efficiency.
But it doesn't end there. The most important part is getting started. Once you start building momentum and making traction, you will soon realize that data-driven improvements will put even the best performance enhancing drugs to shame.
Join me on July 19, 2016 at 1:00 P.M. EDT as I discuss how some of the most successful companies use data and analytics to turn their chat channel into lean, mean performance machines. Register today!