In October, Execs In The Know held its Fall 2021 Customer Response Summit (CRS) event featuring nearly two dozen online, virtual sessions including engaging panels, a featured case study, highly informative Shop Talks, and five powerful keynote presentations.
If you have yet to tune in to the Fall 2021 CRS virtual event, you can watch many sessions on-demand. Registration is simple, free, and it takes only a minute to get immediate online access to this insightful content.
Earlier this month, we shared some powerful insights from the event's five keynote presentations as a part of a five-part blog series. Now we add to those valuable insights with the following highlights from the event's six inspiring panel discussions and one intriguing case study.
…………………………………………………..
The Rise of the CCO
Moderator:
Mike McCarron, Gladly
Panelists:
Radha Penekelapati, YouTube
Dan Allen, Union Bank
Deana Perrin, Blue Shield of California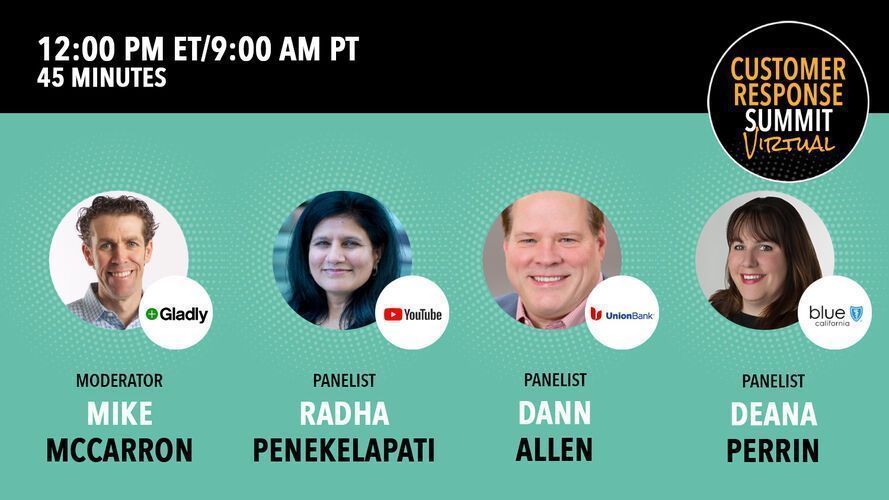 It's great for a CX program to have the support of the C-suite, but it's even better when CX has its very own seat at the table. The Chief Customer Officer (CCO) role isn't exactly new, but it has never been more essential in cultivating CX excellence. CCOs can help champion plans and initiatives that are designed to do one thing — improve the customer experience.
During this panel discussion, Radha, Dann, Deana, and Mike share their thoughts about how the CCO role has evolved, and why is has never been more critical than today, especially as consumers have more options than ever, and brand loyalty is on the wane.
Here are five key highlights from the conversation:
1) As a company's CX journey matures, the structure of its C-suite must also evolve.
2) A Chief Customer Officer (CCO) is responsible for raising the voice of the customer, but also establishing internal partnerships to make sure the organization is unified behind the mission of improving CX.
3) An ongoing challenge with the CCO role is they often have the insights and knowledge to know what needs fixing, but they often don't have the budget authority to execute. To make a real difference, a CCO must be empowered.
4) Shared goals, especially tangible goals, are critical in unifying an organization behind customer-centric efforts; put the customer at the center, but don't neglect the overarching goals of stakeholders.
5) Doing many small- or medium-sized projects sometimes creates a bigger impact than doing one or a very few large projects. It is important to understand the outcome and impact of every effort, big or small.
…………………………………………………..
Getting Ready for What Comes Next: Key Trends Driving Your Data Strategy
Moderator:
Sav Khetan, Tealium
Panelists:
Melody Blumenschein, General Motors
Rick Clark, Balsam Brands
Matt Beckwith, Clark Pest Control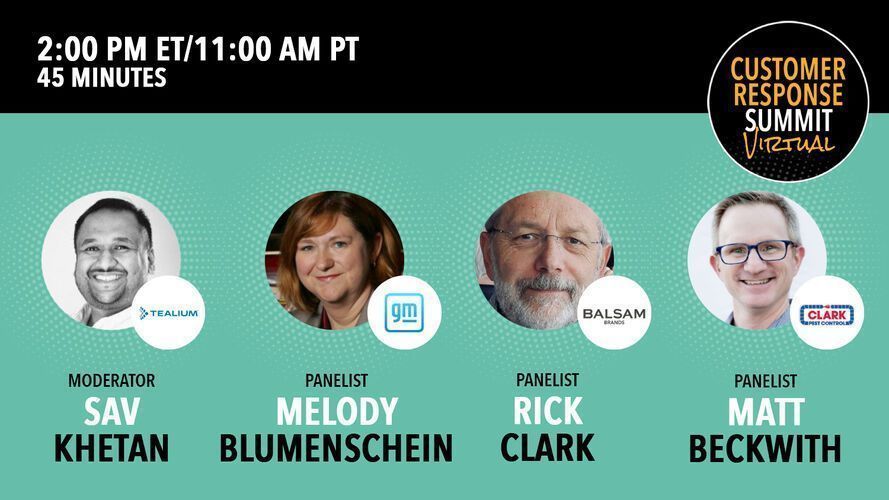 A lot has changed in the last 18 months. From how consumers behave to the way businesses conduct their service and delivery operations, the COVID-19 pandemic has sent out many ripples. How companies have and will continue to respond to the ongoing crisis (both proactively and reactively) will chart their future course, and effective use of data is a key part of the equation for many organizations.
During this panel, Melody, Rick, Matt, and Sav engage in a wide-ranging discussion about the overall state of the industry, highlighting current challenges, while also sharing how they are addressing some of these challenges with innovative CX data solutions and strategies.
Here are five key highlights from the conversation:
1) In the last 18 months, over 80% of consumers have tried out a new brand or mode of delivery, and many prefer these new experiences; loyalty is on the wane.
2) The high cost of acquiring new customers has only increased during the pandemic.
3) Consumers are far more tolerant of service lapses and wait time than they were before the pandemic, but they are also checking out the competition more than ever before.
4) Frontline staff have valuable knowledge about the business and the customer, so be sure to tap their expertise by opening lines of communication and taking the time to ask.
5) There is power in understanding this one simple but age-old essential insight — happy agents make for happy customers. It is a good reminder to tap into the data that lets you know if your organization is succeeding in this area.
…………………………………………………..
Data Protection: Creating Secure and Successful At-Home Workspaces
Moderator:
Leslie Loofbourow, 24-7 Intouch
Panelists:
Jim Gallagher, Nordstrom
Jeff Lilleskare, Microsoft
Thom McDaniel, Marriott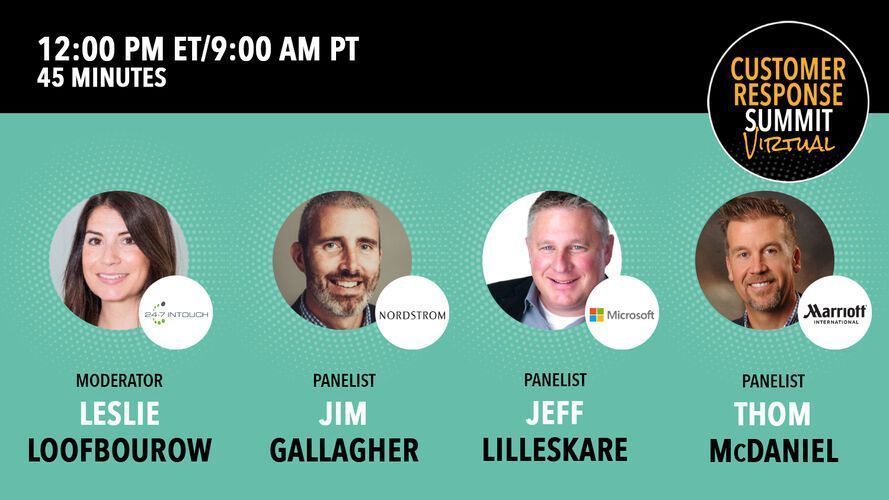 Work-from-home is here to stay. That means maintaining employee engagement and protecting customer data is going to remain top-of-mind for CX leaders. Luckily, there is no shortage of new and innovative tools and technology design to accomplish exactly this.
During this insightful and timely panel, Jim, Jeff, Thom, and Leslie share how they have helped devise secure remote work environments, leading to more protection for both customers and agents, while also making sure their teams stay connected and engaged.
Here are five key highlights from the conversation:
1) Data protection and secure workspaces start with empowering employees. That said, trust but always verify.
2) Hiring and recruiting best practices are critical for adoption and compliance starting with a workforce well aligned to the values of the organization; shared values equate to high levels of compliance.
3) Have a solid plan for work-from-home departures. Close the loop on getting back equipment, shutting down system access, etc.
4) It's important to find the balance between getting the information agents need to service customers, while also maintaining tight control of the data available to agents.
5) Many companies have gone through many hiring cycles to the point where a lot of employees are unfamiliar with the in-office workspace … but agents need to be connected and included. Consider creating a virtual watercooler space for agents to drive engagement and connectedness.
…………………………………………………..
…………………………………………………..
Do you enjoy this type of CX-related content? If so, consider joining us for our return to a live and in-person event during Customer Response Summit in sunny Clearwater, Florida — March 28-30, 2022. Registration is open now! Learn More