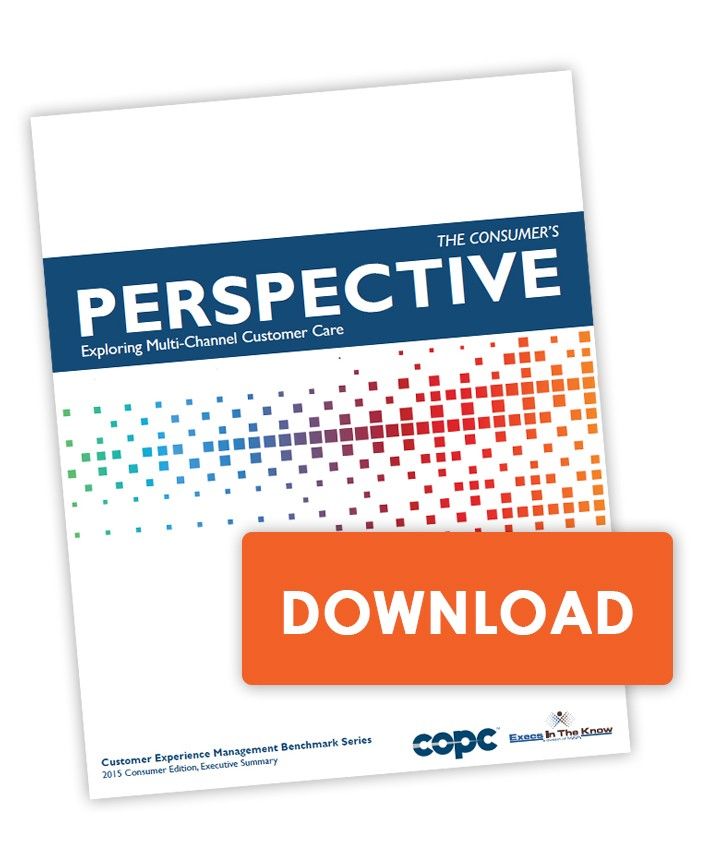 Survey Reveals Majority of Consumers Utilize a Multi-Channel Approach, but Still Embrace Traditional Contact Channels for Issue Resolution
WINTER PARK, FL and PHOENIX, AZ — August 19,  2015 – Leaders in the customer experience management (CEM) industry, COPC Inc. and Execs In The Know, global network of Customer Management Professionals, have announced the release of the Customer Experience Management Benchmark Series (CXMB) – 2015 Consumer Edition Summary titled, "The Consumer's Perspective:  Exploring Multi-Channel Customer Care".
The summary presents a snapshot of the total survey results including the continued strength of traditional channels of customer contact by phone, email, and in person—if given a choice and assuming the customer's issue would be resolved. The 2015 Consumer Edition is the sixth report of the CXMB Series.   
The full report will be released at the Execs in the Know Customer Response Summit in Seattle, September 28-30, 2015.Detailed findings of the report will be presented by COPC Inc. during a post-summit workshop on October 1, 2015.
"As the customer care industry evolves to meet consumer expectations, the 2015 CXMB Consumer Report provides insight into how consumers are utilizing various contact channels. This insight can really help direct improvement efforts," said Chad McDaniel, President and CEO of Execs In The Know. "For instance, this year's findings show that a multi-channel approach is now the norm, yet Traditional Care is a major intersection on this journey. Brands need to understand how and why consumers use the channels they do, and take steps to ensure the experience is always positive, no matter the approach."
The 2015 Consumer Edition includes year-over-year comparisons in areas such as channel usage, first contact resolution performance, and overall satisfaction with customer care. This year's research also focuses on the customer journey and the customer's experience in resolving issues through multiple channels.
"We are proud to be participating in this year's Consumer Edition of the CXMB Series. We know from working with our clients that customers expect multiple ways to easily contact a company," said Cliff Moore, Chairman, COPC Inc. "What this survey suggests is that customers still value that human connection. Companies will need to maintain high service levels in traditional channels while ensuring their multi-channel strategy delivers a seamless and consistent experience," said Moore.
The CXMB Series has been providing insight about the customer experience since 2012. Each year the survey offers a consumer version that is released in the fall and a corporate version that is released in the spring.
To download the summary, visit http://ow.ly/R6Viq.
To download past editions of the CXMB Series, visit https://www.execsintheknow.com/resources/cxmb-series/.
About COPC Inc.
COPC Inc. is an innovative global leader that empowers organizations to manage complex customer journeys. With a focus on driving improvement, the company provides consulting, training and certification for operations that support the customer experience. Founded in 1996, COPC Inc. began by developing the COPC® Family of Standards and helping call centers increase their performance. Today the company works with hundreds of leading brands worldwide to optimize key customer touch points and deliver a seamless experience across channels. COPC Inc. is privately held with headquarters in Winter Park, Florida, U.S., and with operations in Europe, Middle East, Africa, Asia Pacific, Latin America, India and Japan. To learn more about COPC Inc, visit www.copc.com.
 About Execs in the Know
For over 15 years, Execs in the Know has built a reputation of excellence in the Customer Management Industry and a worldwide community of over 50,000 Customer Experience Professionals. Execs in the Know connects people to engaging industry content, thought leadership, current trends, peer-to-peer collaboration, networking, and industry employment opportunities. Examples of this can be seen at their Customer Response Summit events, roadshows, webinars, workshops, Blog Talk Radio segments, Industry Benchmarking Series, blogs, thought papers, and social communities.
To learn more about Execs in the Know, visit www.execsintheknow.com. For more information on their Customer Management Recruitment Solutions, visit www.justcareers.com.
Media Contacts
Lezli Harrell
Vice President, Marking
COPC Inc.
lharrell@copc.com
www.copc.com
Alyssa Pitura
Director of Marketing and Brand Experience
info@execsintheknow.com
www.execsintheknow.com
@ExecsInTheKnow