Your guide to securing the right-fit contact center provider when it comes to culture and employee experience.
In today's tight labor market, creating a contact center where people love to work is a major competitive advantage. Workplaces with great culture foster better collaboration, innovation, and customer satisfaction—and, in large part, that's because they're able to attract and retain the best talent. 
When it comes to outsourcing your contact center, culture matters just as much as it does in your head office—not only to your employees, but also to your customers. So how can you ensure that your contact center provider has what it takes to foster a winning culture? Based on our experience planning, launching, and operating contact centers around the globe, here are five key indicators that your outsourcer is equipped to deliver a remarkable employee experience. 
5 Signs of a Winning Employee Experience That Will Drive Better CX Results 
Managers are leaned-in and invested 
In a recent survey of American workers, 81% of respondents said they want to quit because of their manager. Additionally, Managers account for at least 70% of the variance in employee engagement scores, and engagement is strongly linked to productivity. Given the powerful influence that managers exert—for better or worse—over workplace culture and engagement, it's important that contact centers invest in upfront managerial training and development before agents hit the floor. 
Here's our guidance for what a great provider will be doing: 
Talent needs talent:

Hires leaders with deep experience coaching and developing teams, and invest in training for leadership to help grow and support your frontline workers. 

Wave 0:

Has supervisors, managers, and site directors take customer calls before agents are onboarded, and ensure leadership is familiar with common call drivers and can better support agent challenges. (They'll also understand these challenges more personally, too, which will help them relate to agents). 

Brand immersion:

Ensures leaders immerse themselves in the client brand's goals and challenges. 

Grows leadership from the ground up:

Trains and promotes leaders from within to create tomorrow's contact center leaders. This way, leaders will be better equipped to meet the needs of frontline employees – they've been there themselves. 

Automate:

Automate low-level administrative tasks to free-up leaders to focus on their teams, rather than paper work.  
On top of creating empathetic and supportive leaders, this approach ensures that managers live and breathe the brand values, improving engagement and performance in the process.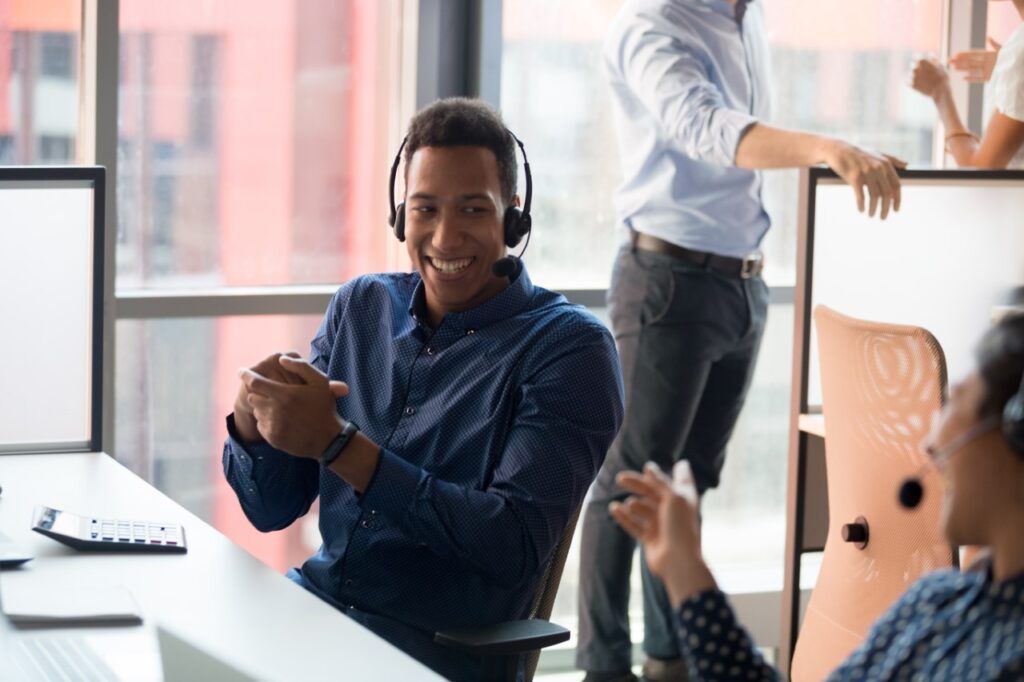 The contact center is an extension of the client brand 
A successful contact center provider immerses agents in the brand from day one through physical and digital spaces that express your brand story, voice, values, and messaging. By delivering an on-brand employee experience, a strong provider ensures that all customer-facing employees are equipped to deliver the service, support, and CX that sets your company apart. 
Here's our guidance for what a great provider will be doing: 
They understand your brand voice, and build it into training:

Make sure your outsourcer is equipped with

training and onboarding materials

that include more than product information, but the brand voice, tone, verbiage, and the general feeling you want them to exude.  

They build work environments that reflect client brand standards and values:

No matter how far your contact center is from your headquarters, ensure your BPO makes it feel like an extension of your own offices and agents feel connected to your brand. Be on the same page with your outsourcer about the look and feel of the contact center and ensure that you physically visit the center on a regular basis, so agents know their stakeholders as familiar faces. 

They have similar core values:

When choosing a BPO to handle your CX, make sure you're on the same page about

core values

, rewards & recognition, perks, and the fundamentals of how employees are treated.  

They're strategic about hiring when it comes to the agents handling your CX:

They think beyond performance, and think about what traits most align with your brand's values. Make sure your outsourcer understands and prioritizes these as they staff your brand's contact center – a good fit can make all the difference in the culture of the workplace, and how your contact center operates as a team. 

They make agents feel like part of your brand:

Just because your customer experience agents are outsourced, it doesn't mean they aren't a critical part of your brand. After all, they are largely responsible for your customers' brand experience when they contact you. Make sure your provider has branded swag, rewards, and other branded items to give to agents, just as you would your internal employees to make them feel like part of the team.  
Development and promotion is part of the employee experience 
One way that contact center providers strengthen company culture is by investing in agents' career success and development from the start. It's not just about equipping agents with the knowledge, skills, and confidence for day-one performance (although that is a critical piece of the culture puzzle). It's also about making their development a priority all throughout their employee experience. According to a 2022 report by 15Five, nearly 50% of U.S. workers say learning and development for career growth is one of the most important factors in staying with a company. 76% admit to having a stronger work ethic when their employer demonstrates a commitment to their growth.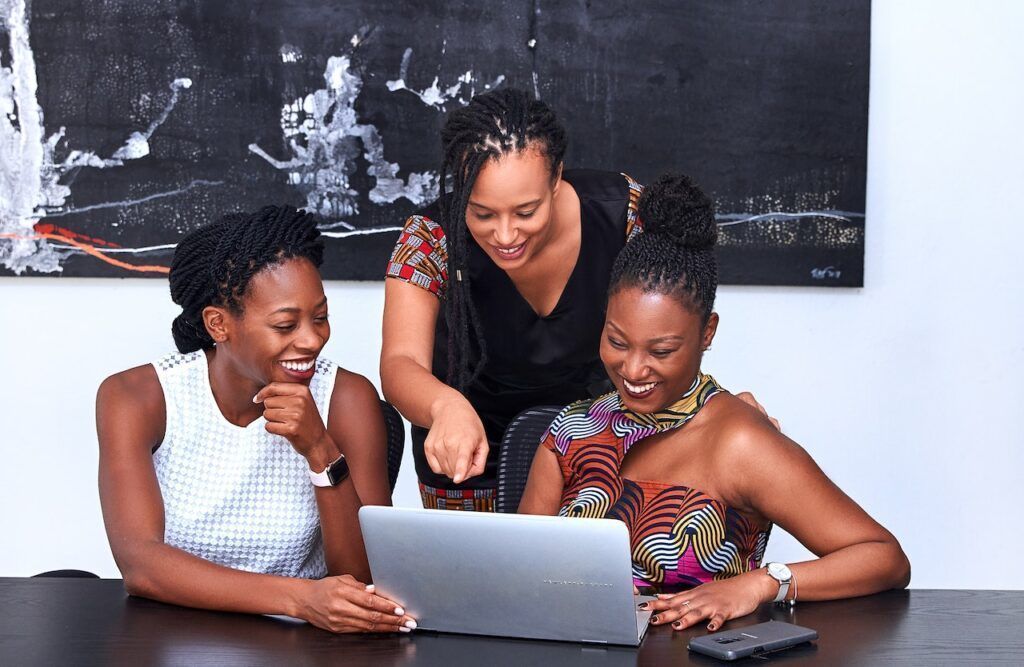 Here's our guidance for what a great provider will be doing: 
They make sure that the avenues of development reflect your brand values:

Do they use a

modern, digital-first training platform

to facilitate ongoing learning and development? Do they use

training simulators

or

gamification

to create an immersive brand experiences within the contact center? – Bonus:

90% of employees are more productive with gamification

, with 72% of them reporting it inspiring them to work harder and 95% enjoying it. AND, significantly,

70% of Forbes Global 2000 companies

will implement gamification strategies to boost engagement,

retention

, and revenues. Keep this in mind as you select your BPO. 

They favor flexibility in their team structure:

Work with your outsourcer to understand how the team structure works, and how it can change based on the individuals making up the whole team. Can roles and responsibilities change based on individuals' strengths, weaknesses, and interests? Is there room for growth into new areas? These opportunities can make or break team morale and

engagement. 

They invest in their agents:

This means they're dedicating time and resources to professional

development opportunities

– which makes agents feel valued, and helps prepare the next generation of contact center leadership. Don't overlook how important these opportunities can be:

70% of employees

would be somewhat likely to leave their current job to work for an organization known for investing in employee development and learning, and

76% of millennials

believe professional development opportunities are one of the most important aspects of company culture. 

They keep agents engaged and excited at work:

While there are many ways to go about improving employee engagement, here, you should ask your provider about how they plan to keep agents excited and engaged in roles they are passionate about. A great provider will create opportunities for employees to learn new skills and work in different parts of the contact center, depending on their personal interests and skill sets. 

They understand who agents are outside of work:

A great provider will show they care about the whole person, not just a way to fill a seat. This means prioritizing agent growth in personal ways, too, such as lessons on managing finances, honing communication skills, or even getting involved in the communities your team lives and works in. 

They promote from within:

And display clear career progression examples to show how to get to the next level. Agents are more likely to be motivated when there's a clear goal they can work toward. 
Agents are appreciated and rewarded 
Remember, your CX program's success depends completely on the frontline of workers staffing your contact center. A little appreciation can go a long way. The proof is in the stats: according to Harvard Business Review, feeling undervalued at work was one of the top reasons front-line workers cited for resigning. Additionally, according to Glassdoor's Employee Appreciation Survey, 53% of people said feeling more appreciation from their boss would help them stay longer at their company and over 40% of employed Americans feel that if they were recognized more often, they would put more energy into their work. What it comes down to is that employees want you to recognize their value.  
Here's our guidance for what a great provider will be doing: 
They are conscious in creating a positive work environment:

When the culture of the contact center is lacking, or worse, is negative, there's also the trickle-down impact on culture, morale, and productivity. Choose a BPO who understands this, and is intentional about even the small things that add up: does your provider offer perks in your contact center, such as free coffee or snacks? Are there social events? Are they providing flexibility to your agents to work remotely or in a hybrid model?  

They prioritize your agent experience over productivity:

On average,

74% of call center agents

are at risk for burnout and, of those, 30% are at severe risk. Ask your provider about how they break up some of the time that your agents are bogged down in the trenches, and what resources and events they have for agents, such as wellness and social events, CSR events, and mental health assistance. 

They recognize even the smallest of wins:

Ensure your BPO is highlighting the performance and progress of each individual and team win. Use chat channels to call out agents who are leading the game, or to highlight overall contact center successes. Also make time for celebrations, including birthdays, work anniversaries, holidays, etc. to boost team morale. 

They provide competitive benefits and pay.

Today, the hiring market is extremely tight. Staffing your contact center is not easy — especially if you require any specialized skills or niche industry expertise. Choose an outsourcer that incentivizes and shows value to your agents by providing a competitive benefits package.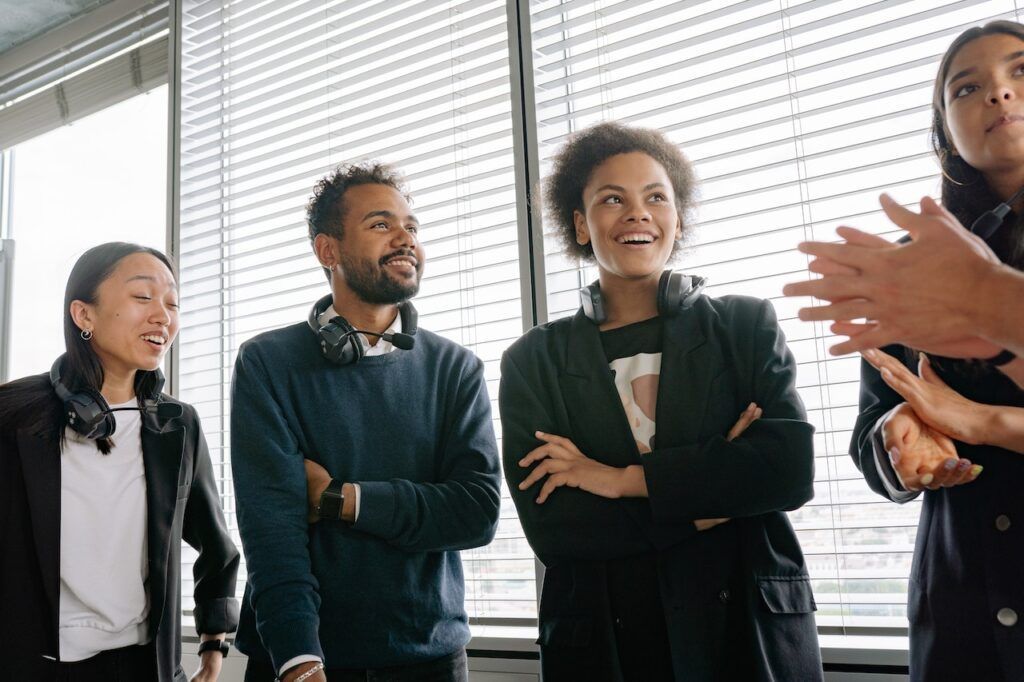 Inclusion is taken seriously 
In the contact center, fostering a sense of belonging requires leaders to walk the walk. Contact center managers need to lead by example, provide equitable opportunities for people to do and be their best at work, and address systemic obstacles they may be facing. If your BPO isn't making DE&I a priority, it could affect your brand loyalty: research from Deloitte shows 57% of consumers are more loyal to brands that take action to address social inequities. 
Here's our guidance for what a great provider will be doing: 
They have a diverse leadership team

: When it comes to

DE&I in the contact center

leading by example is critical. By ensuring that there is a diverse group of leaders in place, you get a more diverse set of ideas, viewpoints, and experiences trickling down into your contact center and overall CX delivery.  

They prioritize inclusion from the start:

Integrate pillars of diversity, equity, inclusion, and accessibility into the content of agent training, ensuring that all employees get the same value from their training

and

are equipped to handle challenges from different types of customers from around the globe.  

They provide ongoing opportunities to learn:

DE&I training isn't a one-and-done kind of thing. They keep the conversation and learning going by offering continuous opportunities to build knowledge and awareness of how to be a good co-worker and ally to people of racialized and/or marginalized identities and people with disabilities. 

They understand equity vs. equality:

Building equity is important because it aims to address structural inequalities by leveling the playing field and ensuring each employee has the support and resources they need to succeed and have a positive employee experience. 

Find a BPO that aligns with your diversity initiatives:

Choose a partner that is on the same page about incorporating the DE&I strategies we've mentioned above their operations. Ask your outsourcer what else they are doing to prioritize a truly equitable and diverse employee experience in the contact center, and how it translates to both agents working there, and the customers they service. 
Succeeding in these five areas is critical to building a positive culture in the contact center and delivering the best possible employee experience, which will, in turn, help you deliver better CX. But there's lots more to consider when choosing the right BPO partner for your needs. Interested in learning more? Let's talk. 
---
Guest blog post written by ibex. To learn more about this topic and others, visit the events page to check out all of our upcoming events.