2020 was indeed a unique year for vendor managers and their outsourced partners. Vendor management organizations (VMOs) worldwide shared that the COVID-19 pandemic adversely impacted their outsourcers' ability to meet organizational strategic goals. This disruption caused a significant shift in VMO priorities.
In 2021, the top three vendor management priorities have been:
Rapid acceleration of revising outsourcing requirements, updating contracts, and reevaluating supplier capabilities to serve this new normal best
Realization of a new cost structure and the impact on our previous structured pricing components
Optimizing virtual management and supplier business planning
To learn more about these priorities, check out our white paper, The 2021 State of Contact Center Vendor Management. You can also watch our State of the Vendor Management Organization webinar, which features leaders from Hilton and USAA discussing their latest vendor management experiences.
As this year ends, it may be time to consider reevaluating your post-pandemic outsourcing strategies. COPC Inc. has found that many organizations have already started evaluating processes to leverage competitive sourcing that will create high-performing contact center outsourced operations in 2022 and beyond.
Are you wondering what components should be included in the evaluation process? It is critical to support the shifts to work from home (WFH) models and chat transactions. Other crucial components include learning the advantages in selecting the right pricing models, designing the appropriate business requirements, and running a competitive sourcing process.
Based on these insights, three best practices for emerging outsourcing priorities are:
Formalizing WFH contracts
Chat transactions
Competitive sourcing
By incorporating these emerging outsourcing priorities, you can achieve new levels of program performance, ROI, and create stronger relationships with your supplier partners.
Three Best Practices for Emerging Outsourcing Priorities
 #1: Formalizing WFH contracts
Soon after the COVID-19 pandemic began, outsourced partners and vendor managers experienced a drastic and unplanned shift to WFH staffing models. In our recent CXMB Series 2020 Corporate Edition report done in partnership with Execs In The Know, we found that only 11% of outsourced contact centers had WFH employees before the pandemic. However, respondents shared that 83% of outsourced contact centers now had WFH staff after the pandemic.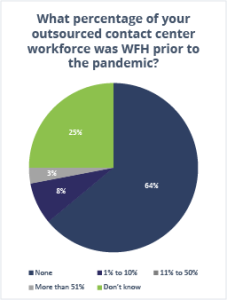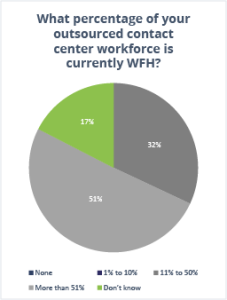 Most outsourcing agreements did not include a WFH plan before 2020, but it has become necessary moving forward. Some vendor managers and call center outsourced partners were able to minimize the operational impact and recover quickly despite the difficulties of the unplanned WFH transition. Unfortunately, not everyone has perfected virtual management.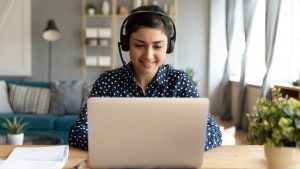 As things started to settle down after the height of the COVID-19 pandemic, we have seen many VMOs redesign their contract requirements to include WFH since many outsourcing partners will continue this model post-pandemic. Successfully implementing a WFH plan requires new technology and connectivity requirements to minimize operational disruption while adhering to rigorous security standards to keep customers' and clients' data safe. Virtual worksites also force vendor managers and outsourced partners to rethink how they train, coach, and motivate employees. Management and operational policies and procedures that work in an office do not necessarily translate to a WFH environment.
Vendor managers and outsource providers now have more insight into what works and what does not work in the virtual workplace. As 2022 contracts are being negotiated, it is the perfect time to redesign contract requirements using this knowledge to optimize the virtual workplace. Things to consider when incorporating official WFH best practices, processes, operational guides, and technology include:
Data security
Home office requirements
Recruiting
Training
Communication
Performance management
Quality
Workforce management
 With more organizations now embracing at least a hybrid WFH model, it is crucial to support this change without impacting the business. By incorporating WFH into call center outsourcing agreements, vendor managers will be better prepared to succeed in this virtual environment.
#2: Chat transactions
Chat continues to be one of the fastest-growing customer service channels. As organizations continue to digitize customer touchpoints, it leaves company leaders with a new performance management expectation in a completely different delivery model. This shift to non-voice interactions presents an excellent opportunity to improve agent training for this customer service channel and update chat-specific KPIs.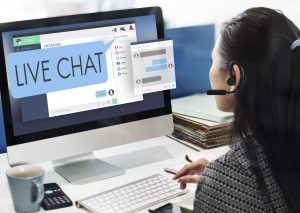 Agents must be adequately trained in channel-specific skills to improve efficiency and effectiveness when communicating with customers via chat. Investing in outsourced staff training will lead to decreased response times and more positive customer interactions. Not only can the chat tool help resolve customers' inquiries, but it can also convert and retain customers if they have a positive experience. Chat agents should understand how to utilize the tool properly to capitalize on these opportunities.
Like with every other customer experience channel, it is essential to establish KPIs specific to chat. Most chat systems provide two sets of measurements that show initial responsiveness and engagement during the chat interaction. Metrics unique to chat are:
First response time (FRT)
Average response time (ART)
Chat concurrency
Maximum concurrent chat sessions
Failover rate
COPC Inc. recommends designing a Chat Scorecard that includes top metrics agents should focus on during customer interactions. These KPIs should align with long-term business goals. After pinpointing chat KPIs, use them to adjust staffing models and optimize chat performance.
#3: Competitive sourcing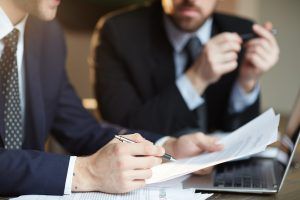 Organizations have begun accelerating market tests and competitive sourcing for their existing call center outsourcing agreements. The change in delivery requirements and cost components is finding leaders with a new level of competitiveness from the supply base leading to significant cost savings.
When negotiating contracts and looking for outsourced service providers, COPC Inc. advises clients to:
Build the proper requirements​ into the contract to ensure needs will be met and set expectations from the beginning.
Optimize the pricing model to get the best outsourcer provider rates.
Identify the most capable suppliers to meet requirements competitively​.
Design an objective evaluation process​ that standardizes the response format and scoring approach​.
Perform site audits with final suppliers​. It is important to note that this is not a site visit. During the audit, collect data and evidence that validates the outsourcer's management systems.
Do reference checks. Hearing from current and previous clients will provide confidence in making decisions.
Key Takeaways from the Three Best Practices for Emerging Outsourcing Priorities
With traditional outsourcing agreements changing more in the past year than in the past decade, now is the perfect time to modernize vendor manager and contact center outsourcing relationships. As a result, reengineering outsourcing agreements has become one of the most significant priorities in 2021 and 2022. The disruption and transformation happening with service delivery providers present a new opportunity to thrive by choosing the right partners. It is crucial to incorporate a WFH management plan, update chat transaction training and KPIs, build the right contract requirements, and optimize your pricing models to ensure the best rates and achieve success.
---
Guest post, written by: Jay Walcott, VP, Strategic Accounts, COPC Inc.
To learn more about these emerging priorities and vendor management best practices that could assist you in your outsourced service delivery operations, register for Execs In The Know's Customer Response Summit, and watch the COPC Inc. pre-event workshop, Optimizing Post-Pandemic Contact Center Outsourcing Relationships. To attend the workshop on Monday, October 18, 2021 at 11:00 AM – 12:30 PM ET/8:00 AM – 9:30 AM PT, please register here.
COPC Inc. is an innovative global leader that empowers organizations to optimize operations to deliver a superior customer experience across all channels.
Contact us at: info@copc.com |1-407-304-9032 www.copc.com